County Seniors v Derbyshire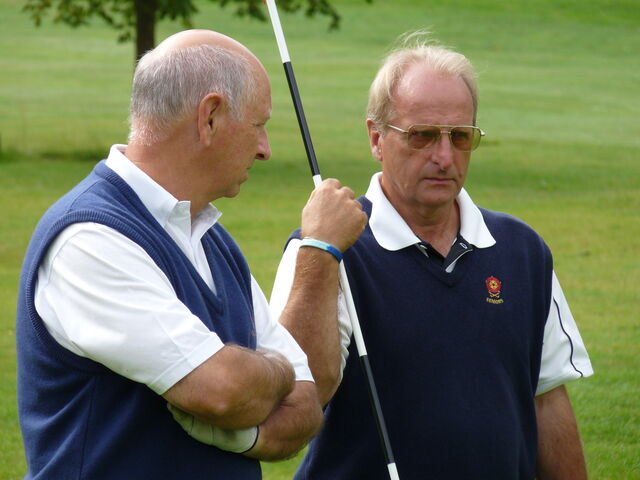 Venue: Kettering GC
Wednesday August 8th
Playing against Derbyshire for the the first time, at Kettering G C .
In the morning greensomes
we went down 4/2 but with 2 good wins.
With 1 win and 1 half in afternoon 4 balls going down 9 /3the final result was a 13 /5 defeat.
I would like to thank Kettering G C for the course in very good condition and
the excellent food and hospitality.
Greensomes
| | | | | | |
| --- | --- | --- | --- | --- | --- |
| NORTHAMPTONSHIRE | Score | Result | DERBYSHIRE | Score | Result |
| Rodney Haig & David Dare | - | - | David Delworth & Mick Jarvis | W | 3&2 |
| Peter Waters & Mike Abbotts | - | - | John East & Bob Wright | W | 2up |
| Jim Weston & Nick Nickerson | - | - | David Lesser & Keith Brown | W | 4&2 |
| Martin Harris & Jim Tricklebank | W | 5&4 | Tom Mullins & Keith Francis | - | - |
| Paul Swain & Phil Longworth | W | 2up | Gordon Peterson & Vic Prince | - | - |
| Keith Saker & Laurie Johnson | - | - | Peter Wisdom & Barry McAuliffe | W | 2&1 |
| Total | 2 | - | Total | 4 | - |
Better Ball
| | | | | | |
| --- | --- | --- | --- | --- | --- |
| NORTHAMPTONSHIRE | Score | Result | DERBYSHIRE | Score | Result |
| Rodney Haig & David Dare | - | - | David Delworth & Mick Jarvis | W | 3&1 |
| Peter Waters & Mick Abbotts | - | - | John East & Bob Wright | W | 6&5 |
| Jim Weston & Nick Nickerson | H | - | David Lesser & Keith Brown | H | - |
| Martin Harris & Jim Tricklebank | - | - | Tom Mullins & Keith Francis | W | 3&2 |
| Paul Swain & Phil Longworth | - | - | Gordon Peterson & Vic Prince | W | 2&1 |
| Keith Saker & Laurie Johnson | W | 3&2 | Peter Wisdom & Barry McAuliffe | - | - |
| Total | 3 | | Total | 9 | |
Result : Northamptonshire Seniors 5 Derbyshire Seniors 13