1st Team v. Cambridgeshire
7th June 2015
Kettering Golf Club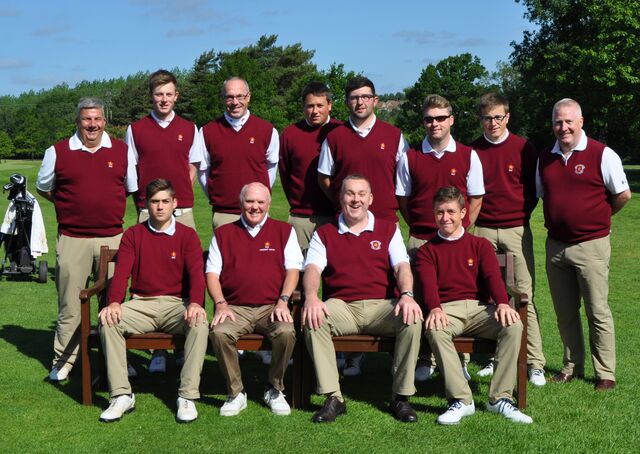 Morning Foursomes
We awoke to a beautiful day, sunny with a breeze to make things interesting.
Following a successful weekend at Seacroft, our first foursomes pair out were Harry Woan and Jamie Milligan, a couple of wayward shots and a few missed putts was all it took to go down 5/4 against Owen Davies and James Reeson.
2nd out, the ever reliable pairing of Ben Jones and Sam Henfrey battled to a 2up win against Ollie Fullerton and Danny Loveday.
3rd pairing, Callum Farr and Michael Campbell found the going tough, eventually going down 5/4 against Mark Reeve and Ryan Adair 5/4
Things looked a bit gloomy at lunch after Jack Brown and Graham Bott also lost 5/4 against Cambridgeshire Captain Owen Cousins and Kevin Naylor.
Captain Jim Campbell told the team that we needed to dig deep for the afternoon matches as this was a pivotal moment in our 2015 campaign - with 1 match lost, we had to try and get something from the match, especially after such a positive Seacroft visit.
Afternoon Singles
1st out for the afternoon singles was Michael Campbell. In a ding dong match, which came to the 18th all square, Michael hit a stunning 2nd shot to about 2ft for an easy birdie, only for James Reeson to can a 20ft putt for a half point to each side.
2nd out, Harry Woan also had his hands full. Battling hard, he didn't give up but his tee shot on 18 found him with no choice but to chip out from behind a tree, followed by a great 3rd shot to about 6 feet, missed the putt, halved the hole but lost his match 1 down.
3rd out awesome Callum Farr cruised to a comfortable 5/3 win against Ollie Fullerton for our 1st whole point of the afternoon.
4th up, Ben Jones was in great form, running out with a dog licence 7/6 win against Danny Loveday and, all of a sudden, we are just half a point behind and with reports coming in from around the course, things were starting to look good.
5th out was the experienced Graham Bott, with Marcel Aarts on his bag to help him round. It was not looking good for us as we heard that Botty was 3 down after 6 holes.
6th up, Jamie Milligan was battling some inner demons, playing a very tough ex-pro opponent who kept the pressure on. The day was best summed up when Jamie played an exquisite chip to a couple of inches for par on the 9th, only for Ryan Adair to hole his 12ft putt for birdie, the Cambridgeshire player winning the match 6/5 and Northants are now 2.5 behind, and things were looking bad again.
What's this we hear? Botty has turned over his match and is now leading by 3 with 4 to play. All of a sudden there is a buzz in the air and things are now looking great, Botty finishing with a 3/2 win and we are just 1.5 down with both of the last two matches seeing Northants 1up with 5 to play.
Now the match has everyone's attention as Sam Henfrey and Owen Cousins play the par 3 15th hole, with Cambs leaving his tee shot at the front of the green. Cousins' excellent putting shone again, rolling it down to the back pin position for a gimme 3. Sam's tee shot was pin high, but just on the right hand side of the green. Having not holed anything from distance all day, Henfrey couldn't have picked a better time to can a putt! 2 up with three to play.
Meanwhile, we could see the last group out, Jack Brown and Kevin Taylor walking to the 15th tee. The Cambridgeshire man had lost his ball on 14 giving the hole to Jack, who went 1 up. Playing the 15th, Taylor found the front right trap, but thinned his 2nd out of the bunker, losing the hole. So this match was now 2 up to Northamptonshire with 3 to play.
The left-handed Brown's usual draw deserted him on 16, leaving his ball in the woods to the left of the long par 4. Meanwhile, Taylor hits a monster drive, followed by an outstanding 2nd, so back to just 1up to Northamptonshire with 2 to play. Jack's 3 wood to 17 balanced precariously on the top of the greenside bunker, whilst his opponent missed left. A deft chip for Jack nearly went in but left him no more than a couple of inches for his birdie, whilst his opponent needed to hole a 5ft putt to keep the match going but missed, handing another point to Northamptonshire, leaving the score tied at 5.5 each, with one game to go - Henfrey is now playing the last and is 1 up.
Henfrey had his driver in his hand thinking he would need to birdie the last to be sure of the win against a quality opponent who struck a hybrid from the tee, but caught the Poplar trees 50 yards from the tee and nothing goes through a Poplar tree, so his ball dropped straight down, leaving the green out of range. Henfrey put his driver away and pulled his 2 iron out, putting himself in prime position. Cousins attempted fade 2nd shot stayed straight and ended up in the bunker in front of the 1st green, which he could only advance 50 yards or so. Sam's 2nd found the back of the green and he then had a comfortable 2 putt to win the hole and the match 2up.
A remarkable turnaround for Northamptonshire and those watching saw Northants dig deep and get our reward, a 6.5 - 5.5 victory.
Northamptonshire
Cambriddgeshire
Foursomes
Result
Harrison Woan and Jamie Milligan
Lost 5/4
Owen Davies and James Reeson
Ben Jones and Sam Henfrey
Won 2up
Ollie Fullerton and Danny Loveday
Michael Campbell and Callum Farr
Lost 5/4
Mark Reeve and Ryan Adair
Graham Bott and Jack Brown
Lost 5/4
Owen Cousins and Kevin Taylor
Lost 1 - 3
Singles
Result
Michael Campbell
half
James Reeson
Harrison Woan
Lost 1dn
Owen Davies
Callum Farr
Won 5/3
Ollie Fullerton
Ben Jones
Won 7/6
Danny Loveday
Graham Bott
Won 3/2
Mark Reeve
Jamie Milligan
Lost 6/5
Ryan Adair
Sam Henfrey
Won 2up
Owen Cousins
Jack Brown
Won 2/1
Kevin Taylor
Won 5.5 - 2.5
Overall result
Northamptonshire 6.5 - Cambridgeshire 5.5
Images copyright Steve Jackson - the Sports Journalist