1st Team v. Norfolk
2nd August 2015
Royal Norwich GC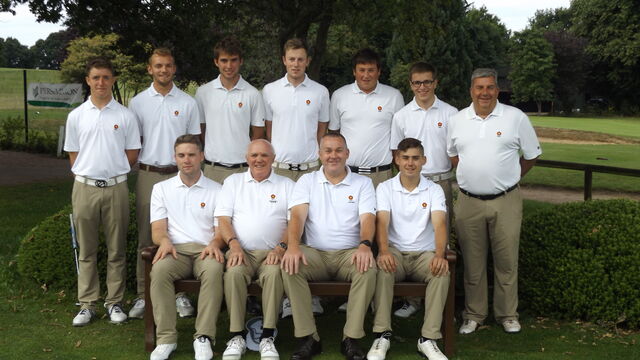 Saturday's practice session started with a short game masterclass from County Coach ,Nick Soto, we had hoped to run an "approach shot" session but this was not possible because the short game area we had available was, err, very short!
None the less, Nick set up a practice set with chipping, pitching, bunkers and playing short chips with different clubs and just getting the squad to open their minds to playing different shots and put these shots into their practice regime. This was followed by a bunker session and playing different clubs from bunkers and Mudgie discovered he was a genius with a pitching wedge from the sand. Thanks go to Nick for his input.
Sunday morning and everyone gathers at Royal Norwich on a perfect day for golf, sunny spells, not too hot with no wind, although this did get up as the day went on.
The foursomes pairings selected were:
Jack Brown and Harry Woan took on Jack Yule and Tom Beasley, the Norfolk pairing played some excellent golf to run out winners 4/3
Sam Henfrey and Ben Jones took on England International Luke Johnson and Thain Hacon, our pairing were on fire winning comfortably 5/4
Jamie Milligan and Michael Campbell played really well in their first outing together, hardly missing a fairway or green, running out with another win 4/2
Miles Mudge and Matt Myers (fresh from winning the County Cup) player Royal Norwich members Thomas Judd and Bruce McQuads, whose home advantage still wasn't enough to beat our pairing, a half the result.

We sat at lunch 2.5 - 1.5 up.
The afternoon singles order was:
Jack Brown v Luke Johnson
Ben Jones v Jack Yule
Harry Woan v Tom Beasley
Sam Henfrey v Harry Brister
Michael Campbell v Thain Hacon
Jamie Milligan v Will Farley
Matt Myers v Bruce McQuade
Miles Mudge v Thomas Nudd
Match 1: Jack struggled against the England International eventually losing 7/5
Match 2: Ben Jones looked promising against the very strong Jack Yule but played some poor shots at critical moments to lose his match 3/2
Match 3 saw Harry Woan gain a creditable half and stop the rot and turn the match back in favour of Northamptonshire.
Match 4: Sam Henfrey was on fire shooting -5 for 12 holes, handing out a dog licence 7/6 to put our first point on the board in the afternoon and was the turning point in the match as our "strength in depth" began to show as our strong middle order overpowered Norfolk
Match 5 was very close for a long time with Michael Campbell playing very solidly and driving particularly well, he kept the pressure on Thain Hacon eventually winning 3/2
Match 6 was also close for the first 7 holes before Jamie Milligan's solid ball striking turned the match from 1 down after 7 to 3 up after 13 and despite losing 14 and 15, Jamie birdied 17 to win the hole and his match 2/1
This left us needing half a point more from one of the last two matches and the news on the course was that Matt was 2 up with 4 to play and Mudgie had turned pulled himself back from 3 down to all square with 2 to play.
In match 7, both players hit the green on 17, but Matt's ball kicked forwards on it's 2nd bounce thanks to his playing from the semi rough, whilst his opponent was left with 12ft for eagle, Matt was at the back of the green. With the Norfolk player holing for an eagle to take the match up the 18th, tensions were rising in the Northants Camp as Miles also lost 17 to go 1 down with 1 to play.
Fortunately for us, Matt hit the 18th in 2 whilst his opponent missed and then could only manage a 5. Matt cosied his ball up to the holeside for a 1 up win to secure the match for Northamptonshire.
For the record, Miles lost the 18th, but had battled well against Norfolk's best player on the day, on his home track.
Norfolk
Northamptonshire
Foursomes
Result
Jack Yule and Tom Beasley
Lost 4/3
Jack Brown and Harrison Woan
Luke Johnson and Thain Hacon
Won 5/4
Sam Henfrey and Ben Jones
Harry Brister and Will Farley
Won 4/2
Jamie Milligan and Michael Campbell
Thomas Judd and Bruce McQuads
Halved
Miles Mudge and Matt Myers
2.5 - 1.5
Singles
Result
Luke Johnson
Lost 6/5
Jack Brown
Jack Yule
Lost 3/2
Ben Jones
Tom Beasley
Halved
Harry Woan
Harry Brister
Won 6/5
Sam Henfrey
Thain Hacon
Won 3/2
Michael Campbell
Will Farley
Won 2/1
Jamie Milligan
Bruce McQuade
Won 1up
Matt Myers
Thomas Nudd
Lost 1dn
Miles Mudge
Won 4.5 - 3.5
Overall result
Norfolk 5 - Northamptonshire 7