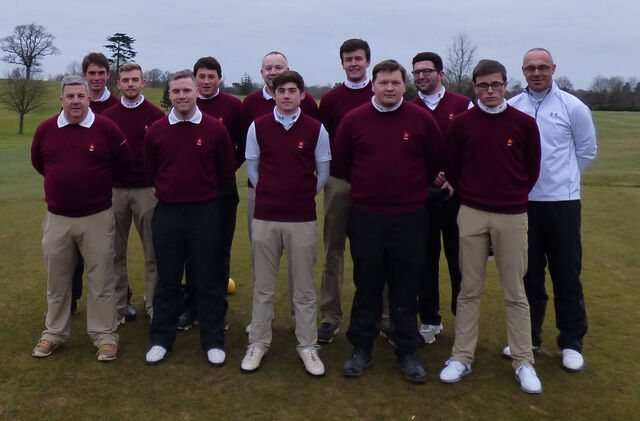 The 2016 season gets under way for the Northants Golf teams with a 10 a side friendly match against Warwickshire, with the 1st team were played at Overstone Park on Sunday 20th March.
A cool, cloudy day greeted us with a gentle breeze, new Captain Greg Croxton announced the morning foursomes match pairings:
Callum Farr and Harry Woan v Pat Ruff and Max Martin
Miles Mudge and Matthew Myers v Liam Phipps and Chris Laird
Taylor Sargent and Sam Henfrey v Paul Walker and Dale Marsen
Jamie Milligan and Martin Conley v Ian Winstanley and David Atkins
Graham Bott and Jack Brown v Gary Greenway and Stu Bloxham
The news was that we were starting on the 10th hole and with hedgehog wheels only, the players had a choice of a pull trolley or carry, also, we were playing off the yellow tees.
Morning Foursomes:
Match 1: In an quality match, with both pairings playing well, birdies on 6 holes on the spin from one or other side, an honourable half was the deserved result.
Match 2: Mudgie and Matthew couldn't quite repeat their 8/6 win they achieved last summer at the same venue, with our pair a little "match rusty", losing 5/3
Match 3: Taylor and Sam teamed up and ran out 1up winners.
Match 4: Jamie and Martin couldn't quite get it going losing 3/2
Match 5: Graham Bott and Jack Brown combined their respective strengths and overpowered their opponents and ran out comfortable winners 6/4, great to see these two back and playing well.
This left us all square at 2.5 each at Lunch.
Afternoon Singles:
Match 1: Callum Farr took on a strong Pat Ruff and in a quality battle, it came down to the last hole, which awesome Callum won with a birdie to win 1up.
Match 2: Harry Woan took on England prospect Max Martin, Harry battled hard in another high standard game but unfortunately lost on the last to an Eagle 3.
Match 3: Jamie Milligan wasn't quite with it in his match against Liam Phipps, with his mind really on turning pro, Jamie lost 6/5.
Match 4: Matthew Myers played his usual awesome game to great beat Chris Laird 2/1
Match 5: Miles Mudge took on Dale Marsen, he showed some great signs of "brushing off the rust" but not quite enough, losing 1 down.
Match 6: Sam Henfrey on a course that suits him, he was too strong for Ian Winstanley winning 3/2
At this stage, as the players came through the 11th hole, it looked very tight and had the match ended there, it would have been all square and after match 8 finished, with match 10 a walkover to Botty, it looked like we would need something from our last 2 players.
Match 7: Martin Conley, making his Northamptonshire debut, showed his mettle by beating Paul Walker 2/1
Match 8: Taylor Sargeant played well but couldn't get the job done some exceptional golf from David Atkins losing 4/3
Match 9: Jack's short game is always a pleasure to watch and it must be so demoralising for his opponents to see him get up and down from impossible positions, Jack running out eventual winner 2/1 against the Warwickshire skipper.
Match 10: Botty played Gary Greenway, who had a reoccurence of a hand injury after 4 holes and couldn't continue, it was a shame as Graham was playing well and would have liked the opportunity to prove his return to form.
Overall, a great start to the season, Warks are always a strong team, let's carry this forward to a successful season. As usual, the team spirit amongst our lads is fantastic to see and is worth a couple of points each match, long may that continue.
Mike Gilbrook
Team Manager.