Anglian League 1st team v Leicestershire at Cold Ashby
Our fourth match of the 2016 campaign was key for us, unfortunately, it was our toughest match and we had 6 regular first team players unavailable and 2 selected players called in sick on the morning of the match, left Captain Greg Croxton with no alternative but to play in the match and draft in Cold Ashby Head Greenkeeper Jim Burberry to make up the numbers.
Morning Foursomes:
Match 1: Experienced pairing of Fraser Carnihan and Chris White played against Jevann Parmer and James Billingham, our duo quickly dropped went down but started a recovery, winning 5 to get the match back to 2 down. They held on for the next 3 holes but lost 9 to a long birdie putt to finish the 8 three down. Having steadied the ship, our pair took the match to the 18th but lost 2 down.
Match 2: Taylor Sargeant and Michael Farr took on John Siddens and Jack Merry, our pairing won the 9th to go 1 up and things were looking good before getting turned over, losing 2 holes on the spin to go 1 down after 13, then lost a ball on 14 to go 2 down and also lost 15 to go 3 down with 3 to play, then lost 16 to lose the match 4/2
Match 3: Jim Burberry had to pause mowing the greens at Cold Ashby to take a call from Captain Greg Croxton asking him if he could play in the team on the morning of the match, Jim was paired up with James Walters for the foursomes against Leicestershire team Captain (who also had to play thanks to a last minute issue) and Martin Anderson. Our duo managed to get up in the match after 8 holes and they were still 1up after 13 holes, but Leicestershire turned the match over winning 14 and 15 and our pair just couldn't claw their way back, losing 1 down.
Match 4: Greg Croxton stepped up with Charlie Salter and in a tight match, they were level after 9 holes, things looks promising for us after 14 holes as we went 1 up, then we lost 3 of the last 4 holes to finish 2 down.
Despite the lunchtime scoreline of 0-4 down, things were not as one sided as they looked and our team really battled hard and were unlucky not to get at least two points from the morning.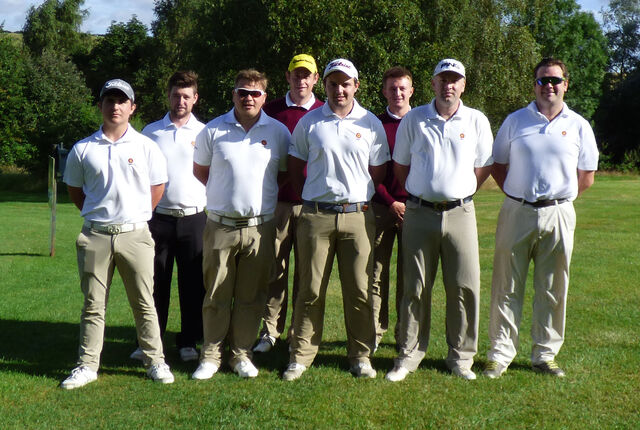 Afternoon singles:
Match 1: Michael Farr took on Leicestershire County Champion Jevann Parmer, Mike didn't get off to the best of starts and was 3 down after 5 holes, but started playing some good golf, clawed his way back to 1 down after 12 but could make no further headway, losing 2/1
Match 2: Fraser Carnihan played the experienced John Siddens. Fraser looked comfortable all the way round with "Chris not losing my balls" as he put it, getting to 3 up after 9 and stayed ahead finishing 2/1. Our first point of the day.
Match 3: Taylor Sargeant played Jack Merry, our player seemed to have an issue with his putter head coming loose which seemed to put him off a bit, eventually losing 2/1
Match 4: Chris White took on James Billingham, after a close start, Chris also looked comfortable without Fraser losing his balls, running out a superb 5/4 win for our 2nd point of the day.
Match 5: James Walters took on Ollie Wilson, James was 1 down after 5 but looked like he was playing well, but couldn't hang on, giving Captain Ollie the honour of holing the match-winning putt (giving Leicestershire the 7 points needed) to win 4/3.
Match 6: Jim Burberry was paired against Martin Anderson, Jim drove the ball exceptionally well, but his lack of experience at this level showed up on and around the greens eventually losing 6/5
Match 7: Charlie Salter went down early and was 5 down, but was fired up by the Leicestershire player questioning Charlie's use of Aimpoint, Charlie fought back holing a superb 10 footer at 17 to be dormie 1, couldn't find the birdie putt at 18, losing 2 down.
Match 8: Greg Croxton took on Jack Mayfield and we were 1 up after 5, he extended his lead to 2 up but was outplayed on the back 9 and was unlucky to lose the 17th, losing 2 down.
Congratulations to Leicershireshire, who have won the league, mathematically, it is possible for Norfolk to catch them but it is very unlikely. They have had a great season, winning the Eastern Counties Foursomes and now the Anglian League.