Northants v Norfolk 1st team Anglian League match report.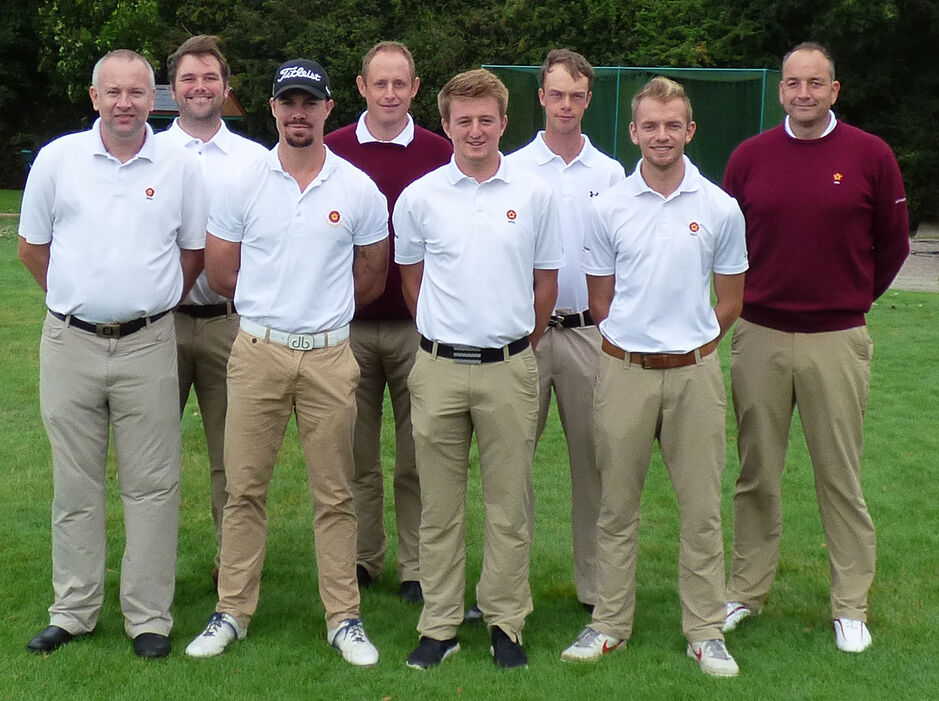 Left to Right: Greg Croxton, Fraser Carnihan, James Northern, Chris White, Michael Farr, Jack Hall, Miles Mudge, Paul Godding
Venue: Kettering Golf Club
4th September 2016
A breezy day welcomed us to Kettering Golf Club for the last match of the 2016 Anglian League season.
Morning foursomes.
First out, Miles Mudge was paired with Paul Godding and the match started with a bang as Norfolk put their tee shot to around 10ft, followed by Miles almost holing in one, leaving his ball no more than 3" from the hole. In a tightly contested match, the Northamptonshire duo eventually won 1up against Iain Yule and Tom Beasley.
Second up, Michael Farr was paired with debutant James Northern, home advantage and previous experience of playing together saw our pair run out comfortable winners, putting our 1st point on the board with a 6/5 win against Bruce McQuade and team Captain Kevin Webb.
Match 3 say team Captain Greg Croxton and Jack Hall (also making his 1st team debut) playing Jack Cullington and Jason Wysoczanski, a few wayward drives meant chipping back into position and losing the match 4/2
Our final pair saw the established duo of Fraser Carnihan and Chris White take on Thaine Hacon and Giles Evans, our duo running out comfortable winners 5/4
3-1 to Northants at Lunch.
Afternoon singles.
Michael Farr took on Giles Evans, Mike fought hard but could not hole a putt, until the last few holes where he fought back from 2 down with birdies at 17 and an impressive 30ft putt holed at 18 to gain a half a point against Giles Evans
Match of the day was between Paul Godding and Tom Beasley, Paul could not make headway despite some outstanding golf from both players, encapsulated in a 50 yard chip in (that never looked anywhere else) from the Norfolk player at 16 for birdie, leaving Paul a 10ft putt for a half, duly holed, Paul then returned the favour by chipping in for eagle at 17 from the wall of the left hand greenside bunker to draw the match level, then a given birdie 3 at 18 saw him snatch victory by 1 hole.
Miles Mudge took on Bruce McQuade, Mudgie had played some outstanding golf in the morning, especially on the greens, unfortunately, the feat could not be repeated in the afternoon despite some great approach shots, the putts didn't drop, losing 3/2
James Northern took on team Captain Kevin Webb in his last match as Captain, James out-drove the Norfolk man by 60 - 80 yards all the way round but could not pull away, eventually halving the match.
Greg Croxton took on Thaine Hacon, the Northants tail started to wag as halfway round, this was the first match that put Northampton in front, but Greg could not sustain his lead, losing 1 down.
Jack Hall had straightened his drives out for the afternoon, taking on the experienced Iain Yule, Jack gaining his first 1st team point winning 2/1
Chris White took on Jack Cullington, Chris played very well all afternoon, comfortably winning 3/2
Fraser Carnihan continued to wag our tail against Jason Wysoczanski, Fraser looked comfortable from the 1st hole, winning 4/2
Singles 5-3 to Northants
Overall result: Northants 8, Norfolk 4