2nd Team Friendly v. Warwickshire
Sunday 20th March 2016 at Edgbaston Golf Club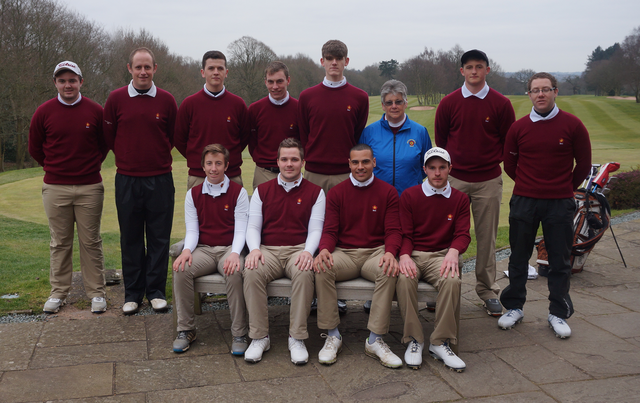 An early start for all at Edgbaston with a cold wind blowing across the course, similar to other clubs over the past weeks they had suffered with heavy rain though they had worked hard to get it in good shape with the greens being mown, ironed and sanded which caused grief to some.
With 8 new players to the 2nd team this year it was slightly stepping into the unknown though Tom Burgh Team Captain had the measure of the players and paired them for the foursomes which was pivotal on the outcome of the match.
With 6 holes to go of the foursomes looked to be equal honours at lunch, until Mikey Chambers & Ryan Jaffray won the 18th to halve their match, plus Chris White & James Walters winning their last two holes to finish 2 up making it an excellent mornings work for the team.
The afternoon singles was not going to plan with only Ryan Genner winning his match with great shot making out of our first 5 players, which left the overall match on the brink. Sam Bird was dormy 4 and put a sterling effort to win the next 3 holes and narrowly missed out on halving his match when his 10ft putt slipped pass the hole. Tom had the foresight to ensure the last 5 had strength in depth and they did not disappoint with James Walters, Chris White, Mark Bazeley winning their matches plus Mikey Chambers 2 down with 3 holes to play winning the last 3 holes with superb shot making and putting to win his match.
I must commend Tom and his team of players for the camaraderie they showed whether winning or losing by supporting their team members out on the course until the last put had been sunk and the match had been won.
Northamptonshire
| | |
| --- | --- |
| Foursomes | Results |
| Ryan Genner and Luke Barney | Won 1 up |
| Ben Morris and Mark Bazeley | Matched Halved |
| Sam Bird and Jay Noye | Won 4/3 |
| Mikey Chambers and Ryan Jaffray | Matched Halved |
| Chris White and James Walters | Won 2 up |
| Singles | Result |
| Sam Bird | Lost 1 down |
| Jay Noye | Lost 6/4 |
| Ryan Genner | Won 2/1 |
| Luke Barney | Lost 5/4 |
| Ben Morris | Lost 6/5 |
| Mikey Chambers | Won 1up |
| Ryan Jaffray | Lost 2/1 |
| James Walters | Won 3/2 |
| Chris White | Won 4/3 |
| Mark Bazeley | Won 3/2 |
Northamptonshire 9 - Warwickshire 6