County Girls Friendly Match Against Northampton Golf Club Boys on Friday 25th March 2016
Good Friday brought us hot cross buns and a beautiful Spring morning, where the sun shone on and off throughout the day! Fifteen girls were available to play in the pre season friendly which was aimed at giving single match play experience in preparation for their forth coming season's fixtures.
I'm pleased to report that the girls played well with a convincing win of 9 ½ to 3 ½. A great start to the season, our intentions are to maintain and build on this form but most importantly to enjoy our golf and the camaraderie of being part of the County Girl's Squad!
County Girl's looking very smart in their new shirts – Spot Charlotte's socks!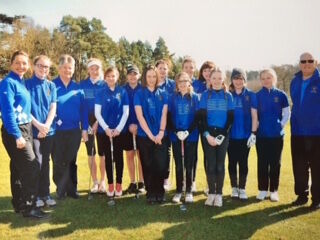 The results for the match were -