Seniors v. Cambridgeshire
Monday May 11th 2015
Cold Ashby Golf Club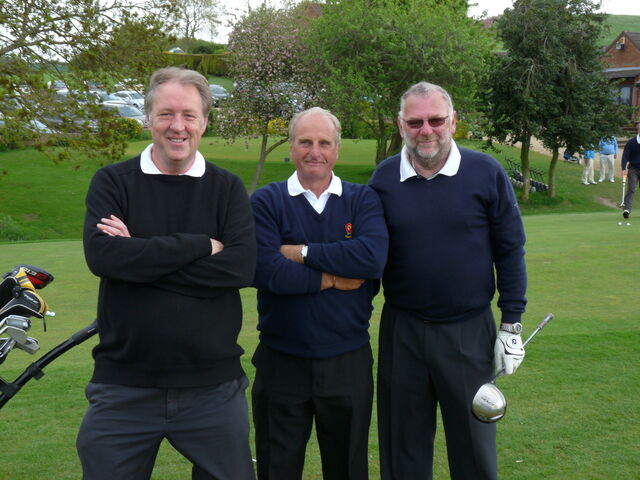 Captain Mike Abbotts (centre) with the leading pair. Peter Collins (left) and Richard Cole,
The County Seniors team started out on the season long journey to defend their Anglian League and Midland League East titles won in 2014.
On a windy and difficult day the Seniors recorded a 9 points to 6 point win in the Anglian league and a 12 point to 6 point win in the Midland League East.
Home advantage was wiped out by the terrain at Cold Ashby, with both sides struggling to cope with the exacting conditions.
The morning foursomes were very close, but the home team had 5 consecutive singles wins to seal the victory in the afternoon.
A word of congratulations to Ian Smith of Peterborough Milton, making a winning debut for the County seniors and Howard May also of Peterborough Milton, back after a season long injury in 2014.
The Seniors next fixture is Midland League match against a very strong Nottinghamshire team, to be played at Radcliffe on Trent G.C.
A very satisfactory season opening win.
Mike Abbotts
County Seniors Captain
| | | | | |
| --- | --- | --- | --- | --- |
| Northamptonshire | | | | Cambridgeshire |
| Foursomes | | | | |
| Richard Cole & Peter Collins | 2&1 | v | | Neil Hughes & Mick Heron |
| Brian O'Connell & Alan Linney | | v | 2&1 | Keith Moore & Peter Laughlin |
| Ted Dunn & Mark Johnson | halved | v | halved | Mike Morrison & David Burt |
| Andrew MacDonald & Rodney Haig | 5&4 | v | | Gerald O'Keane & Hamish Fleming |
| Mike Abbotts & Jim Tricklebank | | v | 1up | Bob Wilkinson & Keith Fayers |
| Howard May & Ian Smith *** | 1 up | v | | Dickie New & Peter Taylor *** |
| Foursomes Total | 3 1/2 | v | 2 1/2 | |
| | | | | |
| Singles | | | | |
| Richard Cole | halved | v | halved | Neil Hughes |
| Peter Collins | 2&1 | v | | Mick Heron |
| Andrew MacDonald | | v | 1up | Peter Laughlin |
| Brian O'Connell | | v | 3&2 | Keith Moore |
| Ted Dunn | 4&3 | v | | David Burt |
| Alan Linney | 2up | v | | Gerald O'Keane |
| Rodney Haig | 2&1 | v | | Mike Morrison |
| Mike Abbotts | 2&1 | v | | Hamish Fleming |
| Jim Tricklebank | 5&4 | v | | Keith Fayers |
| Mark Johnson | | v | 1up | Bob Wilkinson |
| Howard May*** | 1up | v | | Dickie New*** |
| Ian Smith*** | 5&4 | v | | Peter Taylor*** |
| Singles Total | 8 1/2 | | 3 1/2 | |
| East Midlands League Result (12 man) | | | | |
| Northants | 12 | | 6 | Cambridgeshire |
| East Anglian League Result (10 man) | | | | |
| *** players excluded | | | | |
| Northamptonshire | 9 | Holes up | 6 | Cambridgeshire |