Handicap League
Handicap League Results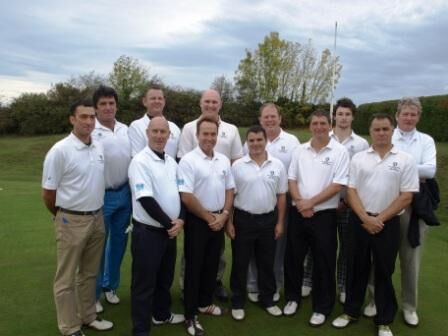 Congratulations to Collingtree Golf Club on winning the final of the Handicap League.
The match was played on Sunday 9th October at Oundle Golf Club and Collingtree beat Overstone Golf Club by 13-5.

Full Results (Collingtree Park names first)

Dick Underwood and Michael Clarke lost to Mark Birkett and Ivan Roy by 3 holes

David Messom (Team Captain) and Gary Simpson beat Roger Lones and Chris Hoy (Team Captain) by 5 holes

Gerald Monaghan and Mark Orchard halved with Ian Roy and Stewart Coull

Mark Cotton and Steve Low beat David Cummings and Dan Nixson by 3 holes

Craig Robb (Club Captain) and Richard Underwood lost to Anthony White and Ian Cornelius by 2 holes

Trevor Twelvetree and Kevin Parfitt beat Ryan McAllister and John Gleeson by 5 holes.
Final League Tables
| | | | | | | | | | |
| --- | --- | --- | --- | --- | --- | --- | --- | --- | --- |
| GROUP A | PLAYED | WON | DRAWN | LOST | POINTS | HOLES WON | HOLES LOST | DIFF | TO PLAY |
| OVERSTONE | 8 | 5 | 0 | 3 | 10 | 87 | 53 | 34 | 0 |
| PETERBOROUGH MILTON | 8 | 5 | 0 | 3 | 10 | 68 | 65 | 3 | 0 |
| OUNDLE | 8 | 4 | 1 | 3 | 9 | 79 | 65 | 14 | 0 |
| EMBANKMENT | 8 | 3 | 0 | 5 | 6 | 59 | 97 | -38 | 0 |
| RUSHDEN | 8 | 2 | 1 | 5 | 5 | 61 | 74 | -13 | 0 |
| | | | | | | | | | |
| GROUP B | PLAYED | WON | DRAWN | LOST | POINTS | HOLES WON | HOLES LOST | DIFF | TO PLAY |
| COLLINGTREE | 8 | 6 | 0 | 2 | 12 | 114 | 47 | 67 | 0 |
| KETTERING | 8 | 6 | 0 | 2 | 12 | 89 | 58 | 31 | 0 |
| PRIORS HALL | 8 | 4 | 0 | 4 | 8 | 60 | 58 | 2 | 0 |
| COLD ASHBY | 8 | 2 | 0 | 6 | 4 | 56 | 90 | -34 | 0 |
| DELAPRE | 8 | 2 | 0 | 6 | 3 | 49 | 119 | -70 | 0 |
| | | | | | | | | | |
| GROUP C | PLAYED | WON | DRAWN | LOST | POINTS | HOLES WON | HOLES LOST | DIFF | TO PLAY |
| NORTHAMPTON | 8 | 7 | 0 | 1 | 14 | 98 | 42 | 56 | 0 |
| BRAMPTON HEATH | 8 | 5 | 0 | 3 | 10 | 80 | 75 | 5 | 0 |
| WELLINGBOROUGH | 8 | 4 | 0 | 4 | 8 | 77 | 58 | 19 | 0 |
| KINGSTHORPE | 8 | 3 | 0 | 5 | 6 | 85 | 64 | 21 | 0 |
| SILVERSTONE | 8 | 1 | 0 | 7 | 2 | 29 | 130 | -101 | 0 |
| | | | | | | | | | |
| GROUP D | PLAYED | WON | DRAWN | LOST | POINTS | HOLES WON | HOLES LOST | DIFF | TO PLAY |
| HELLIDON LAKES | 8 | 7 | 0 | 1 | 14 | 95 | 56 | 39 | 0 |
| FARTHINGSTONE | 8 | 6 | 0 | 2 | 12 | 126 | 39 | 87 | 0 |
| STAVERTON | 8 | 4 | 0 | 4 | 8 | 83 | 59 | 24 | 0 |
| DAVENTRY | 8 | 2 | 0 | 6 | 4 | 54 | 119 | -65 | 0 |
| CHERWELL EDGE | 8 | 1 | 0 | 7 | 2 | 47 | 132 | -85 | 0 |
| | | | | | | | | | |
Match Results
| | | | | | |
| --- | --- | --- | --- | --- | --- |
| CLUB | | CLUB | | DAY | DATE |
| EMBANKMENT | 3 | PETERBOROUGH | 15 | Thurs | 04 August 2011 |
| EMBANKMENT | 21 | RUSHDEN | 0 | Thurs | 23 June 2011 |
| EMBANKMENT | 10 | OVERSTONE | 8 | Thurs | 18 August 2011 |
| EMBANKMENT | 15 | OUNDLE | 2 | Thurs | 12 May 2011 |
| PETERBOROUGH | 14 | EMBANKMENT | 1 | Wed | 28 July 2011 |
| PETERBOROUGH | 11 | RUSHDEN | 3 | Thurs | 18 August 2011 |
| PETERBOROUGH | 9 | OVERSTONE | 7 | Thurs | 14 July 2011 |
| PETERBOROUGH | 16 | OUNDLE | 7 | Thurs | 05 May 2011 |
| RUSHDEN | 16 | EMBANKMENT | 5 | Thurs | 07 July 2011 |
| RUSHDEN | 15 | PETERBOROUGH | 0 | Thurs | 21 July 2011 |
| RUSHDEN | 7 | OVERSTONE | 8 | Thurs | 16 June 2011 |
| RUSHDEN | 7 | OUNDLE | 14 | Tues | 28 June 2011 |
| OVERSTONE | 20 | EMBANKMENT | 3 | Thurs | 19 May 2011 |
| OVERSTONE | 18 | PETERBOROUGH | 0 | Sun | 24 July 2011 |
| OVERSTONE | 9 | RUSHDEN | 7 | Wed | 28 July 2011 |
| OVERSTONE | 16 | OUNDLE | 5 | Thurs | 09 June 2011 |
| OUNDLE | 22 | EMBANKMENT | 1 | Thurs | 16 June 2011 |
| OUNDLE | 11 | PETERBOROUGH | 3 | Thurs | 11 August 2011 |
| OUNDLE | 6 | RUSHDEN | 6 | Tues | 12 July 2011 |
| OUNDLE | 12 | OVERSTONE | 1 | Thurs | 26 May 2011 |
| COLD ASHBY | 9 | COLLINGTREE | 12 | Sun | 26 June 2011 |
| COLD ASHBY | 20 | KETTERING | 2 | Sun | 22 May 2011 |
| COLD ASHBY | 2 | PRIORS HALL | 6 | Sun | 10 April 2011 |
| COLD ASHBY | 16 | DELAPRE | 2 | Sat | 30 April 2011 |
| COLLINGTREE | 23 | COLD ASHBY | 4 | Sat | 13 August 2011 |
| COLLINGTREE | 27 | KETTERING | 0 | Sat | 07 May 2011 |
| COLLINGTREE | 18 | PRIORS HALL | 1 | Sun | 12 June 2011 |
| COLLINGTREE | 17 | DELAPRE | 1 | Sat | 06 August 2011 |
| KETTERING | 12 | COLD ASHBY | 0 | Thurs | 23 June 2011 |
| KETTERING | 10 | COLLINGTREE | 4 | Sat | 11 June 2011 |
| KETTERING | 15 | PRIORS HALL | 1 | Wed | 29 June 2011 |
| KETTERING | 36 | DELAPRE | 0 | Thurs | 02 June 2011 |
| PRIORS HALL | 10 | COLD ASHBY | 0 | Sat | 23 April 2011 |
| PRIORS HALL | 8 | COLLINGTREE | 9 | Sun | 28 May 2011 |
| PRIORS HALL | 2 | KETTERING | 7 | Sat | 30 April 2011 |
| PRIORS HALL | 18 | DELAPRE | 0 | Sat | 16 April 2011 |
| DELAPRE | 23 | COLD ASHBY | 5 | Sat | 09 July 2011 |
| DELAPRE | 14 | COLLINGTREE | 4 | Sat | 14 May 2011 |
| DELAPRE | 4 | KETTERING | 7 | Thurs | 07 July 2011 |
| DELAPRE | 7 | PRIORS HALL | 16 | Sat | 23 July 2011 |
| SILVERSTONE | 5 | KINGSTHORPE | 8 | Thurs | 09 June 2011 |
| SILVERSTONE | 4 | NORTHAMPTON | 10 | Sat | 16 July 2011 |
| SILVERSTONE | 3 | BRAMPTON HEATH | 15 | Sat | 06 August 2011 |
| SILVERSTONE | 13 | WELLINGBOROUGH | 6 | Thurs | 16 June 2011 |
| KINGSTHORPE | 27 | SILVERSTONE | 2 | Thurs | 07 July 2011 |
| KINGSTHORPE | 5 | NORTHAMPTON | 12 | Sun | 01 May 2011 |
| KINGSTHORPE | 21 | BRAMPTON HEATH | 7 | Sat | 11 June 2011 |
| KINGSTHORPE | 1 | WELLINGBOROUGH | 3 | Thurs | 21 July 2011 |
| NORTHAMPTON | 15 | SILVERSTONE | 1 | Sun | 12 June 2011 |
| NORTHAMPTON | 15 | KINGSTHORPE | 9 | Sun | 19 June 2011 |
| NORTHAMPTON | 16 | BRAMPTON HEATH | 1 | Sat | 25 June 2011 |
| NORTHAMPTON | 16 | WELLINGBOROUGH | 7 | Sat | 06 August 2011 |
| BRAMPTON HEATH | 24 | SILVERSTONE | 1 | Sat | 23 July 2011 |
| BRAMPTON HEATH | 10 | KINGSTHORPE | 7 | Sat | 07 May 2011 |
| BRAMPTON HEATH | 11 | NORTHAMPTON | 5 | Sat | 02 July 2011 |
| BRAMPTON HEATH | 10 | WELLINGBOROUGH | 8 | Sat | 30 April 2011 |
| WELLINGBOROUGH | 25 | SILVERSTONE | 0 | Thurs | 30 June 2011 |
| WELLINGBOROUGH | 10 | KINGSTHORPE | 7 | Thurs | 26 May 2011 |
| WELLINGBOROUGH | 4 | NORTHAMPTON | 9 | Thurs | 09 June 2011 |
| WELLINGBOROUGH | 14 | BRAMPTON HEATH | 2 | Wed | 17 August 2011 |
| FARTHINGSTONE | 35 | CHERWELL EDGE | 0 | Thurs | 16 June 2011 |
| FARTHINGSTONE | 27 | DAVENTRY | 2 | Thurs | 23 June 2011 |
| FARTHINGSTONE | 8 | STAVERTON | 2 | Thurs | 30 June 2011 |
| FARTHINGSTONE | 21 | HELLIDON LAKES | 0 | Thurs | 09 June 2011 |
| CHERWELL EDGE | 5 | FARTHINGSTONE | 21 | Thurs | 21 July 2011 |
| CHERWELL EDGE | 24 | DAVENTRY | 0 | Frid | 27 May 2011 |
| CHERWELL EDGE | 3 | STAVERTON | 14 | Thurs | 14 July 2011 |
| CHERWELL EDGE | 7 | HELLIDON LAKES | 10 | Thurs | 07 July 2011 |
| DAVENTRY | 6 | FARTHINGSTONE | 9 | Frid | 08 July 2011 |
| DAVENTRY | 10 | CHERWELL EDGE | 6 | Frid | 20 May 2011 |
| DAVENTRY | 14 | STAVERTON | 4 | Frid | 01 July 2011 |
| DAVENTRY | 6 | HELLIDON LAKES | 7 | Frid | 06 May 2011 |
| STAVERTON | 9 | FARTHINGSTONE | 3 | Sun | 31 July 2011 |
| STAVERTON | 22 | CHERWELL EDGE | 0 | Sun | 26 June 2011 |
| STAVERTON | 20 | DAVENTRY | 10 | Frid | 03 June 2011 |
| STAVERTON | 7 | HELLIDON LAKES | 11 | Sat | 21 May 2011 |
| HELLIDON LAKES | 15 | FARTHINGSTONE | 2 | Thurs | 14 July 2011 |
| HELLIDON LAKES | 20 | CHERWELL EDGE | 2 | Thurs | 12 May 2011 |
| HELLIDON LAKES | 22 | DAVENTRY | 6 | Frid | 17 June 2011 |
| HELLIDON LAKES | 10 | STAVERTON | 5 | Thurs | 23 June 2011 |