NGU Junior Match Play - Finals
(Sponsored by John & Doris Redden)
Played at Wellingborough GC on Sunday 30th October 2011
Michael Campbell (Kettering GC)
Winner of Junior Match Play 2011
John Redden and Doris Redden
On a beautiful Autumn day the semi finals were closely fought but the Kettering Club mates Michael Campbell and Dan Ashcroft came through to contest a closely fought Final.
In the Final, Michael was 2 up after 8 holes and looked to be heading for a close but comfortable win against his close friend, but Dan fought back with birdies at the 12th and 13th to make it all square. Michael quickly replied with a brilliant long iron to the 14th green and his putt from 15 inches was conceded for an eagle 3. He then promptly won the 14th and halved the remaining holes to win by 2 & 1.
My thanks to all at Wellingborough especially David Waite for their excellent help.
My special thanks go to our sponsors John and Doris Redden who continue to support this unique event whereby they invite the parents of the 4 semi finalists to a meal after the matches are completed.
Final
Michael Campbell beat Dan Ashcroft by 2 & 1
3rd & 4th Place Play Off
Jack Walding beat Dan Messom by 2 & 1.
Semi Finals
Michael Campbell, Kettering beat Jack Walding, Kettering by 2 & 1.
Dan Ashcroft, Kettering beat Dan Messom of Collingtree Park by 3 & 2.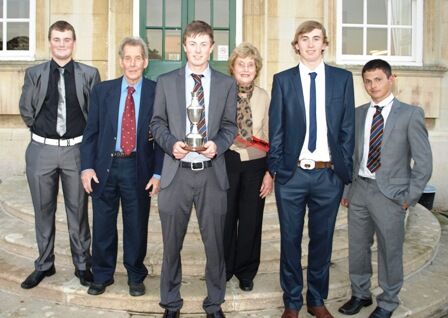 John & Doris Redden (Sponsors) with the finalists in the NGU Junior Match Play competition