1st Team v. Suffolk
10th May 2015
Woodbridge Golf Club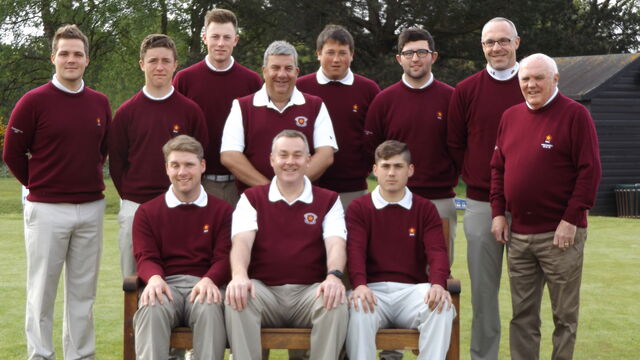 The first team started our 2015 Anglian league season with a trip to the stunningly pretty Woodbridge to play Suffolk. Every hole on the course greets you with a fantastic view of the course and whilst it can be punishing with gorse if you do no hit the fairway, the course is very laid out in front of you inviting some risk and reward shots and some very fine short holes.
With our squad missing more than 1/2 dozen key players from last year, this match offered Anglian league debut's for Ben Jones (Brampton Heath) and Jamie Milligan (Wellingborough) as well as an opportunity for some great up and coming stars to cement their place in the team.
Morning foursomes
Callum Farr and Michael Campbell played some great golf but eventually went down 3/2
Graham Bott and Jack Brown played solid golf, with our opposition taking advantage of the rub of the green and and a few holed putts, their losing score really flattered the opposition in a match that really was a lot closer than the 6/5 score would suggest.
Jamie Milligan and Tom Burgh Won looked to be cruising to an easy victory, suffering a bit of a wobble but eventually triumphed 1 up
Sam Henfry and Ben Jones played some of the best golf on the course all day, looking very solid with 7 birdies to win 3/2
This meant the it was tied 2-2 at lunch
Afternoon Singles
Sam Henfrey got off to a flying start continuing his great form from the morning and raced around to win 3/2 in record time!
Ben Jones played well, but not well enough to be the outstanding Paul Warring, who is profoundly deaf and a credit to the suffolk team, Ben losing to a slightly flattering 5/4
Callum Farr won the first 4 holes on the spin and also looked solid and cruised to a 3/2 win
Michael Campbell struggled with his game in the afternoon, despite some fine play he went down 5/4
For a long time, Jack Brown looked like he would sneak a point, but is opponent played probably the shot of the day from the heather on the right of the 16th to win the hole and go dormy. Jack could only manage a half at the tricky 17th thus losing the match 2/1, but it was great to see Jack back in the team and enjoying his golf.
Jamie Milligan completed a brilliant debut with some great ball striking and accurate play to smash his opponent with a dog license, winning 7/6
With 8th out Tom Burgh hitting the ball a little too close to the hosel and thus losing 8/7 this left the experienced Graham Bott trying to find a half a point, he was unlucky at the par 3 12th, when his opponent found the sand and then holed his bunker shot, Botty made a stirling fightback, proving to himself and the team Captain that he can still compete coming back from 4 down and putting pressure on his opponent at 17 by holing a tricky downhill putt, unfortunately the Suffolk player's mettel held as he halved the hole to win the game and the match 7-5.
The weather was kind to us, feeling pleasantly warm and breezy with some good periods of sun all day.
The match was played in excellent spirit and despite losing the match, we can take good heart from the way we played and despite the loss of so many of our best players to the professional ranks, golf in Northamptonshire is in very fine shape.
Suffolk
Northamptonshire
Foursomes
Result
Josh Cottrell and Jasper Johnson
Lost 3/2
Callum Farr and Michael Campbell
Paul Warring and Chris Bartrum
Lost 6/5
Graham Bott and Jack Brown
James Biggs and Robert Salter
Won 1up
Jamie Milligan and Tom Burgh
Ali Hall and Monty Scowcill
Won 3/2
Sam Henfrey and Ben Jones
2 - 2
Singles
Result
Monty Scowcill
Won 3/2
Sam Henfrey
Paul Warring
Lost 5/4
Ben Jones
Chris Bartrum
Won 3/2
Callum Farr
James Biggs
Lost 5/4
Michael Campbell
Robert Salter
Lost 2/1
Jack Brown
Jasper Johnson
Won 7/6
Jamie Milligan
Josh Cottrell
Lost 2/1
Graham Bott
Ali Hall
Lost 8/7
Tom Burgh
Lost 5-3
Overall result
Suffolk 7 - Northamptonshire 5