Northants Girls friendly match against Buckinghamshire Girls, Sunday 3rd April 2016
A friendly match was arranged to be played against Buckinghamshire to encourage girls with higher handicaps (30 – 45) to gain match play experience in a sociable and relaxed environment, the format played was 4BBB.
The match was kindly hosted by Whittlebury Park Golf Club, who made everyone feel very welcome and their staff looked after us splendidly throughout the day.
Naturally the girls were a little nervous to begin with but as soon as the matches started they soon settled down and played some excellent golf. Each four ball was accompanied by a helper and my thanks go to Rayner Edwards, Vera White, Jason Auld and Andy Potter.
The match was very close and in fact came down to a final putt on the ninth hole by Lottie Heaver which meant that Northanants won the match 2 ½ to 1 ½.
Susan Ashworth the CJO from Bucks thanked Northamptonshire for a wonderful day, commented on how well the girls conducted themselves on the course and was impressed by their excellent etiquette.
County Girls Higher Handicap Team with Mascot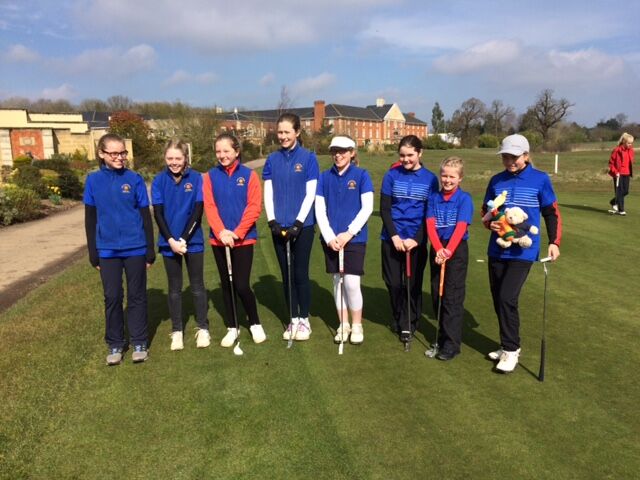 JUNIOR FRIENDLY HANDICAP MATCH
Northants V Buck
at
Whittlebury Park GC
3rd April 2016 from 11.30am
4BBB - 90% handicap diff from lowest player
Name

H/C

90%diff

Northants Result

Name

H/C

90% diff

1

Hannah Talot

Rushden G.C.

34

5

Lost

4 down

Erin Bailey

28

-

Emily Horsted

Peterborough Milton G.C

45

15

Ciara Egan

45

15

2

Gracie Murray

Kettering G.C.

36

5

Won

1 up

Ruby Richards

31

-

Chelsey Sharp

Kettering G.C.

45

13

Grace Rigby-Walden

31

-

3

Amelia Humphries

Northampton G.C.

36

12

Halved

Olivia Lee

23

-

Jade Potter

Northampton G.C

45

20

Freya Timms

45

20

4

Lara Auld

Northampton G.C

38

5

Won

1 up

Jess Pilgrim

33

-

Lottie Heaver

Overstone G.C

45

11

Rachel Mackinlay

45

11
RESULT: Northants 2½ to Buckingham 1½