NGU County Championships 2011
Played at WELLINGBOROUGH GC

on Saturday 11th June.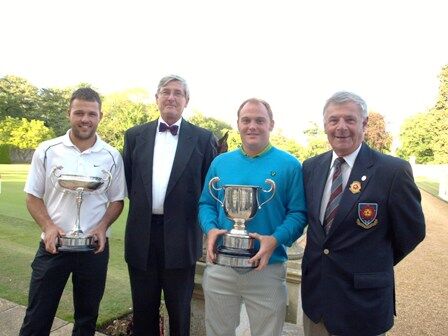 Pictured from left to right are

Jon Handyside, Parsons Cup winner (handicap winner), Bill Morgan, Wellingborough Club Captain, Mark Davis, County Champion and Gordon Rising, NGU President.
Mark Davis of host club Wellingborough played two very steady rounds of 72 and 73 in difficult dry and windy conditions to secure a 1 stroke victory from Fraser Carnihan of Cold Ashby.
Fraser was 4 under for the first 17 holes but ran up a 9 at the tricky 18th hole and then could only manage 73 in the afternoon. In third place was Jon Handyside of Kettering Golf Club with 76 and 71, 147 and fourth was Adam Myers of Northants County with 74 and 73, 147.
The Parsons Cup for the best nett score was won by Jon Handyside with 74 and 69, 143 from Mark Davis also on 143 but with 71 and 72.
The Braids Driver for the best under 22 years of age player was Adam Myers.
The Champion Team to represent Northamptonshire was Wellingborough Golf Club, with Ryan Evans, Mark Davis and Chris Howes scoring 442
Our thanks to Wellingborough Golf Club for the use of their course and their help during the competition.
FULL RESULTS
| | | | | | | | | | | | |
| --- | --- | --- | --- | --- | --- | --- | --- | --- | --- | --- | --- |
| No | Name | Club | Hcp | Gross AM | Nett AM | Gross PM | Nett PM | Total Gross | Total Nett | Pos Nett | Pos Gross |
| | | | | | | | | | | | |
| 1 | MARK DAVIS | WELLINGBOROUGH | 1 | 72 | 71 | 73 | 72 | 145 | 143 | 2nd | 1st |
| 2 | FRASER CARNIHAN | COLD ASHBY | -1 | 73 | 74 | 73 | 74 | 146 | 148 | | 2nd |
| 3 | JON HANDYSIDE | KETTERING | 2 | 76 | 74 | 71 | 69 | 147 | 143 | 1st | 3rd |
| 4 | ADAM MYERS* | NORTHANTS COUNTY | 0 | 74 | 74 | 73 | 73 | 147 | 147 | | 4th |
| 5 | CHRIS HOWES | WELLINGBOROUGH | 2 | 70 | 68 | 78 | 76 | 148 | 144 | | 5th |
| 6 | RYAN EVANS | WELLINGBOROUGH | -2 | 75 | 77 | 74 | 76 | 149 | 153 | | 6th |
| 7 | ADIE FIRMAN | PETERBOROUGH MILTON | -1 | 71 | 72 | 78 | 79 | 149 | 151 | | |
| 8 | HARRY LARKINS | NORTHANTS COUNTY | 3 | 74 | 71 | 76 | 73 | 150 | 144 | 3rd | |
| 9 | NEIL CONNOLLY | NORTHANTS COUNTY | -1 | 79 | 80 | 72 | 73 | 151 | 153 | | |
| 10 | JON HARRIS | WELLINGBOROUGH | 2 | 76 | 74 | 75 | 73 | 151 | 147 | | |
| 11 | JEAN-MICHEL HALL | WHITTLEBURY PARK | 0 | 75 | 75 | 76 | 76 | 151 | 151 | | |
| 11 | KYSON LLOYD* | WELLINGBOROUGH | -1 | 75 | 76 | 76 | 77 | 151 | 153 | | |
| 13 | MICHAEL CAMPBELL* | KETTERING | 1 | 73 | 72 | 78 | 77 | 151 | 149 | | |
| 14 | DANIEL ASHCROFT* | KETTERING | 3 | 77 | 74 | 76 | 73 | 153 | 147 | | |
| 15 | TONY LORD | NORTHANTS COUNTY | 0 | 78 | 78 | 76 | 76 | 154 | 154 | | |
| 16 | DANIEL MESSOM* | COLLINGTREE PARK | 5 | 75 | 70 | 79 | 74 | 154 | 144 | 4th | |
| 17 | MATT BIRD | NORTHANTS COUNTY | 1 | 73 | 72 | 81 | 80 | 154 | 152 | | |
| 18 | GRAHAM BOTT | COLD ASHBY | 0 | 78 | 78 | 77 | 77 | 155 | 155 | | |
| 19 | RYAN CONNOLLY* | WELLINGBOROUGH | 3 | 76 | 73 | 79 | 76 | 155 | 149 | | |
| 20 | TOM LENTON* | STAVERTON PARK | 2 | 74 | 72 | 81 | 79 | 155 | 151 | | |
| 21 | PAUL HODGKISS* | FARTHINGSTONE | 0 | 73 | 73 | 82 | 82 | 155 | 155 | | |
| 22 | TOM BULLOUGH | NORTHANTS COUNTY | 5 | 79 | 74 | 77 | 72 | 156 | 146 | | |
| 23 | JACK WALDING* | KINGSTHORPE | 2 | 80 | 78 | 77 | 75 | 157 | 153 | | |
| 24 | SAM HUGHES* | PETERBOROUGH MILTON | 2 | 79 | 77 | 78 | 76 | 157 | 153 | | |
| 24 | RICHARD DALTON | OVERSTONE PARK | 1 | 79 | 78 | 78 | 77 | 157 | 155 | | |
| 26 | ANTHONEY LAMOND* | PRIORS HALL | 2 | 75 | 73 | 82 | 80 | 157 | 153 | | |
| 27 | JAMES BARKER | OVERSTONE PARK | 1 | 81 | 80 | 77 | 76 | 158 | 156 | | |
| 28 | ANDY LILLY | KETTERING | 2 | 78 | 76 | 80 | 78 | 158 | 154 | | |
| 29 | ADAM SHERLOCK | WELLINGBOROUGH | 4 | 84 | 80 | 75 | 71 | 159 | 151 | | |
| 30 | BRADLEY GREEN* | COLD ASHBY | 4 | 81 | 77 | 78 | 74 | 159 | 151 | | |
| 31 | ROB CLAYTON | COLD ASHBY | 1 | 76 | 75 | 83 | 82 | 159 | 157 | | |
| 32 | DARREN MATTHEWS | FARTHINGSTONE | 4 | 84 | 80 | 76 | 72 | 160 | 152 | | |
| 33 | BEN HORGAN | COLLINGTREE PARK | 3 | 80 | 77 | 80 | 77 | 160 | 154 | | |
| 34 | SAM BUSS* | WHITTLEBURY PARK | -1 | 79 | 80 | 82 | 83 | 161 | 163 | | |
| 35 | MILES MUDGE* | STAVERTON PARK | 0 | 77 | 77 | 84 | 84 | 161 | 161 | | |
| 36 | MATT HODGKISS* | FARTHINGSTONE | 2 | 76 | 74 | 85 | 83 | 161 | 157 | | |
| 37 | MALCOLM SCOTT | PRIORS HALL | 3 | 81 | 78 | 81 | 78 | 162 | 156 | | |
| 37 | GAVIN COPE* | COLD ASHBY | 3 | 81 | 78 | 81 | 78 | 162 | 156 | | |
| 39 | MARK BAZELEY | KINGSTHORPE | 3 | 84 | 81 | 79 | 76 | 163 | 157 | | |
| 40 | HARRISON WOAN* | OVERSTONE PARK | 0 | 82 | 82 | 81 | 81 | 163 | 163 | | |
| 41 | JAMIE ASHCROFT* | KETTERING | 4 | 81 | 77 | 82 | 78 | 163 | 155 | | |
| 42 | STEVE ALEXANDER | RUSHDEN | 4 | 80 | 76 | 83 | 79 | 163 | 155 | | |
| 43 | LEWIS MILLER* | RUSHDEN | 2 | 75 | 73 | 88 | 86 | 163 | 159 | | |
| 44 | ADRIAN RANDALL | PETERBOROUGH MILTON | 5 | 85 | 80 | 79 | 74 | 164 | 154 | | |
| 45 | RUSSELL BROWN | STAVERTON PARK | 3 | 86 | 83 | 79 | 76 | 165 | 159 | | |
| 46 | TONY FERNS | PRIORS HALL | 5 | 82 | 77 | 83 | 78 | 165 | 155 | | |
| 47 | SCOTT GORDON | KETTERING | 4 | 85 | 81 | 81 | 77 | 166 | 158 | | |
| 47 | SAM WAITE | WELLINGBOROUGH | 3 | 85 | 82 | 81 | 78 | 166 | 160 | | |
| 49 | ROD HANDYSIDE | KETTERING | 5 | 83 | 78 | 83 | 78 | 166 | 156 | | |
| 50 | TAYLOR SARGEANT* | OVERSTONE PARK | 2 | 80 | 78 | 86 | 84 | 166 | 162 | | |
| 51 | MATTHEW MYERS* | NORTHANTS COUNTY | 5 | 83 | 78 | 84 | 79 | 167 | 157 | | |
| 52 | JAMES CLARK* | PETERBOROUGH MILTON | 6 | 86 | 80 | 83 | 77 | 169 | 157 | | |
| 53 | STUART BELL | KETTERING | 6 | 85 | 79 | 84 | 78 | 169 | 157 | | |
| 54 | SIMON BLUNDELL | WELLINGBOROUGH | 4 | 85 | 81 | 86 | 82 | 171 | 163 | | |
| 55 | ROB MUNRO-HALL | PETERBOROUGH MILTON | 5 | 86 | 81 | 87 | 82 | 173 | 163 | | |
| 56 | SAM WALPOLE* | WELLINGBOROUGH | 2 | NR | N/R | 87 | 85 | N/R | N/R | | |
| 55 | TOM BURGH* | PETERBOROUGH MILTON | 1 | 76 | 75 | N/R | N/R | N/R | N/R | | |
| 55 | SIMON COX | RUSHDEN | 3 | 80 | 77 | N/R | N/R | N/R | N/R | | |
| 55 | RAB WILSON | STOKE ALBANY | 1 | NR | N/R | N/R | N/R | N/R | N/R | | |
| 55 | ANDREW BRUCE | STOKE ALBANY | 3 | NR | N/R | N/R | N/R | N/R | N/R | | |
| | | | | | | | | | | | |
| | * Under 22 years of age | | | 72 | | 72 | | 144 | | | |
| | | | | 72 | | 72 | | 144 | | | |
| | | | | 73 | | 74 | | 147 | | | |