2016 Eastern Counties Foursomes
14 - 15th May 2016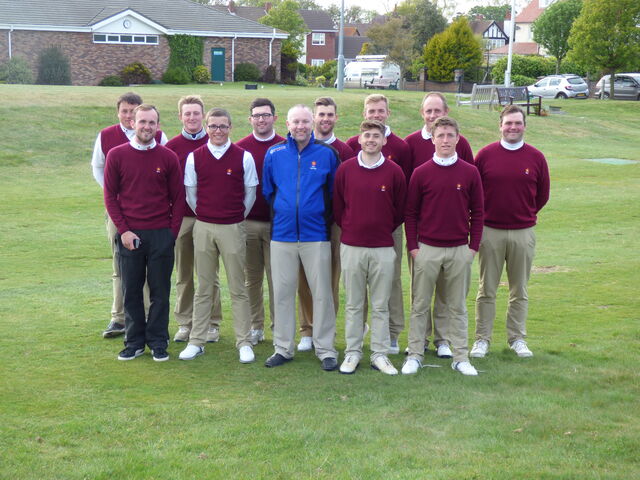 With the wind blowing about a 3 club wind, downwind on the front 9, the weekend started promisingly as we made 6 points against the unknown quantity BB&O and Suffolk, we started both Saturday rounds at the 11th holes making the first 8 holes a real battle into the wind.
1: It was great to have Paul Hodgkiss and Lewis White available to renew their partnership in this event and they performed as we hoped and won 2 points, beating Suffolk 2/1 and a brilliant tee shot on 11 set up a birdie to beat BB&O on the last.
2: Callum Farr and Harry Woan scored 1 point, beating BB&O but losing to Suffolk on the last hole.
3: Sam Henfrey and Ben Jones looked awesome, winning both matches.
4: Miles Mudge and Mike Farr (making his debut) battled hard and won half a point against BB&O, losing to Suffolk.
5 Fraser Carnihan and Chris White had probably the hardest job, against quality opposition, they managed a half with BB&O but lost to Suffolk.
So everyone was on the scoreboard and we were looking good in 3rd place with 6 points, 1 point behind Suffolk, 2 behind Leicestershire.
A change of line up for the afternoon, Jack Brown swapped for Miles Mudge who spent the time on the range and practicing his putting, which helped him for Sunday. Saturday afternoon is not usually so kind to us and this year was no exception, we only managed to win 2 points.
We faced a strong Leicester and Norfolk, who were just half a point behind after the morning session
1: Paul and Lewis really got down early (emotionally and on scores), losing both matches.
2: Callum and Harry battled hard, but Callum just couldn't find the bottom of the cup with his putter, losing both matches.
3: Sam and Ben got our 1st point of the afternoon, beating Norfolk but losing to Leicester.
4: Jack and Mike didn't really gel, losing both matches
5: Fraser and Chris improved on their tally from the morning, beating Leicester but losing to Norfolk, another point on the board, not helped by Norfolk holing a 3 wood from 240 yards at 18
Sunday dawned and the weather was glorious, the wind had dropped completely, making playing conditions perfect, off came the jumpers, shirt sleeve order for most players. We faced a much improved Bedfordshire and Lincolnshire in the morning
1: Sam and Ben were at their awesome best out top, comfortably winning both matches.
2: Miles and Jack were paired up and added another point, beating Beds but losing to Lincs
3: Paul and Hodgy were rested from top, a tactic that backfied slightly as Lincs and Beds also moved their top players to 3rd, no points won and Hodgy not feeling great, asked to miss the last match
4: Fraser and Chris moved up the order to 4, winning a half point.
5: Callum found his putting touch and combined with Harry to play some fantastic golf, 4 birdies on the spin, followed by a lip out for another, followed by another birdie won both matches to give us another 2 points.
5.5 points after the morning session and with just 2 points between 3rd and 8th, we were hopeful of a good afternoon to shoot us up the leaderboard.
The last session saw us meet Cambridgeshire and Essex
1: Sam and Ben were keen to repeat their morning performance out top, unfortunately, they couldn't and lost both matches.
2: Jack and Miles teamed up again, a couple of "unmentionables" from Jack early on, didn't help his confidence, both matches lost, despite a fightback and outrageous birdie flop shot from Miles at 16 that went higher than it did forward, landed 6 inches from the hole and dropped in
3: Fraser and Chris had no joy in the afternoon, losing both matches
4: Lewis teamed up with Mike and really played well together, Mike's game is very similar to Paul's and this partnership won both matches
5: Callum and Harry teamed up again last out and repeated their performance from the morning, winning both matches
If I had to sum up our weekend in one sentence, it would be "That felt a worse than it actually was". We could so easily have finished 3rd or 4th had a couple of matches against the right opposition gone our way, but this is a game of fine margins and we have to accept we came up short, finishing 8th place.
Final Standings
| | | | |
| --- | --- | --- | --- |
| COUNTY | SATURDAY | SUNDAY | TOTAL |
| L&RGU | 15 | 12.5 | 27.5 |
| Suffolk | 14.5 | 10 | 24.5 |
| Norfolk | 11.5 | 10 | 21.5 |
| Essex | 6 | 14.5 | 20.5 |
| Bedfordshire | 12 | 8 | 20 |
| Lincolnshire | 9.5 | 10 | 19.5 |
| Cambridgeshire | 11 | 8.5 | 19.5 |
| Northamptonshire | 8 | 9.5 | 17.5 |
| BB&O | 2.5 | 7 | 9.5 |