2016 Mens Past Captains (SNGC)
16th March Aspley Guise GC -
Bishton Barwick Kelly Trophies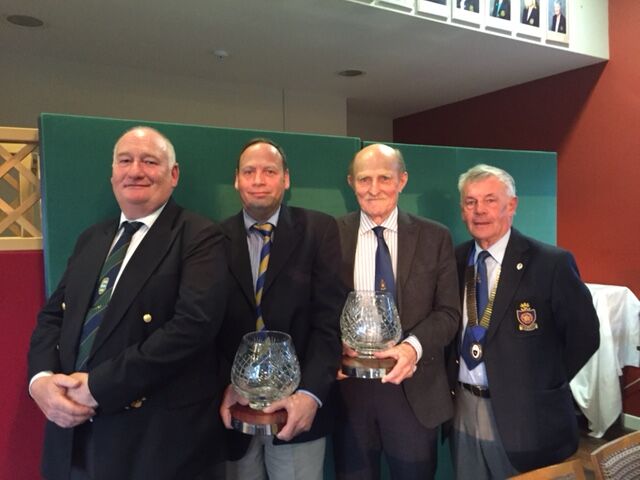 Aspley Guise Vice Captain Grant Waters, winners Nick Clancey and Tony Worthington and President Gordon Rising.
On Wednesday 16th March 2016 the society started the season playing for the above trophies at Asply
Guise golf club in Bedfordshire by guide permission of the club's committee.

Thirty two members played and were joined as our guests the club vice captain Grant and member
Peter.
The weather was kind if a little chilly-the course was in good condition considering the recent weather
and the clubhouse hospitality
was excellent.

All in all a very enjoyable day.
THE RESULT
1st Nick Clancey and Tony Worthington 41pts
2nd Dave Nicole and Mike Williams 40pts
3rd Eric Duckworth and Brian Ward 39pts
The next meeting is on Wednesday 6th April with the County Juniors at Kingsthorpe GC.
Please let Mike Jennings(match secretary)of your availability in good time.