2nd Team Match v Leicestershire & Rutland
3rd September 2017
Kingsthorpe Golf Club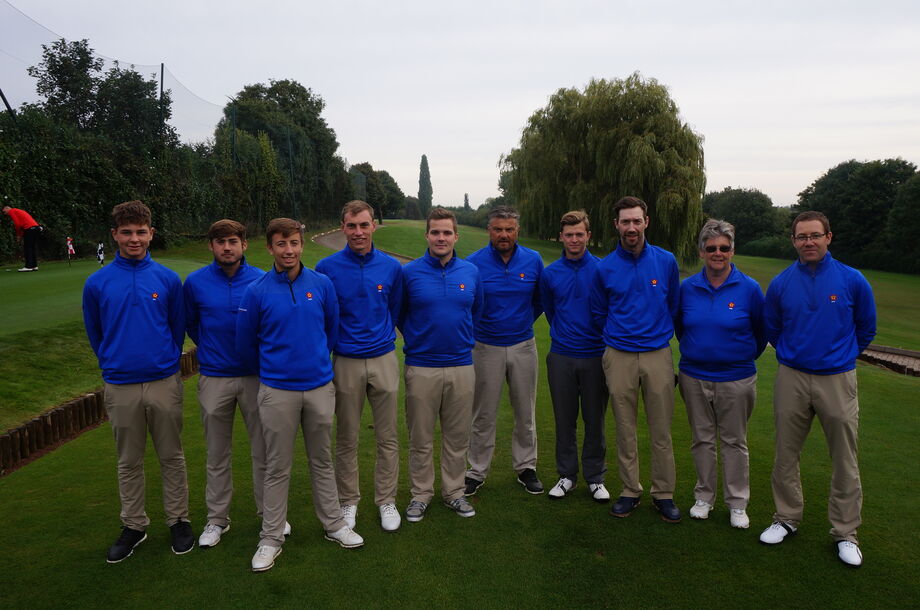 Our team consisted of: Tom Burgh - Captain. Luke Barney, Mark Bazeley, Jack Binch, Jack Brown, Ryan Genner, Mark Philips, Ian Wicks & Luis Witherall
Kingsthorpe was in excellent condition with fast greens, pin placements were more generous than previous due to a Seniors competition being played as well. The weather was somewhat chilly though kept dry. Due to our players not having a practise round for club's commitments! put us on the back foot as the greens were faster than previous matches which gave Leicestershire the advantage immediately.
The morning foursomes were very one sided in favour of the opposition from the off our players not matching the approach play & putts that was being displayed, putting our foursomes under pressure our only match that gave resistance was Jack Binch & Jack Brown losing on the 17th after a shank from the tee resulting on a 2 & 1 loss.
The foursomes finished Northamptonshire 0 points Leic & Rut 4 points.
The team were deflated at lunch but hoped to stage a recovery though were realistic they were up against strong opposition who had their tails up. Ian Wicks lead the team off his match was an even affair both making a string of birdies between them Ian was 2 down with 3 to play won the 16th & 17th and halved the 18th to halve his match. Luke Barney turned on a good display of shot making and putting accuracy to comfortably win his match by 6&5. Mark Bazeley Kingsthorpe member used his knowledge of the course to take control of his match early on and never looked troubled by his opponent winning his match 5&4. Ryan Genner's match was a very even contest never more than a hole in it all the way round both players on top of their game finishing 1up to Leicestershire. Mark Philips though under par lost to a Leicester player barage of birdies losing 3&2. Our other 3 matches were one sided event in favour of Leicestershire Jack Binch lost 5&4, Jack Brown 7&6 & Luis Witherall 5&4.
The singles finished Northamptonshire 2 & 1/2 points to Leicester & Rutland 5 & 1/2.
Northamptonshire Match Results
Foursomes
Ian Wicks & Mark Philips Lost 4 & 3
Mark Bazeley & Luis Witherall Lost 7 & 6
Luke Barney & Ryan Genner Lost 4 & 3
Jack Binch & Jack Brown Lost 2 & 1
Singles
Ian Wicks Matched Halved
Mark Philips Lost 3 & 2
Luke Barney Won 6 & 5
Ryan Genner Lost 1 down
Jack Binch Lost 5 & 4
Luis Witherall Lost 5 & 4
Mark Bazeley Won 5 & 4
Jack Brown Lost 7 & 6
Overall result Northamptonshire 2 & 1/2 points to Suffolk 9 & 1/2 points