The final match of the 2018 season took place at St. Ives Golf Club for a match against Cambridgeshire. The Northants team were very similar to the last match with one only change, Callum Farr coming in for the unavailable Fraser Carnihan.
The match was played on another fantastic day for golf, totally clear skies all day, warm sunshine from early on and only light breezes. For the second consecutive season, the Northants team had a chance of Anglian league victory, however this year, unlike 2017, the situation was not 100% in our hands. Leicestershire would collect the title with either a draw or win, playing against Suffolk in Stowmarket. We had to win and then keep our fingers crossed – the team had talked a lot about just concentrating on our jobs and the parts we could control.
Morning Foursomes
The foursomes matches got underway with Michael Farr and Mikey Chambers out first, followed by Lee Hitchcock and Callum Farr, Luis Witherall and Charlie Salter with Liam McNeela and Miles Mudge in their familiar anchor role. Playing against one of the youngest Cambridgeshire sides for many many years.
Mikey and Michael quickly took control of their match against Cambs captain Ed DiMambro and home member Kevin Taylor, 4 up through 6. Callum and Lee were all square at the same point and matches 3 and 4 both stood at 1 up, walking onto the short 7th tee. Just the start we had been looking for.
At the next suitable point of the golf course (12th tee) the scores in the matches were 4up in match 1, all square in 2, 2 up in 3 and 1 down in 4.
Mikey and Michael would go on to win their match on 17, thanks largely to the excellent golf played in the early part. Lee and Callum would shake hands on the same hole with a 3&1 victory. At this point match 4 had turned their match around and were 1 up after 16 holes, while Charlie and Luis were making their way down 18 with a 1 up lead. A lead they would comfortably hold onto for the 3rd victory of the morning matches.
Not long after Miles and Liam made their way down 18, also with a 1 up lead, when the Cambridgeshire lay up finished in the pond to the left of the fairway the match ended with a 2up victory and a 4-0 half time lead – we have been excellent in foursomes for most of the last 2 years, this performance was near perfect and proved the players were totally focused on completing our part of the bargain.
Northamptonshire 4 Cambridgeshire 0
News filtered through at lunchtime that Leicestershire were losing 2.5-1.5 in Suffolk…still a long way to go and points required to ensure our own victory first.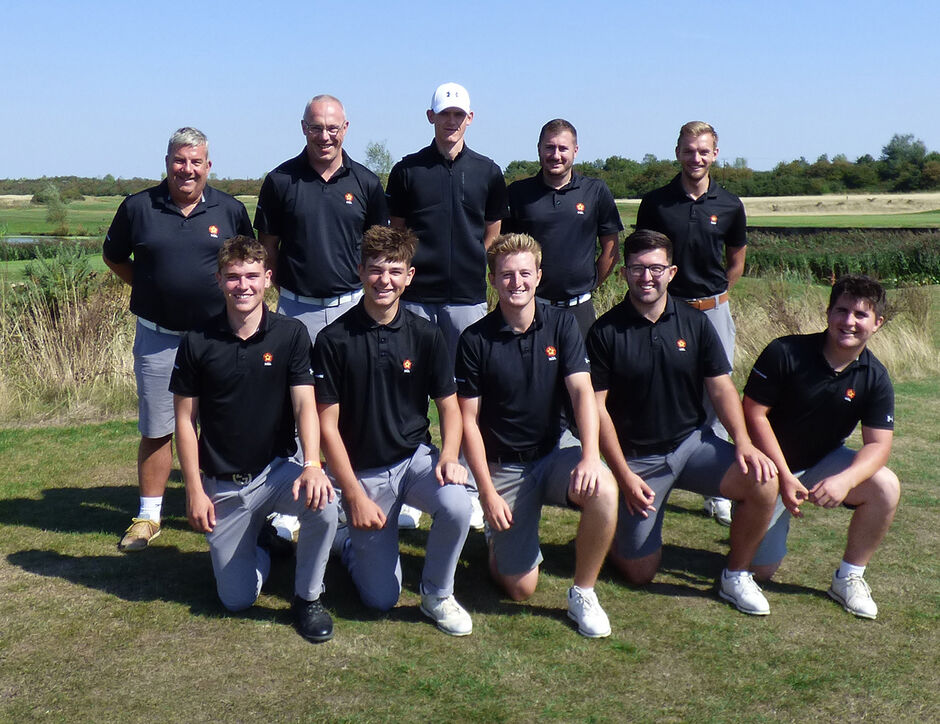 ​
Afternoon Singles
So the singles orders were prepared, with Northants Captain using the same order from the August matches, Callum Farr replacing Fraser in the potentially crucial number 6 role. So Salter again the led the team out, followed by Mikey Chambers and Michael Farr, Lee Hitchcock, Luis Witherall, Callum Farr, Miles Mudge and Liam McNeela at the end. The early news was not overall as positive as the morning matches – Charlie was all square, Mikey 2 up and Michael 3 up after that the only other player with a lead was Callum in match 6. The Cambs players had responded well and maybe their 3 debutants had cleared early nerves…or the Northants players maybe thought enough had been done in the morning.
Despite this early wobble, we remained convinced the team would pull the match through and we knew this set of players would be giving it 100%.
Once all players had moved through the 7th hole, we moved to the back of the 11th green to catch up, Mikey was 4 up by this time and Michael 6up…however these were the only 2 matches with a lead. Charlie would win the 13th hole to take an advantage for the first time – while Lee and Luis were both 4 down after 11. Callum was all square, with Miles 1 down and Liam 3 down.
By this time Mikey had won his match 6&4 and Micheal 7&5 – we know had 6 points, just half a point to find….Charlie playing 17 was all square, but thanks to a perfect drive and well measured 2nd shot, Charlie would have 2 putts to win the hole and secure the match result – 2 putts later and Charlie moved to the 18th with a lead. He would win the 18th hole too and shake hands on a 2up, hard earned victory and confirm that we had enough points to win the match.
Lee had lost his match on the 15th green, Luis lost one hole later, having left himself to much work to do from the early holes. Liam also lost his match on the 15th.
Callum reached he 17th tee with a 1up lead and put pressure on his opponent with the best drive of the day on 17, his young opponent would not match Callum's quality and a wide drive would lead to a lost ball and eventually lost hole – allowing Callum to shake hands on a 2&1 victory.
This left just Miles on the course – by this time news had come through from Suffolk that Leicestershire had been beaten in Suffolk – that meant that the Anglian League title for 2018 belonged to Northamptonshire, for only the 4th time in 48 years!! This news was given to Miles while playing the 17th – Miles has given everything to county golf for at least the last 6 years – clearly giving him a boost, Miles would win the 17th hole to get back to all square. A half down the last would be the least Miles deserved and that's what happened – leaving the overall match result 8.5-3.5. By this time of course, this was irrelevant…
Singles Northamptonshire 4.5 Cambridgeshire 3.5
Match Result: Northamptonshire 8.5 Cambridgeshire 3.5

Winning the Anglian League is a fine achievement and one that our county has not managed enough in the past – but this crop of players, many of who have filtered through from the successes of Adam Myers' Boys teams, have been fantastic over the past 2 seasons. The core of players has been relatively small, but they have taken their opportunities to win and maintain their places and all built on that, improved as individuals and are a superb team!
As Captain, I could not be prouder of them, could not have enjoyed more, being their captain and I am very grateful for the commitment they have given to the county, Mike and I.
Quite obviously County golf is not top priority for these players, like it might have been 10 years ago, but each and every one of them, when available, have given us 100%.
While the achievement of this team will live in my memory, right alongside being a playing member of the successful 2011 team, it would be hugely remiss if a few individuals were not mentioned:
Shane Rose has been an ever present support for the county teams for many years now, the work he puts in for winter programmes and travelling to away matches on each and every practise day cannot be understated. Shane is a great friend of mine, but more importantly in this context is a fantastic asset to Northamptonshire County Golf.
Adam Myers for his years of effort at Junior level and allowing the Mens team to benefit when the lads are ready.
Mike Gilbrook – it's difficult to describe what Mike does as Team Manager, but I can assure you there's a load of different things catered for to ensure the players and Captain can concentrate solely on the playing element of county golf. Not to mention that he is 100% the most passionate man about the success of Northamptonshire County golf. Mike's role is one that would be extremely difficult to replace…
And finally to my players – if any of them are reading this far down – you've all been amazing and I am grateful for your commitment to us and the county team, but also the fun we've had along the way – all great memories, hopefully one day you will understand what you achieved this season. And while the picture shows the 8 players who played versus Cambridgeshire, we must not forget, Fraser Carnihan, Jamie Milligan and Tom Forster who have all contributed points to this seasons successes.
Graham Bott
Northamptonshire 1st team Captain