Sunday 1st July 2018 – Kingsthorpe Golf Club
Team – Tiger Adams (Wellingborough), James Barker (Overstone Park), Mark Bazeley (Kingsthorpe), Jack Brown (Brampton Heath), Fraser Carnihan (Overstone Park), Jordan Darnell (Kettering), Miles Mudge (Staverton Park), Owen Watts (Northamptonshire County),
Captain Chris White (Peterborough Milton) and Team Manager Gary Hardy (Kingsthorpe)
The 3rd game of the county season took place at a swelteringly hot Kingsthorpe Golf Club which was in magnificent condition; the greens were holding and running at a nice pace with a few interesting pins to challenge the players from both counties. Northamptonshire were still looking to get off the mark for the campaign after two very narrow defeats in the first two away games.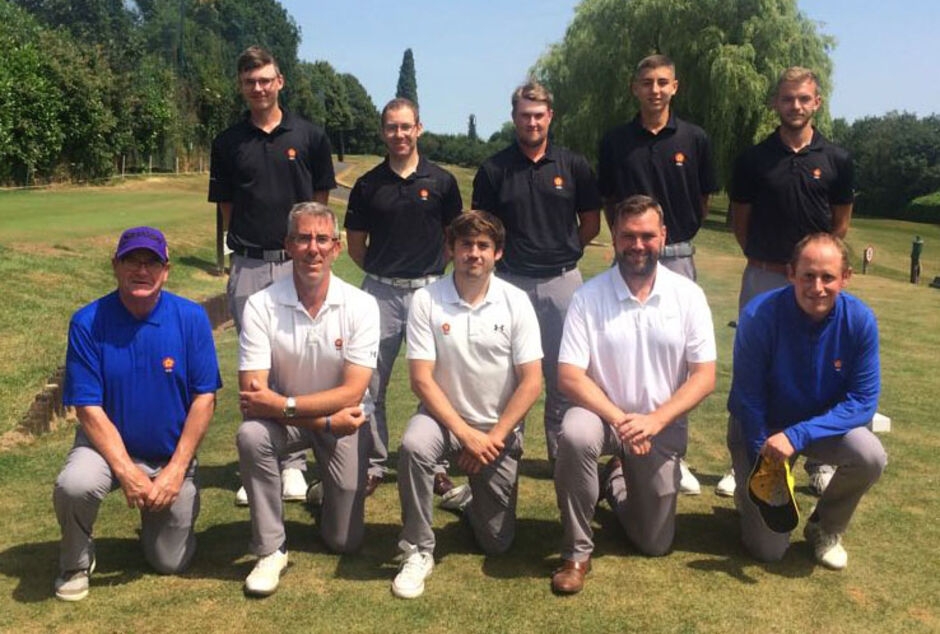 ​
Morning Foursomes
I think it would be fair to say that the morning foursomes had not been the team's forte so far this season, collecting just a solitary point from the eight available. We had talked a lot about the importance of getting off to a good start in the morning so we didn't leave ourselves a mountain to climb in the afternoon. A nice stress free morning is just what the doctor ordered.
First up were Kingsthorpe members Owen Watts and Mark Bazeley against the experienced pair of Jamie Kinnaird and Aaron Kay. Mark later confessed that he had been slightly nervous to start with, which I think just shows you how much he cares about the honour of playing county golf, and this perhaps contributed to the pair's disastrous start finding themselves 5 down after 7. It would be easy to write a pair off at this stage, especially given the strength of their opposition, but our pair never give up. Owen and Mark birdied 9, 10, 11 and 12 to get back to 1 down and a par on 14 put them back all square. After 2 interesting pars on 15, the Northants pair found another birdie on 16 to go 1up before the Lincolnshire pair managed to 4 putt the 17th to hand victory to Northants. I think at best the pin on 17 could be described as tricky and throughout the course of the day there were some other choice expressions heard from both sides. Never the less we actually had a point in the foursomes!
Second out were Jordan Darnell and Tiger Adams against Billy Wright and Harry Glenn. Tiger was making his first appearance of the season having impressed in the recent county championships. The game was very close all the way round with never more than 1 or 2 in it and at most of the checkpoints throughout the course that 1 or 2 was in our favour. In true morning foursomes style though they arrived at the 17th dormie 2 down. You could see the determination in both of their eyes walking down the 17th fairway and they both said "we're not going to lose." A par on 17 was no mean feat with the interesting pin position and the Northants pair made it look easy so walked on to the 18th tee 1 down. For anyone who has played Kingsthorpe please try and picture what I am about to describe next. Jordan took out his driver on the last and decided to play a little cut off the out of bounds on the left (the confidence of youth!), he hit the perfect shot and was unlucky to find the bunker about 40 yards short of the green. This left Tiger a difficult length bunker shot, but he played it well to leave Jordan about 25 feet for the birdie. Jordan hit the perfect putt and started to walk it in from about 8 feet out. All square; never give up!
The third pairing was the experienced Miles Mudge and James Barker, playing together not for the first time, although possibly for the first time in a number of years, against Dan McEvoy and Leon Leany. This was quite a similar game to the second match in many respects with there not being a lot in it and the Northants pair being 1 or 2 up most of the way round. A self-described "wobble" in the middle of the round meant the Northants pair lost 4 holes in a row from the 9th and arrived at 17 2 down. They were unable to produce the minor miracle needed to win the last two especially with Leon looking rather deadly with the putter. The match ended up with a 3&1 win to Lincolnshire which was a harsh score line in the end. I must admit I've never been convinced you can win a match 3&1, although perhaps that was just some advice I was given as a youngster.
Last out were Jack Brown and Fraser Carnihan against Josh Winchester and Jake Craddock. This is a pairing that have played together many times over the years and felt like an incredibly strong pairing to be putting out last. The Northants pair looked solid all the way round and are actually the perfect combination; if you took Fraser's long game and Jack Brown's short game you would basically have a really cool tour pro. I knew they were going to win their match as early as the 2nd where after Jack split the middle of the fairway, Lincolnshire hit it off the planet. After quite a long time looking for it, one of the Lincolnshire players said "ok boys, let's move on" and almost immediately the other one found it. Fraser invited them to carry on and play it, much to Jack's bemusement and they managed to hit on the green from nowhere. Fraser then hit the approach to a foot and won the hole anyway. When they were chatting about it afterwards Fraser explained to Jack "it was the right thing to do, not only do we look like really nice guys, we also look real good too." The match finished in a resounding 5&3 win.
A lead in foursomes!
Northants 2.5 – Lincolnshire 1.5
Afternoon Singles
Owen Watts went out top against Aaron Ray in the singles around a course he has been a member of since he started playing. Owen has been a great find for the county this season and has been in great form. Owen got a couple down early, but genuinely never looked phased by it and kept fighting all the way round. These two got round the course so quickly it was a little hard to keep up, but I managed to time my arrival perfectly to spot both their tee shots on 17. Both tee shots were pretty wayward but fortunately Owen's was a lot more playable than his opponent's and he proceeded to make a miraculous par to extend his match down the last. This would be the first of 5 matches to go down the last and sadly the first of them also to lose it. The game finished with Owen losing 2 down, his first defeat in a league match, despite going round in level par.
Miles Mudge played second against Jamie Kinnaird. Miles sets a great example to everyone that aspires to play county golf and having been playing for many years now, predominantly in the first team, has no issue if he is asked to play in the second team and views it as the genuine honour that it is. Miles will always give you 100% and as a captain that is all you can ask for. This match certainly looked like it could have been a first team game with the quality of play from both players very high. I watched them halve a couple of holes in birdies, however Jamie ended up having 7 of them. Miles was definitely under par when he lost 3&2. Tough school.
James Barker was third against Harry Glenn. James got off to a bad start, losing the first 3 holes in a row. The 3rd especially was quite a good effort to lose having been 30 yards from the par 4 green in 1. James then got as far as 4 down after 9 before he had a little word with himself. I talk about it a lot in these reports, but James never gives up. Despite two 3 putts on the back 9 he played it in 2 under and got it back to 1 down with 1 to play. James then hit the most sensational drive on 18 which he and I both hoped would heap pressure on his opponent, but unfortunately he didn't even seem to notice and hit almost exactly the same shot. The last ended up being halved in 4s but this meant James lost 1 down. Afterwards James said "you just can't give these boys a 3 or 4 hole lead".
Fraser Carnihan was fourth against one of his morning opponents in the shape of Josh Winchester. In much the same way as Miles, Fraser has been mainly in the first team for years but will always turn out and play for the second team when asked. Fraser out played and out thought his opponent all the way round the course and looks rejuvenated by a new putter. Having recently "completed chipping", Fraser was never in doubt to collect his second point of the day and won convincingly 5&3. It's always a good day out when you win and don't have to play many holes.
Tiger Adams played Billy Wright in game five and got off to a slow start, much like the rest of the team. Tiger holed about a 12 foot putt on the 3rd for a half to stay 2 down, he then proceeded to work his way back in to the game and played some really solid and sensible golf. Tiger definitely benefitted from the practice round where he played with team manager Gary Hardy. Gary spent a lot of time showing him the lines on the greens and managed to convince him not to hit driver too often. Tiger finished his match with a really nice up and down on the awkward 17th to win 2&1. Tiger was impressive all day and it looks like we have found another future star.
Mark Bazeley played Dan McEvoy in game six in what was Mark's first singles game of the season for the county. Mark has been struggling with a hand injury but has it heavily strapped up and is able to play again. I wonder how much sympathy you get with a strapped up right hand and wrist as a golfer… Mark took full advantage of his home advantage and produced a really gutsy performance to win his match 1up. Any of the nerves he had in the morning were definitely gone in the afternoon, or at least passed on to the captain. He made a good up and down on 17 to go 1 up and made a solid par on 18 to win 1up. Mark is a credit to Kingsthorpe golf club and to himself for his continued great attitude towards county golf over the years.
Jordan Darnell played Jake Craddock in game seven and was looking to take the momentum of the morning comeback in the afternoon. Another tight game ensued with both players playing some good stuff on the way round. Jordan nearly drove the 17th green and made a decent par to extend his match to the 18th. Unfortunately his solid par on 18 would not be enough to win the hole and not for the first time on the day the 18th didn't do us any favours. Jordan has a bright future in county golf and is one of the best drivers of the ball I have seen in a while.
Jack Brown against Leon Leany in game eight and it all came down to Jack again. A win would win us the game, a draw would give us a draw and a loss would mean another agonising defeat. Jack has been playing well recently and impressed at the recent county championships, so was fresh and full of confidence, especially after the morning win. Jack looked like he was mostly playing some really good stuff but seemed to be 1 or 2 down at each of the checkpoints. He arrived on the 17th tee dormie 2 down, meaning the best we could hope for was a draw if he won the lost two holes. Jack duly made the only birdie of the day on 17 with the most ridiculously exquisite chip from the left of the green. Genuinely most people would be lucky to hit the green, Jack nearly holed it. 1 down with 1 to play and the dream was still alive. Jack and his opponent both hit exactly the same tee shots on 18, just up the right but coming back towards the middle. Not for the first time on 18 on the day we got unlucky; Lincolnshire's had carried on down the hard fairway and Jack's had held up in the semi with a tree in the way. The best Jack could do was get it about 60 yards short of the green and rely on his short game wizardry to try and make par. His opponent found the middle of the green around 15-18 feet from the pin and Jack then played another remarkable pitch to 3 feet. His opponent looked a little nervous as he prodded it down the hill and it came up a couple of feet short. Sadly after Jack whacked his in for a decent par, Lincolnshire duly followed.
Northants 3 – Lincolnshire 5
Another close game, where I learned a lot about a team who were fighting their hearts out, but also another defeat and the fact that 5 of the singles went up the last just shows how close it was. I am convinced that winning is a habit and that as soon as we do get the formula right we will be unstoppable. I am reassured though that we are continuing to bring in new faces and that we have a long list of players to choose from.
Golf is hard.
Northants 5.5 – Lincolnshire 6.5