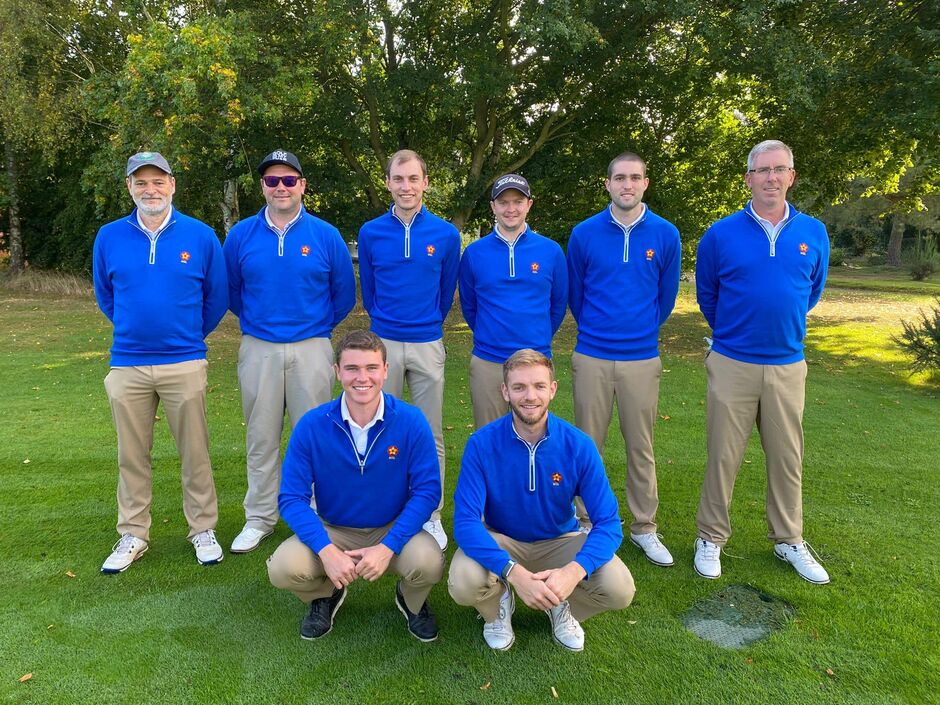 Excuses first.
A few of our top players were either away on holiday, helping out the 2nds in their quest to win their League, having to work or losing their car keys so that they couldn't travel.
So many thanks to the players that turned out and gave such a spirited performance against the County looking to secure the League title.
Morning Foursomes saw some excellent golf from the County players. Miles Mudge, in his final County Match before turning Pro later this year, and Liam McNeela played some glorious golf leading us off to gain a 2 up win and we actually led the match 1-0 at this stage.
Jack Binch and Jensen Parfitt played against two youngsters, one an England area squad player, and they held their own for much of the contest before going down 3 and 2.
Fraser Carnihan and Ryan Genner took on two Lincolnshire legends and fought all the way before going down 2 and 1.
In match 4, James Barker and Richard Dalton gave a super performance to hold their Lincs opponents before also going down 2 and 1.
Morning score 1-3.
In the afternoon singles Lincolnshire turned on the style. Miles in game 3 fought but ended one down after a great match. Fraser played some excellent golf to be two up against Richardson playing 13. He unfortunately lost his ball off the tee on this hole and the momentum went back to Lincs. Another lost ball on 17 handed the initiative to Lincs who finished the game 2 up.
Our senior statesmen at the tail of the field were putting up great resistance and some excellent golf. James eventually lost 3 and 2. Richard fought all the way and lost on 18 one down, when his opponent chipped in from off the green.
On paper an 11-1 defeat although some of the
Golf from our players gives cause for positivity.
Well played guys, you were all a credit to the County.
| | | | | | | |
| --- | --- | --- | --- | --- | --- | --- |
| Matches | Lincolnshire | Result | Points | Northamptonshire | Result | Points |
| Foursomes | | | | | | |
| 1 | Callum Bruce & Craig Toyne | | 0 | Miles Mudge & Liam McNeela | 2up | 1 |
| 2 | Jonny Kittle & McKenzie Lewis | 3&2 | 1 | Jack Binch & Jensen Parfitt | | 0 |
| 3 | Simon Richardson & Adam Wainwright | 2&1 | 1 | Fraser Carnihan & Ryan Genner | | 0 |
| 4 | Jack Diment & Matt Haynes | 2&1 | 1 | James Barker & Richard Dalton | | 0 |
| Morning | | | 3 | | | 1 |
| Singles | | | | | | |
| 1 | Callum Bruce | 5&3 | 1 | Jack Binch | | 0 |
| 2 | Jonny Kittle | 3&2 | 1 | Jensen Parfitt | | 0 |
| 3 | Craig Toyne | 1up | 1 | Miles Mudge | | 0 |
| 4 | McKenzie Lewis | 3&1 | 1 | Liam McNeela | | 0 |
| 5 | Adam Wainwright | 7&6 | 1 | Ryan Genner | | 0 |
| 6 | Simon Richardson | 2up | 1 | Fraser Carnihan | | 0 |
| 7 | Matt Haynes | 3&2 | 1 | James Barker | | 0 |
| 8 | Jack Diment | 1up | 1 | Richard Dalton | | 0 |
| Afternoon | | | 8 | | | 0 |
| Result | | | 11 | | | 1 |