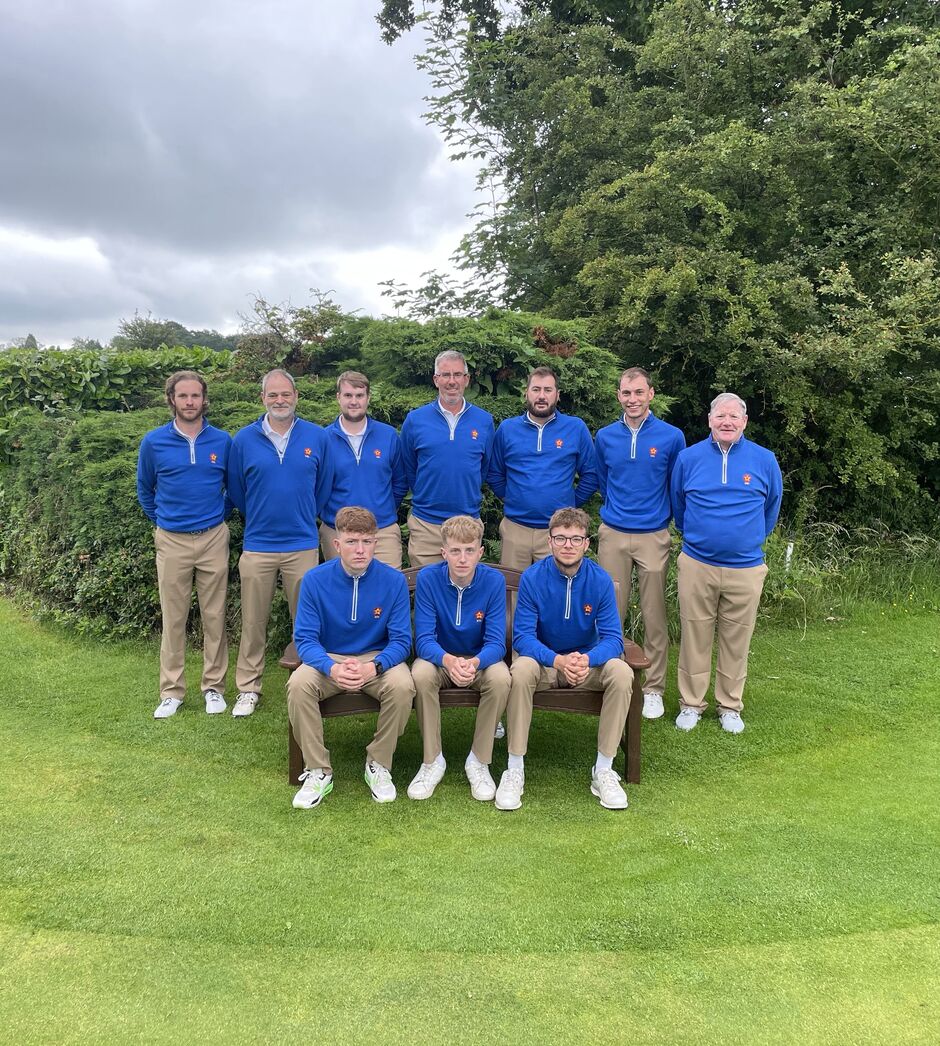 Team:
Back L-R: Sam Bird (Farthingstone) Richard Dalton (Overstone), Jordan Darnell (Oundle), James Barker (Overstone), Lee Hitchcock (Overstone), Ryan Genner (Captain/ Overstone), Gary Hardy (Team Manager/ Northampton)
Front: L-R: Brandon Sanders (Collingtree), Joe Hyde (Kettering), Theo Brown (Wellingborough)
After a very successful first game for the Second Team, we found ourselves up against one of the big guns in Leicestershire who in past years against us have always come out on top. Speaking to the Captain of Leicestershire before the game we said that these games always seemed to be tight and that majority of matches go down to the 18th! And you guessed it, they did!! The golf course was in tip top condition and probably one of, if not the best in Leicestershire. A big thanks for L&RGU for hosting us and also Longcliffe for their hospitality all weekend.
Morning Foursomes:
The team turned up to a very bleak looking Longcliffe with the hint of rain in the air. But that didn't stop the light shining on Northants in the morning.
Match 1 was Theo Brown and Jordan Darnell. They found themselves up against Joe Hack and Liam Plant. Liam is a formidable player for L&RGU having played over 200 times for the county. This was in our heads going to be difficult for Northants. However the pair got up very quickly through 5 holes but were pegged back to A/S through 7. The lads were strong and had the upper hand majority of the way round but found themselves down the 18th winning the game 1up. First blow to NGL 0-1.
Match 2 was James Barker and Brandon Sanders. A very solid pairing with a mix of youth and experience. Again this pair found themselves up very early on but again found themselves on the back foot coming down the stretch. They lost the 16th to go to A/S and held on nicely to half the match which was a fair result. Score line: 0.5 - 1.5
Up next in Match 3 was the Captain Ryan Genner alongside First Team Captain Lee Hitchcock. They started very slow out the blocks being 1 down through 5 after making a shambles of the 4th!, the pair managed to not drop a shot from the 6th to the 15th to be dormie 3up. Again this match went down 18! But with L&RGU finding the green side bunker in two, it was easier for the Northants pair to find the green and win the hole. Meaning a 2up victory. 0.5 - 2.5
Could we see all four matches down 18? Yes we can….
Match 4 was again another experience and youth pairing consisting of Richard Dalton and Joe Hyde.
This pair won last time out at Milton so let's see how they would do away from home!
They like the 3rd match, started slow but found themselves up and down the whole way. They were 1 down going into the last. L&RGU hit their driver into the long grass. Advantage Northants! Richard hits an arrow straight drive down the middle leaving Joe 70 yards to the green. The Leicester pair find the green and give themselves a 30ft putt for birdie and in fairness was a good shot from the spot they found themselves in.
Joe steps up and hits his wedge shot to 2ft. Richard converts the putt for birdie to win the hole and halve the match too!
A 1-3 score line after morning session without losing a match. We are in prime position for the Afternoon singles.
Afternoon Singles:
With the threat of thunder in the afternoon, we kicked off the singles early to avoid any delays.
Jordan Darnell kicked us off with the singles. He was up against one of his morning opponents. Jordan seemed to start relatively well making his opponent work for the point up for grabs. Unfortunately he was too strong for Jordan resulting in a 2&1 loss.
Theo Brown in match 2 was again up against his morning foursomes opponent. Theo was hot out the blocks getting up early and then found himself all square around the turn. He turned it on down the stretch winning 3 holes to make it a 3&1 win. This won't be the last we see of this young lad.
James Barker was next out. We needed some experience up the top end of the draw and he is perfect for that. Experience was showing as he got himself up in the match very quickly. But like the first match, the Leicestershire player was strong towards the end and ended with another L&RGU point.
Joe Hyde had a short turn around from the foursomes to his singles match but that didn't hamper the young lad. He quickly gained an advantage parring his opponent to death. Joe was slightly wayward off the tee during the middle stint of the match but didn't hurt him at all as he won his match 3&1. He's becoming a natural at winning for the 2nds. 3.5 / 4 from two games is a heck of a feat.
Brandon Sanders was next. He was definitely disappointed not to come away with a point from the first match against Cambridgeshire. So after gaining a half point in the morning he wanted to get his first full one, And he did just that! Brandon started hot winning a couple of his first five holes. He drove the 6th after a lucky bounce from the trees to set up an eagle getting him to 3up through 6. A few more birdies followed for him and ended up winning the match 2&1. He was -5 when he finished his match so clearly some great golf being played between the two players to only win by that margin. A future first team player in the making.
Match 6 seen the skipper Ryan Genner on the course. Again Ryan got up very early being 2up through 2. He also found himself in some trouble and managed to scramble pars through the middle stint of the match but, he had a stroke of luck on 15 when his opponent found the water off the tee meaning he was dormie 3up. Again another up and down par on 16 won his match and the overall match too.
Lee Hitchcock was in match 7. Lee was down after 5 holes, but with the amount of experience and games he's played knows that there is a long way still to go. Lee found himself all square towards the turn, and in true fashion wins 5 holes in a row to close out his match. A great performance from Lee and as one of the first team captains, brought a wealth of experience and knowledge to this team.
Last but not least we have Richard Dalton.
Richard is a true sportsman and one who feels comfortable being the anchor man, having done so for many years for the county. Richard was up early like many of the games but found himself up against a young lad making his debut. The L&RGU player strung together some brilliant holes and found himself 3up with 3 to play. Unfortunately it wasn't to be for Richard but again brings much needed experience and is someone who the young lads can look up too.
3-5 score line in the afternoon gives us a resounding 8-4 win! This is some what of a monumental moment for the second team as this is one of the few times we have beaten Leicestershire, first time for a while we have won away from home and first time we have won back to back games. We seem to be heading in the right direction which is fantastic to see. Next we face Norfolk at Wensum Valley where the lads hope to make it 3/3. Big Thanks to Vice President Jack Marr and Sam Bird for attending the match and as always Team Manager Gary Hardy.
| | | | | | | |
| --- | --- | --- | --- | --- | --- | --- |
| Matches | Leicestershire | Result | Points | Northamptonshireshire | Result | Points |
| Foursomes | | | | | | |
| 1 | Joe Hack & Liam Plant | | 0 | Theo Brown & Jordan Darnell | 1up | 1 |
| 2 | Tom Roberts & Bobby Large | Half | 0.5 | James Barker & Brandon Saunders | Half | 0.5 |
| 3 | Zack Stafford & Josh Hayes | | 0 | Ryan Genner & Lee Hitchcock | 2up | 1 |
| 4 | Jack Merry & Will Plant | Half | 05 | Richard Dalton & Joe Hyde | Half | 0.5 |
| Morning | | | 1 | | | 3 |
| Singles | | | | | | |
| 1 | Joe Hack | 2&1 | 1 | Jordan Darnell | | 0 |
| 2 | Liam Plant | | 0 | Theo Brown | 3&1 | 1 |
| 3 | Tom Roberts | 2&1 | 1 | James Barker | | 0 |
| 4 | Bobby Large | | 0 | Joe Hyde | 3&1 | 1 |
| 5 | Zack Stafford | | 0 | Brandon Saunders | 2&1 | 1 |
| 6 | Jack Merry | | 0 | Ryan Genner | 3&2 | 1 |
| 7 | Josh Hayes | | 0 | Lee Hitchcock | 5&4 | 1 |
| 8 | Will Plant | 3&2 | 1 | Richard Dalton | | 0 |
| Afternoon | | | 3 | | | 5 |
| Result | | | 4 | | | 8 |