31st August at Buckingham GC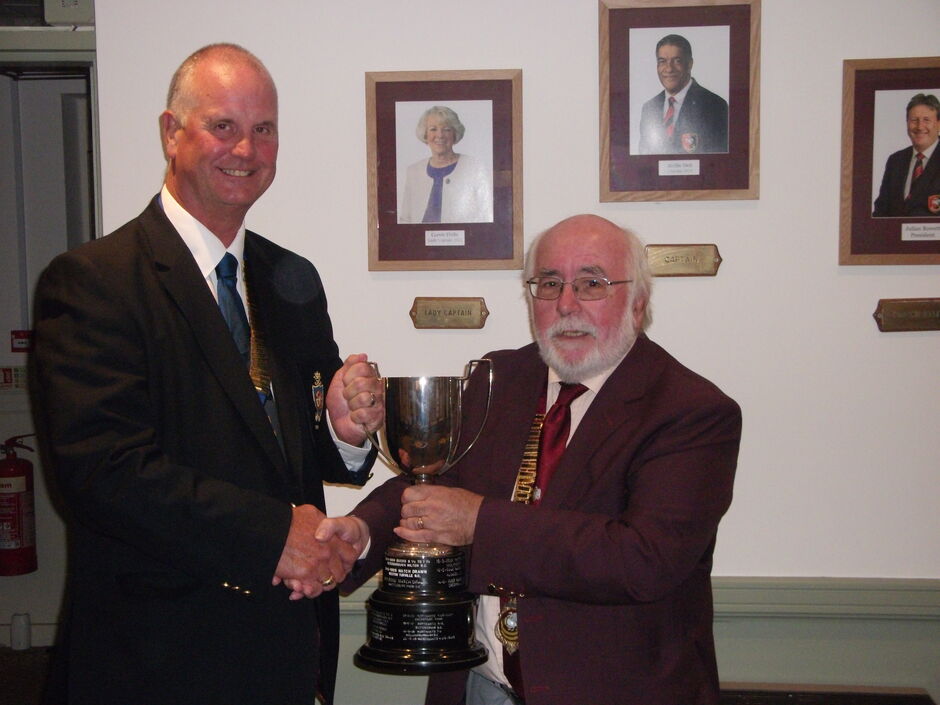 David Liston Bucks Captain presenting the trophy to Peter Coles President of Northamptonshire County Captains.
The match against Buckinghamshire was played at the Buckingham Golf Club on Tues 31st Aug.
After a light lunch play commenced at 13:00 hrs, the course was in good condition. weather was overcast but keep dry for the match.
Dinner was homemade chicken and leak pie with Lemon tart to follow.
The match results shows that Northants had convincing win 7 & 1.


| | | | |
| --- | --- | --- | --- |
| Buckinghamshire | Result | Northamptonshire | Result |
| David Liston & Richie Dell | | Peter Coles & Nigel Cole | 2up |
| Roger Warren & Claus Mathieson | | Denis Price & Ken Hignett | 4&3 |
| Gordon McMurdo & Peter Harborne | | Tony Noone & John Nightingale | 4&3 |
| Paul Graves & Jonathan Brook | | Steve Drage & Ivan Roy | 4&2 |
| Colin Elwell & David Ranson | | Brian Ward & Roy Stanton | 5&4 |
| Austin Cashin & Steve James | | Brian Carter & Mike Robertson | 1up |
| John Mannering & John Bailey | | David Hill & Colin White | 3&2 |
| Doug Ebdon & Chris Brown | 1up | Bob Henbury & Ian Jolly | |
| Team results | 1 | | 7 |