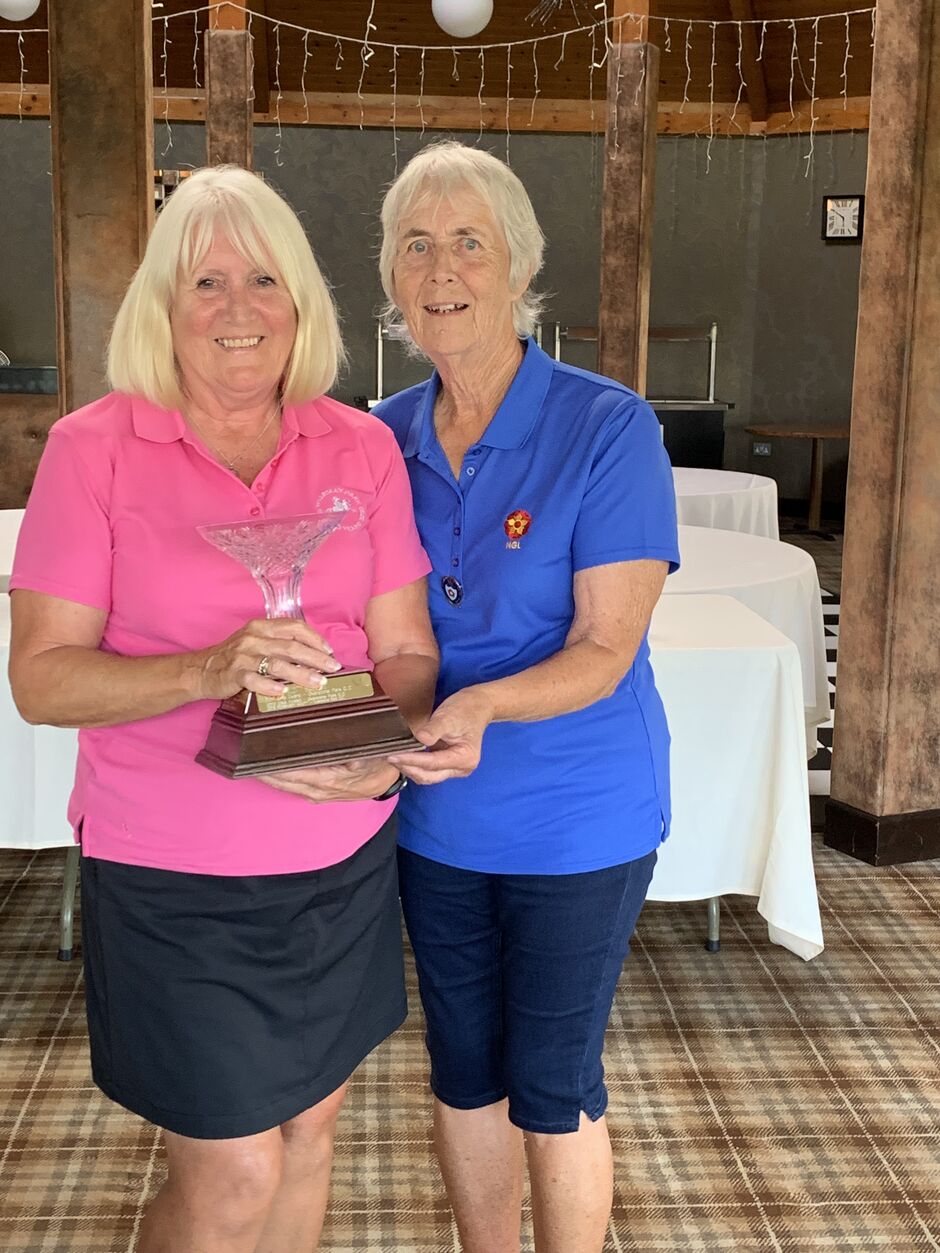 Marlene Roy being presented with the trophy.
As President I had the great pleasure of inviting 12 ladies, either club delegates or ladies who have served on the Ladies Past Captains committee, to join me for an 18 hole competition at Overstone Park to play for the Lady President's Cup. Although the weather looked unpredictable, we were spared any downpours just a sprinkling of rain during the afternoon.
We were welcomed by the staff of Overstone with coffee and after the game were served a meal of chicken salad followed by apple pie and custard. My thanks go to Overstone for their generosity in giving us courteous of the course which was greatly appreciated by the participants.
The winner of the day was Marlene Roy, the delegate for Overstone, who was presented with the trophy having scored a magnificent 39 points. I came second with 37 points and Rosemary Scott and Pauline Hurley both scored 35 points. To end the day everyone was given a small prize to say thank you for attending this annual event.
Gina Evans
President
| | | |
| --- | --- | --- |
| Results | Player | Points |
| 1 | Marlene Roy (Overstone Park) | 39 |
| 2 | Gina Evans (Overstone Park) | 37 |
| 3 | Pauline Hurley (Elton Furze) | 35 CB |
| 4 | Rosemary Scott (Overstone Park) | 35 |
| 5 | Liz Swan (Oundle) | 29 |
| 6 | Lizzie Crow (Delapre) | 27 |
| 7 | Jackie Rolfe (Delapre) | 26 CB |
| 8 | Val Wesson ( Kingsthorpe) | 26 |
| 9 | Julie Edwards (Delapre) | 25 |
| 10 | Vera White (Northampton) | 24 |
| 11 | Nita Pryer (Kingsthorpe) | 22 |
| 12 | Janet Gower (Wellingborough) | 17 |
| 13 | Lyn Carter (Oundle) | 16 |