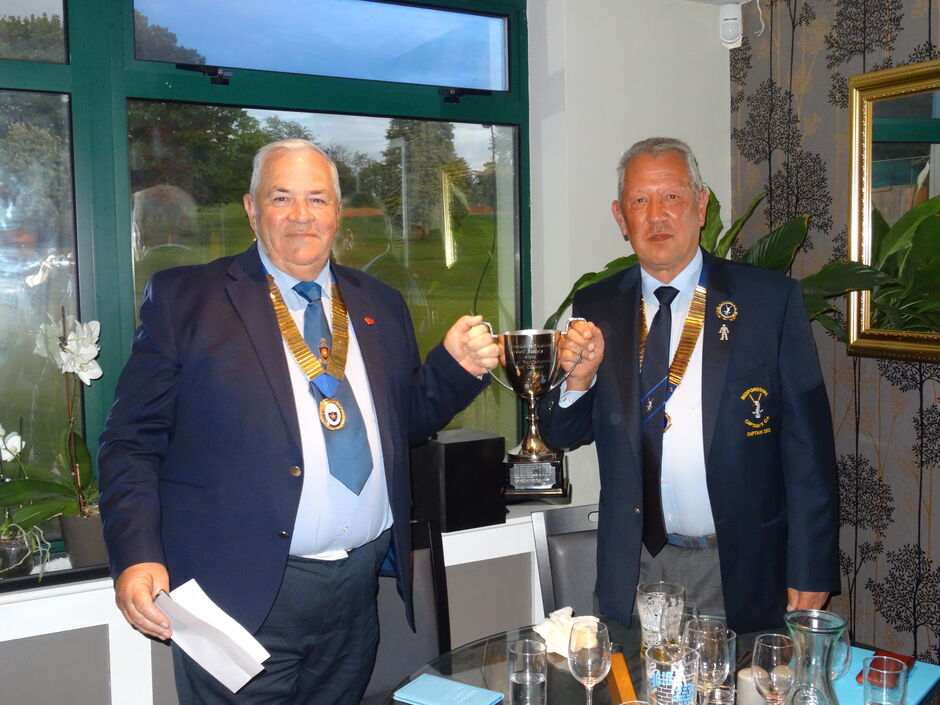 Dave Hawkins ( Beds) presenting the cup to Roy Stanton (Northants)
The match against Bedfordshire was at a venue we had not played for a long time.
Our day stated with an excellent ploughman's lunch. After the obligatory announcement of each game pairings our first tee time was 13.03hrs.
The weather had improved from overcast to pleasant sunshine with a light winds.
The course was undulating with small greens a real challenge for us all, it was presented in very good condition and from the table chat most everyone enjoyed the course.
Dinner was three courses Soup/roast pork/crumble/ coffee or tea.
Match result was a Half and as we win last year we retained the Cup.
Matches
Bedfordshire
Result
Points
Northamptonshire
Result
Points
1

Dave Hawkins

Lloyd Conaway






Roy Stanton

Mike Robertson

5&3
1
2

Martyn Latch

Dave Parrett






Tony Noone

Steve Orrey

6&5
1
3

Chris Foster

Syd Pniewski

Half
0.5

Ken Hignett

Eric Duckworth

Half
0.5
4

Barry Walls

John Preston






Ron Gibbs

Bobby Henbury

1up
1
5

Mick Vickers

Pete Samsa

3&2
1

Colin White

Ian Jolly





6

Jamil Khalid

Kevan Parker

Half
0.5

Richard Cole

David Hill

Half
0.5
7

David Thompson

Nigel Underwood

2&1
1

Ivan Roy

Brian Carter





8

Steve Holloway

Steve Whitney

4&3
1

Chris Potter

Nigel Cole





Result




4




4