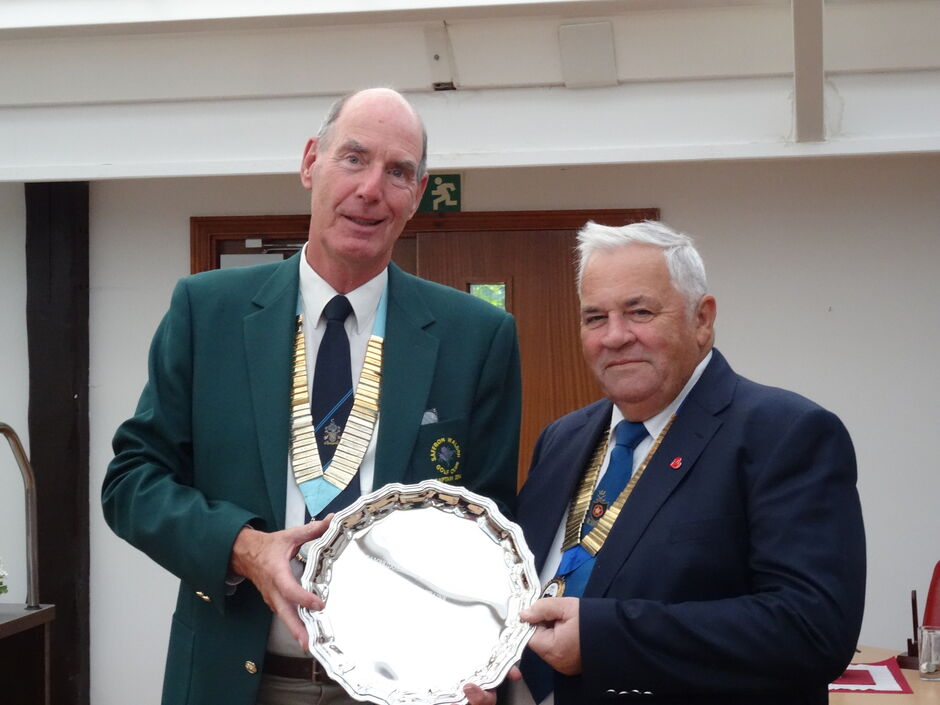 Mark Jones (Cambs) & Roy Stanton, this was the 2nd year we played them and last year's Camb's captain Malcolm Knobel-Forbes was thanked for donating the silver salver.
Our day stated with a light lunch sandwiches & chips. After the obligatory announcement of each game pairings our first tee time was 12.00hrs.
Weather was fine with light winds and a high of 22c.
The course was presented in good condition with a number of local rules in place due largely the very dry period; everyone enjoyed the course and the day.
Dinner was outstanding two courses home-made steak and ale pie served in a very large tray for eight people with chips mixed veg followed by home-made apple pie.
Match result was a "Half" 4 games each.
Matches
Northamptonshire
Result
Points
Northamptonshire
Result
Points
1

Mark Jones

Peter Robb






Roy Stanton


Peter Coles


2up
1
2

Graham Locke


Steve Whitney

Half
0.5

Bob Ward

Tom Hall

Half
0.5
3

Steve Kane

Lyn Griffiths

3&1
1

David Hill

Chris Potter





4

John Williams

Doug Poole




Nigel Cole


Dennis Price


6&4
1
5

Malcolm Knobel-Forbes

Trevor Dean

1up
1

Ken Hignett


Ian Jolly




6

David Francis

Mike Price

Half
0.5

Richard Cole


Tony Noone

Half
0.5
7

Roger Tacq

Peter Talbot

3&2
1

Steve Orrey

Jim Morton






8

Graham Dubock

Stuart Spink






Colin White

Eric Duckworth


4&3
1
Result




4




4