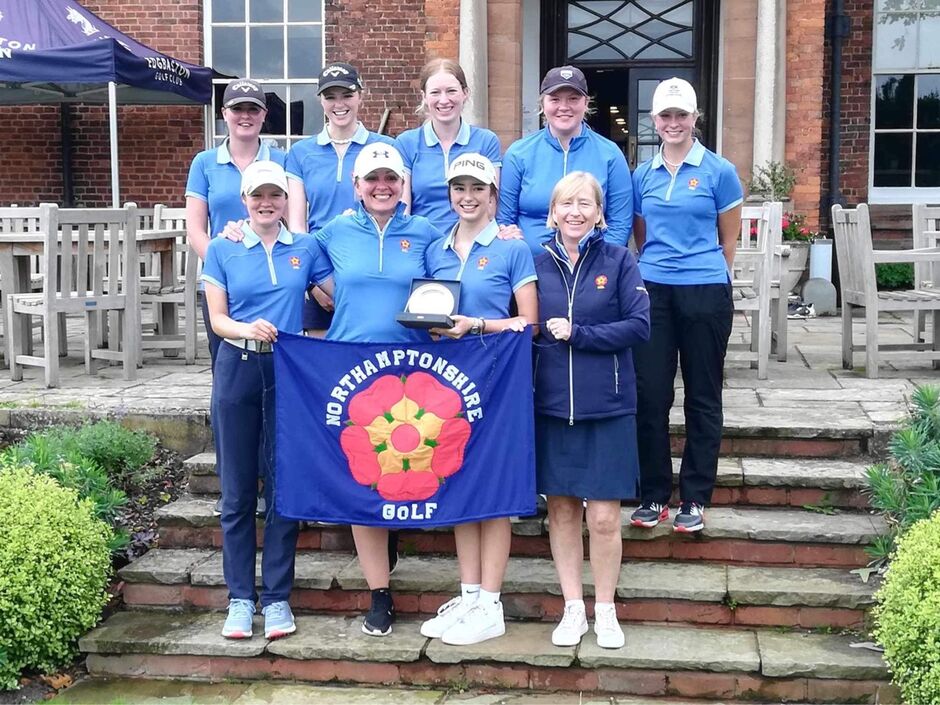 With previous wins over Warwickshire and Worcester & Hereford this was the first time since the competition began that Northamptonshire get their name on the trophy.
The morning foursome matches finished 2 v 1 to Buckinghamshire, so the ladies set out in the afternoon with determination and focus to secure the needed points to finish top.
In tough wet conditions, the first afternoon point came from Olivia Holyoak-Church (match 3) with a 5&4 win, the second point came soon after from Amy Nunn (match 4) having secured a 4&3 win. Eleanor Hamilton (match 6) making her County Women's debut fought hard but with her opponents putter being red hot Buckinghamshire got their first point of the afternoon bringing the overall score total to 3 points each.
With 3 remaining matches still out on the course there was a tense atmosphere as the match scores went back & forth whilst watching to see who could secure the needed points to win.
Lila Bisset (match 1) came down the 18th all square, with the her last putt dropping giving her a 1up match win and the teams fourth point. Chelsey Sharp (match 4) also coming down the 18th but one down, the spectators for both teams were given a spectacle of putting with Chelsey sinking a 20 plus foot putt to halve the match resulting in a 4.5 v 3.5 score to Northamptonshire. Needing just half a point from the final match to secure victory Katie Amos (match 5) holed a confident 30 foot putt and gained the winning point for Northamptonshire to a final result of a 5.5 v 3.5 victory.
Matches
Northamptonshire
Result
Points
Buckinghamshire
Result
Points
Foursomes AM












1

Katie Amos

Olivia Holyoak-Church






Eloise Feely

Suzanna Mitterer

2&1
1
2

Chelsey Sharp

Emily Nunn






Rachel Mackinlay

Amelie Jones

3&2
1
3

Amy Nunn

Lila Bisset

6&4
1

Charlotte Keel

Sue Holdship





Total




1




2
Singles












1
Lila Bisset
1up
1
Eloise Feely




2
Chelsey Sharp
Half
0.5
Rachel Mackinlay
Half
0.5
3
Olivia Holyoak-Church
5&4
1
Charlotte Keel




4
Amy Nunn
4&3
1
Katie Reed




5
Katie Amos
1up
1
Sue Holdship




6
Eleanor Hamilton




Amelie Jones
8&6
1
Total




4.5




1.5
Result




5.5




3.5