1st Team v. Lincolnshire
6th September 2015
Overstone Park Golf Club
A beautiful sunny day greeted us for our final Anglian league match of the 2015 against Lincolnshire, who were seeking to seal the season as champions. This was by no means certain, although unbeaten, Lincs needed at least one point from the match to be certain of topping the league and had therefore fielded their best team, which for a Union with double the number of clubs as Northants and counting Woodhall Spa amongst them, this was a strong team including 4 England Internationals.
Our foursomes pairings were all natural fits, we were happy with our picks but history suggests that we are not at our best in the mornings, were were realistically trying to limit the damage as much as possible, but we were not prepared for what happened next.
Out first, Sam Henfrey and Ben Jones faced two England Internationals, Simon Richardson and Ashton Turner, the news from the course was that our lads were 5 up after 7 holes and our top order team ran out 7/6 winners.
At two, Jamie Milligan and Michael Campbell faced another England player, Adam Wainwright but it was team-mate Shaun Marshall who did the damage with an amazing putting display. Our boys put up a brave fight needing an 8ft putt for birdie at 16 to keep the match going only to watch Lincs hole a 60ft put from off the back of the green for birdie to win by 3/2
Third out, Callum Farr teamed up with Overstone member Harrison Woan, home advantage really paid off as our pair never looked in trouble, beating Matt Haines and Nick Watson 4/3.
Last out, Miles Mudge and the in form Matthew Myers stormed away from Rob Mackay and Sam Whittaker, when they were told that our top pair had won 7/6, they simply replied that they were 6up (at the turn) and they would "just have to beat the 7/6", which they did, running out winner 8/7
After the two big wins, team Captain Jim Campbell said that this was our best mornings performance of the season and we still had two matches out on the course.
So, 3-1 to Northants at lunch, a situation we were not used to and things looked promising for the afternoon.
Our afternoon order was:
Harrison Woan
Ben Jones
Sam Henfrey
Jamie Milligan
Michael Campbell
Callum Farr
Matthew Myers
Miles Mudge
Out top, Harry faced Simon Richardson, we had to be looking at a backlash following the England International's morning dog licence, but Harry's fantastic play and local knowledge saw him run out 5/4 winner holing from 40ft on 14. What an amazing performance from Harry and a great start.
Second out was our own England International, Ben Jones had just returned from Italy representing England in the Under 16s Campionato Internazionale Machile, however his focus now turned to taking on Ashton Turner, also out for revenge, unfortunately, Ashton proved just a bit too strong for Ben, the difference being just a few missed putts, Lincs winning the leg 4/3.
Third out, Lincs had put out their big guns early, so Sam Henfrey had a big task, facing Adam Wainwright, the Lincs player emerged victorious 7/6
Forth out, Jamie Milligan's fantastic debut season saw him face the putting demon Shaun Marshall, but Jamies straight driving and great iron play wore his opponent down, when your opponent loses his temper and starts slamming clubs into his bag, you know you have him, Shaun was 2 down for most of the match, but when Jamie won 14 to go 3 up, the match was pretty well over, Milligan birdied 15 from 6ft to seal the match 4/3.
Michael Campbell was also looking good for most of his match, but couldn't hang on, losing the match 1 down.
Callum Farr was in a ding dong battle with Matt Haines, but the Lincs player turned over the match, he birdied 17 to square the match and holed a 10ft putt for birdie at 18 to win the leg and gain the half point needed, which saw the Lincs Captain drop to his knees in relief.
An amazing performance from Matthew Myers, who birdied the tough 17th hole to take a 1up lead in his match against Rob Mackay, and when Mackay missed his birdie putt on 18, he conceded Matt's 4ft birdie putt to give us a 2up win and a draw in the match.
Last out, Miles Mudge just couldn't hole enough putts, losing 3/2 to Sam Whittaker.
Northamptonshire have made a bold statement for next year with this performance, we really shook Lincolnshire against aguably their strongest team.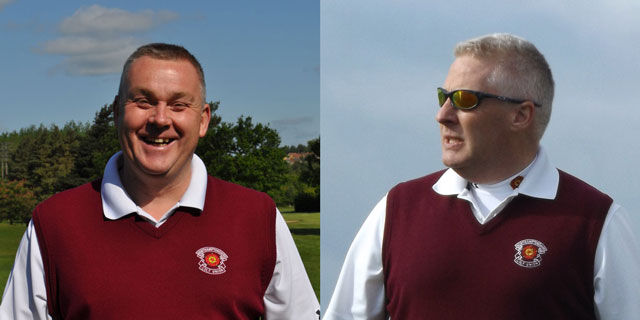 Northamptonshire
Lincolnshire
Foursomes
Result
Sam Henfrey and Ben Jones
Won 7/6
Simon Richardson and Ashton Turner
Jamie Milligan and Michael Campbell
Lost 3/2
Shaun Marshall and Adam Wainwright
Callum Farr and Harrison Woan
Won 4/3
Rob Mackay and Sam Whittaker
Matthew Myers and Miles Mudge
Won 8/6
Matt Haynes and Nick Watson
Won 3 - 1
Singles
Result
Harrison Woan
Won 5/4
Simon Richardson
Ben Jones
Lost 4/3
Ashton Turner
Sam Henfrey
Lost 7/6
Adam Wainwright
Jamie Milligan
Won 4/3
Shaun Marshall
Michael Campbell
Lost 1dn
Matt Haynes
Callum Farr
Lost 1dn
Nick Watson
Matthew Myers
Won 2up
Rob Mackay
Miles Mudge
Lost 3/2
Sam Whittaker
Lost 5 - 3
Overall result
Northamptonshire 6 - Lincolnshire 6
This match was also the end of an era for team Captain Jim Campbell and Team Manager Laurie Linnell stepping down after really developing the side from whipping boys to title contenders, having had a "rebuilding" year following the loss of several regular 1st team players to the professional ranks or for other reasons not being avalable for selection this year, the side has exceptional talent from a young team, who have bonded into a fantastic unit which we can only hope that we can follow the amazing management team. Thanks Jim and Laurie, for all your hard work over the last years, you have been an inspiration to all the team and we hope we can count on your continued support as we make our bid to become 2016 Anglian League Champions.
After the match, County President David Foley presented 6 players with their County colours that they had earned this year by playing 5 first team matches, the players were Callum Farr, Sam Henfrey, Ben Jones, Jamie Milligan, Miles Mudge and Matthew Myers.