Seacroft Golf Club 16-17th May 2015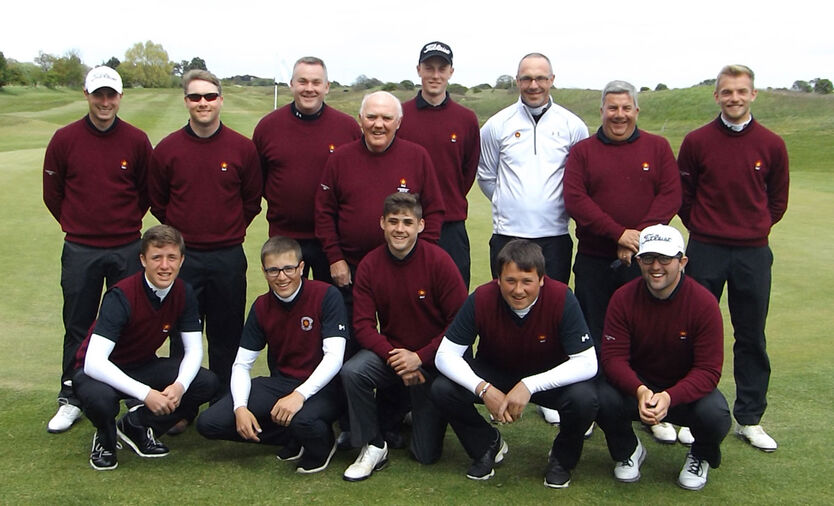 With a new look squad, Captain Jim Campbell gave our superb up and coming players have an opportunity to stake a place in the team for 2015 and beyond. Our first Anglian league match looked promising, even though we could not force a win, there were some gritty performances from promising rookies and some of our most experienced team members.
The team selected was Michael Campbell (Kettering), Callum Farr (Priors Hall), Ben Jones (Brampton Heath), Sam Henfrey (Northants County), Miles Mudge (Staverton Park), Jon Harris (Wellingborough), Harrison Woan (Overstone Park), Jamie Milligan (Wellingborough), Graham Bott (Cold Ashby) and Jack Brown (Kingsthorpe), which looked good on paper and gave 4 players an opportunity to play this competition for the first time.
With these names, natural pairings fell into place with regulars Campbell and Farr keen to go out top, Jones and Henfrey having just proven their foursomes credentials with a win at Woodbridge the week before, Mudge and Harris had a good win at Whittlebury in the 2nds the previous week, Milligan and Woan looked liked a natural fit with Milligan's ball striking and Woan's short game, leaving Bott and Brown also looking like a promising proposition of experience and youth.
Saturday arrives with the weather perfect for the links, bright and breezy with the classic links layout playing into the wind on most of the front 9. It also looked like our easiest day, with matches against Bedfordshire and Leicestershire (although there are really no easy matches at this level).
The Eastern Counties foursomes is a matchplay event played against 2 teams at the same time, so it can be tricky to keep track of all the goings on in the groups, but this just adds to the fun of the weekend.
Saturday 16th May 2015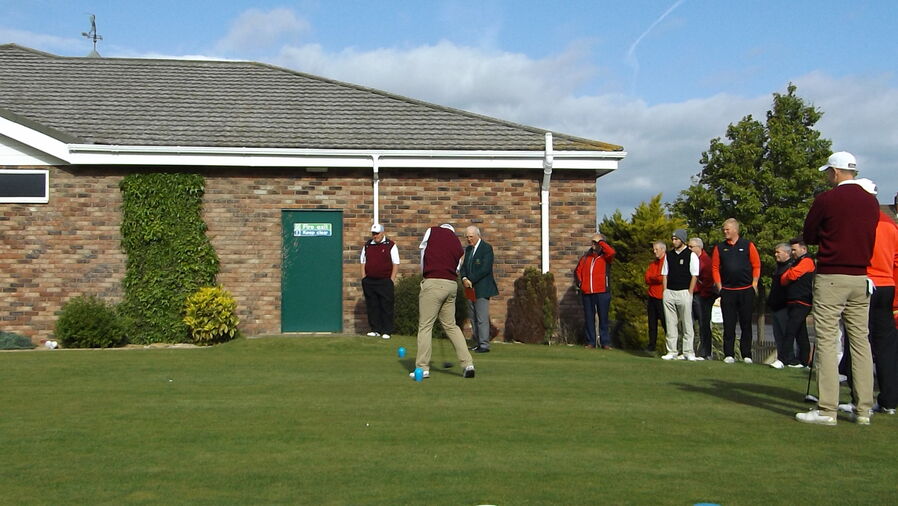 Northamptonshire had the honour of playing the first shot of the tournament with Callum Farr stepping up to smite a mighty drive down the middle of the fairway of the par 4, 410yd 1st hole into a two club wind, unfortunately, he hit it so well, it stopped up the face of the cross bunker at 110yds from the green, but the duo recovered to make par, going on to beat both Bedfordshire and Leicestershire 3/1.
Pair 2 consisted of Sam Henfrey and rookie Ben Jones who beat Bedfordshire 3/2, but narrowly losing to Leicestershire 1 down.
Match 3 introduced rookies Miles Mudge and Jon Harris, beating Bedfordshire 3/1 but losing to Leicestershire 4/2
Match 4 saw another rookie, Jamie Milligan tee it up on the odds with Harry Woan taking the evens, beating Bedfordshire 3/1 and Leicestershire 1up.
Out last pairing, saw the experienced Graham Bott take the odds, beating Beds 3/1 but losing to Leics 3/1.
All in all, a great morning's work, gaining 7 points, equalling Leicester and taking 5/5 from Bedfordshire.
After a great lunch it was out to the afternoon session, our toughest, against reigning champions Lincolnshire and a strong Essex side.
A change of order out top, Henfrey and Jones went out, losing 6/5 to Essex but beating Lincolnshire 3/1.
Farr and Campbell followed, the plan to take some pressure off our top pairing didn't quite work as they lost both matches 2/1
Mudge and Harris looked like a solid middle, it all looked so promising until the last 3 holes, where they lost 1 down to Lincs and 5/3 to Essex.
Match 4 also played well but an outstanding finish from Essex, who played the last 4 holes of the match brilliantly, finishing birdie, birdie, par, birdie, turning over a two up lead by Northampton into a 2 down loss this was compounded with a missed 4 foot putt at 18 from Milligan saw the Lincs take the match having holed from off the green for par to win the match 1up.
Bott and Brown tried their hearts out but couldn't beat their strong opposition, losing 1 down to Essex and 3/2 to Lincolnshire
The afternoon was a knife through our hearts and a stark reminder of the fine margins you need to win these matches, we only managed one point from our afternoons work and we all felt a bit flat at dinner.
Sunday 17th May 2015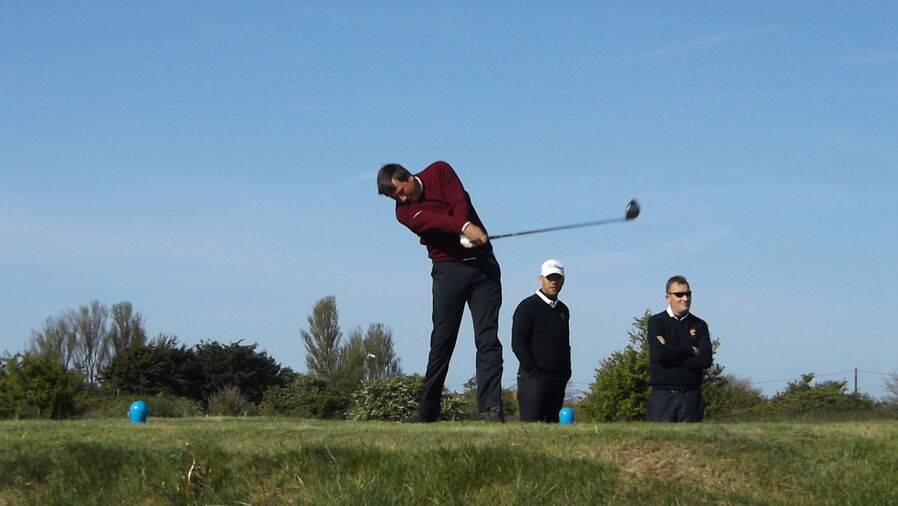 Sunday saw another bright and breezy day, again without any rain.
It was back to the same order as Saturday to play our single handed match against our great rivals Norfolk, starting at the 11th hole.
Farr and Campbell lost 2/1
Henfrey and Jones won 3/2
Mudge and Harris won 4/2
Milligan and Woan won 2up
Botty really struggled and even Jack Brown's short game couldn't win their match, losing 3/2,
So a great 3-2 win for Northampton
After some thought over lunch, the team was left in this order for the afternoon to play Cambridgeshire and Suffolk, we were out to beat Suffolk to avenge the previous week's loss in the Anglian League, the mornings work leaving the lads really upbeat for the afternoon.
Our starting point was the downwind 6th hole,
Farr and Campbell fought back from 3 down and 2 down with 3 to play, scraping 1/2 a point from Suffolk but losing to Cambridgeshire 1 down.
Henfrey and Jones played solid golf to beat Suffolk 1up and Cambridgeshire 3/2 so another 2 points in the bag
Mudge and Harris also looked really solid, Harris draining a 40ft putt for birdie to beat Suffolk, 3/2, allowing them to concentrate on Cambridgeshire beating them 1up
Milligan and Woan again performed solidly, getting up and down from a really tough position on the par 3 forth (their 17th hole), with Woan holing an 8 footer to beat Suffolk 2/1 and go down the last needing to win the hole against Cambridge to halve the match. Cambridge obliged by knocking their tee shot out of bounds whilst Milligan hit the fairway, Woan made the green in two to seal the 1/2 point.
Captain Jim suggested that Bott and Brown swapped order and a had an early stroke of luck on the 8th hole (their 2nd hole) when his drive hit the road and miraculously bounced back in bounds, leaving Brown in perfect position to go for the green, it got even better after Brown hit it through the green leaving Botty an awkward putt from the rough, over a mound, a poor putt with the ball not making the top of the mound which dropped back to the wrong side of the mound, only for Jack to can the putt for a 4. The pair realised that they had been playing the holes the wrong way round both players feeling much more comfortable, going on to beat Suffolk 2/1 and halve the match with Cambridgeshire, both teams holing out from 12ft or so on the last hole.
A brilliant 7 1/2 points for the afternoon leapt us up the leaderboard to finish 4th.
A great weekend performance and a real building block for the future, having lost so many players, we have a great squad of players coming through and the future looks great for Northamptonshire Golf.
| | | | | | | |
| --- | --- | --- | --- | --- | --- | --- |
| Position | County | Sat A.M. | Sat P.M. | Sun A.M | Sun P.M. | Total |
| 1 | Lincolnshire | 6.5 | 7 | 9.5 | 3 | 26 |
| 2 | Essex | 3.5 | 7 | 7.5 | 6 | 24 |
| 3 | Leicester and Rutland | 7 | 9 | 4.5 | 2.5 | 22.5 |
| 4 | Northamptonshire | 7 | 1 | 3 | 7.5 | 18.5 |
| 5 | Norfolk | 4.5 | 4 | 2 | 5.5 | 16 |
| 6 | Cambridgeshire | 4 | 3.5 | 3 | 5 | 15.5 |
| 7 | Suffolk | 1.5 | 2 | 4.5 | 2.5 | 10.5 |
| 8 | Bedfordshire | 1 | 1.5 | 1 | 3.5 | 7 |