2nd Team Match v Leicestershire & Rutland
8th August
Rutland County Golf Club
Our team consisted of: Tom Burgh - Playing Captain. Sam Bird, Ian Wicks, Mark Philips, Ryan Jaffray, Ryan Genner, Jack Hall & Jay Noye.
The course was in superb condition with hard greens that were to be the test for all players on both sides especially with strong winds blowing across the course from a north westerly direction which along with strong gusts made the course a test for all.
In the foursomes our players got to grips with the conditions and played great shot making which saw Jack Hall & Jay Noye comfortable winners 5/3,
Tom & Sam were not far behind winning 4/3, the other two matches were closer with Leicestershire players making more errors around the greens which let in Ian & Mark winning 1 up and the two Ryan's winning 2up.
After the morning foursomes, it was a great start with 4 points Northamptonshire to Cambridgeshire zero.
In the afternoon the wind strengthened and along with the hard fairways and greens gave both teams a harder task to play competitive golf as stopping golf balls on the green was nigh impossible.
Ian Wicks lead our afternoon charge this match was close all the way to the finish never more than one hole between them, on the 18th both players were in greenside bunkers the match was all square Ian played out to 6ft his opponent then played the ball which took one bounce then straight in the hole for a birdie losing us the point, as it turned out this was pivotal to the overall result!
Jack Hall was again our star player mastering the weather with a varied shot making to win emphatically by 6 & 5. Mark, Jay & Ryan lost their matches, similar Sam lost on the 18th but this was after a gallant fight back after being 4 down after 8. With Ryan J halving his match it came down to the Captain 'Tom' this was again a close match over the 18, Tom's putt for a win on the 18th just lipped out resulting in a halved match. After a promising start, we had to settle for a halved match against Leicestershire with disappointment etched on all our player's faces, though taking into consideration the weather & course conditions this was a fair result as Leicestershire players played better in the afternoon.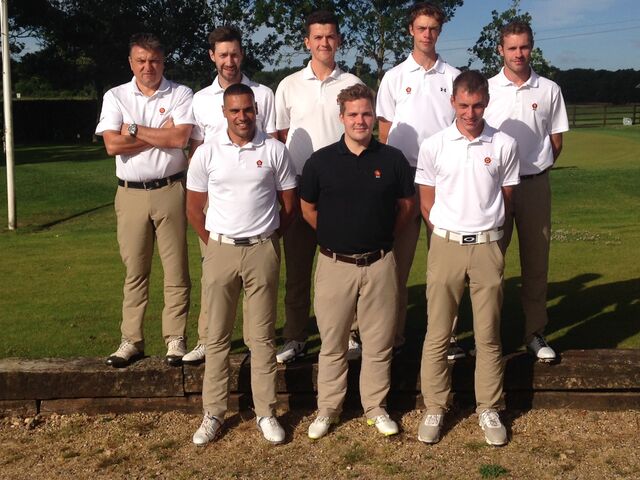 Northamptonshire Match Results
Foursomes
Ian Wicks & Mark Philips Won 1 up
Jack Hall & Jay Noye Won 5/3
Ryan Jaffray & Ryan Genner Won 2 up
Tom Burgh & Sam Bird Won 4/3
Singles
Ian Wicks Lost 1 down
Mark Philips Lost 4/3
Jack Hall Won 6/5
Jay Noye Lost 2/1
Ryan Jaffray Match halved
Ryan Jenner Lost 3/2
Tom Burgh Match halved
Sam Bird Lost 1 down
Final result Northamptonshire 6 to Leicestershire & Rutland 6