2nd Team Friendly v. Warwickshire
Sunday 2nd April 2017
Kingsthorpe Golf Club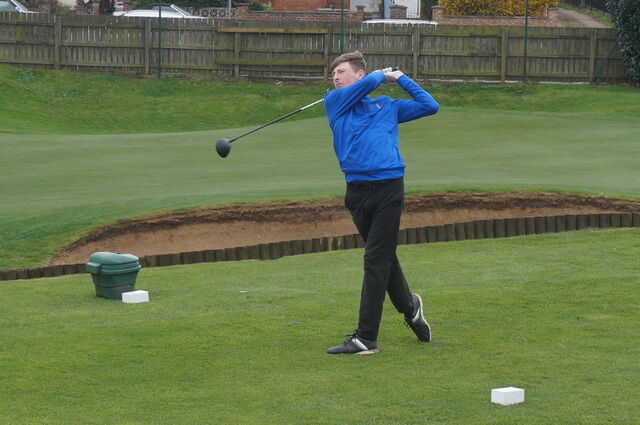 Due to an unfortunately incident which happened overnight Tiger Adams had to withdraw when his clubs were stolen from his car Tom Burgh stood in, then prior to the commencement of the match one of our other team members had not arrived so we were fortunate Dan Blackmore who should have been working in the Pro Shop all day helped us by taking his place, our thanks to Paul Armstrong in releasing him for the day!
Our team consisted of: Tom Burgh - Playing Captain. Mark Bazeley, Dan Blackmore, Sam Bird, Jack Binch, Steve Field, Ryan Genner, Jack Hall, Matt Landers & Ryan Jaffray.
Kingsthorpe course was in excellent condition with the pin positions that tested the ability of both teams.
The foursomes were fairly even matched after the front nine, the back nine was a different story when our pairings stepped up a gear with excellent play & shot making. Matt & Mark lead the charge with a 3 & 2 win securing the first point, Steve & Dan were unstoppable securing an impressive 5 & 4 win followed by Tom & Jack B winning 2 up, Jack H & Sam were in a very tight match being dormy 2 down but showed their true colours by winning the last two holes to halve their match. After the morning foursomes we were up 3.5 to Warwickshire 1.5.
The afternoon saw our team with confidence and determination to start 2017 with a win! Matt lead the team off but was up against it from the off with his opponent winning the early holes but with a great fight back after being 2 down with two to play halved his match on the 18th. As we expected Warwickshire were a strong team and all matches were contested fiercely with pride on both sides at stake! Our middle order played steady with the opposition making more mistakes off the tee and around the greens which led to comfortable wins for Mark & Ryan J of 4 & 2, Jack B & Tom with 4 & 3 win and Dan winning 2up. The other matches could have gone either way with the 16th & 17th holes being pivotal to the final result the pin positions favouring our players with the knowledge of the greens; four matches went down to the 18th Steve & Jack were all square playing the 18th and both held their nerves in playing this tricky hole making par beating their opponents to win 1up. Ryan G & Sam were both 1 down both hit good tee shots followed by precision irons to a pin towards the back of the green both making their pars which could not be matched by their opponents resulting in both halving their matches.
To say the least Tom, Adam Chamberlain & myself were highly delighted with the result along with the players to battle and conquer a strong Warwickshire team and is a testament to the winter training and fitness programmes that Northamptonshire Golf has undertaken. Along with the team camaraderie our players showed whether winning or losing by supporting each other was a credit to Northamptonshire Golf.
Northamptonshire
Foursomes Results
Matt Landers & Mark Bazeley Won 3 & 2
Ryan Genner & Ryan Jaffray Lost 4 & 2
Steve Field & Dan Blackmore Won 5 & 4
Tom Burgh & Jack Binch Won 2 & 1
Jack Hall & Sam Bird Match Halved
Singles Result
Matt Landers Matched Halved
Mark Bazeley Won 4 & 2
Steve Field Won 1up
Dan Blackmore Won 2 & 1
Jack Hall Won 1up
Ryan Genner Matched Halved
Ryan Jaffray Won 4 & 2
Jack Binch Won 4 & 3
Tom Burgh Won 4 & 3
Sam Bird Match Halved
Final result Northamptonshire 12 to Warwickshire 3