2nd Team Match v Norfolk
7th May 2017
Venu: Kingsthorpe Golf Club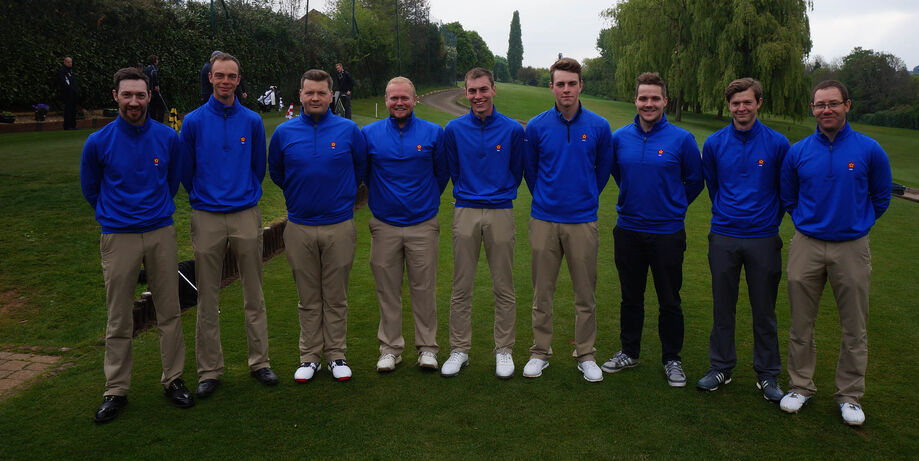 Left to Right: Mark Phillips, Jack Hall, Taylor Sargeant, Matt Landers, Ryan Genner, Fergus Robinson, Tom Burgh - Captain. Jack Binch, Mark Bazeley.
Kingsthorpe was in excellent condition with fast greens which tested most players getting close to the pins, the surrounds & greens were very dry which gave some unexpected bounces and along with strong winds making the course a test for all.
The morning foursomes saw both teams with miss fortunes resulting in an even affair with both teams struggling in the strong cold wind. Our wins came from combination of Jack Hall & Ryan Genner winning 3 & 2 and with a similar score Jack Binch & Mark Phillips winning their match, the other two foursomes went Norfolk's way. After the morning foursomes it was 2 points each.
Our team was in confident and determined mood to finish with an overall win. Taylor Sargeant was our lead player this match went very quickly in favour of Norfolk strongest player on the day Josh Weeks who went on to win 5 & 3.
Mark Phillips was in full spirit after gaining a point with his partner in the morning determined to try and put a point on the board, this match was close all the way swinging one way then the other never more than a couple either way, with 2 holes to play Mark was 2 down but fought back with solid golf halving his match on the 18th!
Fergus Robinson was in fine form and from the off was always up in his match with superb shot making and positive putting outclassing his opponent to go on and win comfortably 5 & 3. This was a similar story from Ryan Genner too ensuring sensible tee shots finding fairways in strong cross winds, a win never looked in doubt going on to win 3 & 1.
Our mid order players Matt Landers & Jack Hall had close matches from strong opposition never more than 1 or 2 holes either way but the final holes proved crucial Matt was one downplaying the 16th but won this hole and being a Kingsthorpe member played the 17th & 18th to perfection to finish 2 up.
Jack Hall was one down playing the 15th but with 2 solid shots was all but a few yards away in 2 on this difficult par 5 his opponent found trouble on his second shot conceding the hole to Jack. Match all square.16th was halved. On the 17th Jack's tee shot went right never to be seen again! Jack provisional was in good shape his opponent had played carefully and was 50yds away in 2. Jack then hit a classic shot which landed short of the green and trickled down the green and down the considerable slope to finish 5 ft away, his opponent putted his leaving this on the top slope, his forth shot finished near Jacks ball both missed their first putts hole halved, an escape for us, the 18th was halved with 1/2 point to both players which was the right result.
The singles finished 4 points to both teams.
Northamptonshire Match Results
Foursomes
Taylor Sargeant & Fergus Robinson Lost 1 down
Matt Landers & Mark Bazeley Lost 3 & 2
Jack Hall & Ryan Genner Won 3 & 2
Jack Binch & Mark Phillips Won 3 & 2
Singles
Taylor Sargeant Lost 5 & 3
Mark Phillips Matched halved
Jack Binch Lost 4 & 2
Fergus Robinson Won 5 & 3
Matt Landers Won 2 up
Jack Hall Matched halved
Mark Bazeley Lost 2 & 1
Ryan Genner Won 3 & 1
Overall result Northamptonshire 6 points to Norfolk's 6 points