Sunday 2nd September 2018
Match Report and End of Season Appraisal
Team: James Barker (Overstone Park), Mark Bazeley (Northampton), Jack Brown (Brampton Heath), Richard Dalton (Overstone Park), Max Hayward (Staverton Park), Harry Oddy (Northamptonshire County), Taylor Sargeant (Kingsthorpe) and Owen Watts (Northamptonshire County).
Captain: Chris White (Peterborough Milton)
Team Manager: Gary Hardy (Northampton)
The last game of the season was played at Kingsthorpe on a beautiful September Sunday with the 2nd team still seeking a first victory of the campaign, despite being so close on a number of occasions. The team included 2 debutants, meaning that the team had now blooded 5 new players this season, all of whom have come through our junior system. This would also be our last home match at Kingsthorpe after 2 fine years there.
Morning Foursomes
Taylor Sargeant and James Barker were paired together for the first time and sent out first against Martin Holland and Ollie Wright. The Northants pair know each other very well from their time together at Overstone and straight away looked like they were relaxed and enjoying it. There was lots of banter on the way round, but more importantly, there was also good golf played. James very nearly drove the 16th but it only resulted in a par. Another par followed at 17 leaving the Northants duo 1up with 1 to play. Cambridgeshire hit it in the trees and James hit another arrowed drive down the centre of the narrow fairway. It must be nice to hit it is as straight as James, especially on the world's narrowest par 4. The resulting par meant the Northants pair won 2up.
Next out were Mark Bazeley and Owen Watts against Craig Russell and Jack Kenyon. Owen and Mark have both won all of the foursomes games they have played this season, including the greatest comeback at Kingsthorpe in the Lincolnshire game, so I thought they would take a lot of beating. This time round they didn't need a comeback and looked very impressive on the way to a 5&4 win.
Match 3 saw the 2 young debutants paired together in the shape of Harry Oddy and Max Hayward who played Ashley Sizer and Isaac Rowlands. The Northants pair had played together many times previously in the junior teams and there were genuinely no signs of any nerves at any point at all. They raced in to a lead of 4up after 5 and managed to break their opponents altogether on the 6th; the Northants pair found a bit of trouble of the tee and did well to find the green side trap in 2, although found the ball awkwardly positioned on the downslope. The resulting bunker shot came out at approximately 100mph before clattering into one of their opponents' bags, which stopped it from going another 100 yards, then Max casually chipped it in for a par… 5up after 6. The Northants pair never took their foot of the gas and ran out winners by a margin of 8&6. Harry said to Max after the game "we really should have won every hole" and I had to agree; still as debuts go, it wasn't a bad start.
Match 4 paired Richard Dalton and Jack Brown together against Josh Austin-Tierney and Tom Rogers. I think it might be fair to say that this game started slowly as a contest but the Northants pair sneaked ahead from the 2nd hole onwards. Getting a lead after a slow start is crucial and the Northants duo soon got away from their opponents, opening a 4 hole lead up by the 8th. They said afterwards that the Cambridgeshire pair started playing a lot better on the back 9 but they were too far behind. It is nice to see a pair in control of a match from the outset and they duly converted their dominance in to a 3&2 win. Something truly remarkable did happen during the game; Jack Brown missed a 4 foot putt. This is only newsworthy because I'm not sure it has ever happened before and probably never will again.
What a morning. Suddenly we are mint at Foursomes. If only this had been our first game of the season and not the last.
Northamptonshire 4 Cambridgeshire 0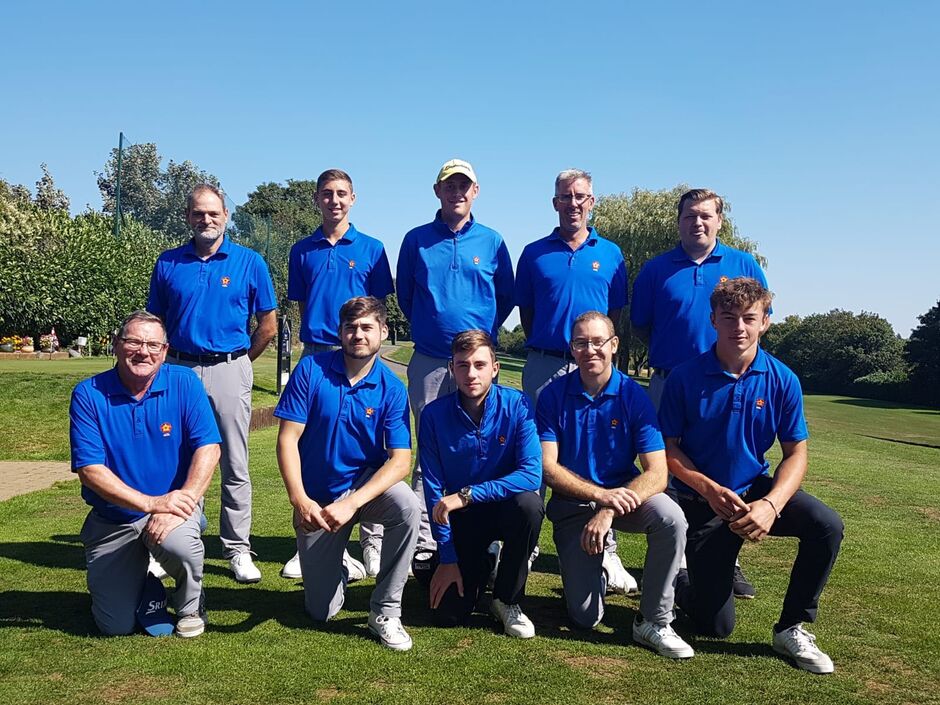 ​
Afternoon Singles
Taylor Sargeant went out top as usual and faced morning opponent Martin Hollands. In a game of a high standard Taylor played the first 15 holes in Level par, including a couple of miraculous ones on 10 and 11. Taylor definitely hit the shortest tee shot on 11 all day but equally definitely had the shortest par putt. Sadly for Taylor he finished with 3 straight bogeys and succumbed to a 2 down loss.
Appraisal – a great team player who always volunteers for the hardest game. Good to see him back in the county squad and winning trophies for fun.
Owen Watts played second against stand-in Cambridgeshire captain Tom Rogers. Owen really briefly looked a bit out of sorts and fell a couple of holes behind relatively early on, which given the season he has had was a bit of a surprise. Panic not; after losing the 11th to go 2 down, Owen birdied 12, 13, 14, 15 and 16 to win 3&2. Amazing.
Appraisal – Player of the season without question. I have run out of superlatives.
Mark Bazeley continued the local knowledge in game 3 and played Josh Austin-Tierney. The only think that Mark looked like losing was a number of holes on the group in front. Mark was 2up every time I spoke to him and converted for a nice 5&3 win. End of an era at Kingsthorpe for the team, end of an era at Kingsthorpe for Mark.
Appraisal – Mark played in 2 games this season and won all of his games. The perfect team player and a role model for the younger players; must play in every game next season.
Max Hayward played against Jack Kenyon in game 4 and looked to continue his fine start to Men's county golf. Max got up in his game early and played some high quality golf, with his birdie on the 7th being one of the highlights. Clearly Max doesn't like wasting time on the golf course and won easily by a margin of 5&4. Debut done and dusted in 26 holes with 2 points; thanks for coming. This was also the winning point in the match and finally I could enjoy watching the rest of the singles.
Appraisal – should have been picked earlier in the season; another future star.
Harry Oddy played against Isaac Rowlands in game 5 also looking to add to his impressive morning's work. This game was perhaps a bit more like some of the other ones the team has had the season where it was close all the way round until all of a sudden a couple of holes were lost in quick succession and the 4&3 loss was very harsh.
Appraisal – impressive debut and also should have been picked sooner; one to watch for the future.
Jack Brown played Ashley Sizer in game 6 and looked in control from the start. All of Jack's singles games this season have been really close despite often starting slowly, so when he was 2up through 10 I thought the outcome was inevitable. Jack then surprised me again, with back to back 3 putts on 11 and 12 to go back to All Square. A missed 4 footer and 2 3 putts from Jack Brown, genuinely unheard of and weirdly unnerving, however he didn't let it phase him and normal service resumed from the 13th onwards. Jack won 3&2 and collected his 2nd point of the day. Good stuff.
Appraisal – great team player and unwavering commitment to the cause. Faster starts next year and Jack will be unbeatable.
Richard Dalton played Ollie Wright in game 7 also looking for his 2nd point of the day. Richard has worked hard on his golf game over the last year and is now playing some of his best golf. He got ahead early despite his 200 yard 8 iron on 6 causing a bit of confusion and maintained the lead throughout. Richard won nicely by 4&3.
Appraisal – valued member of the team and works hard to remain ultra-competitive. Also ridiculously good on quiz machines
James Barker played in game number 8 against Craig Russell. Going out 8 did mean a nearly 2 hour lunch break for James which probably isn't the most helpful in terms of staying loose and limbered up. However, after a season of near-misses I needed to make sure we had a strong anchor man. James made it through 5 holes in level par having hit zero greens in regulation before a vanishing ball incident on the 6th put James behind. I always like to give an honest account of what I've seen when wandering round the course and from I could see Craig did have a couple of spots of good fortune. A birdie from the trees on 14 was equally impressive and annoying, but the snap hook on 15 that somehow hit something and came out exactly where a normal good drive would finish was just a bit rude. Fortunately for the team the result didn't matter but was harsh at 4&2.
Appraisal – versatile team player, who has played at every position in the order at some point this season, with a fantastic singles record that is unmatched over the last 10 years.
Northants 5 Cambridgeshire 3
Final Score Northants 9 Cambridgeshire 3
What a lovely way to finish the season.