First Anglian League Match for 18 Months.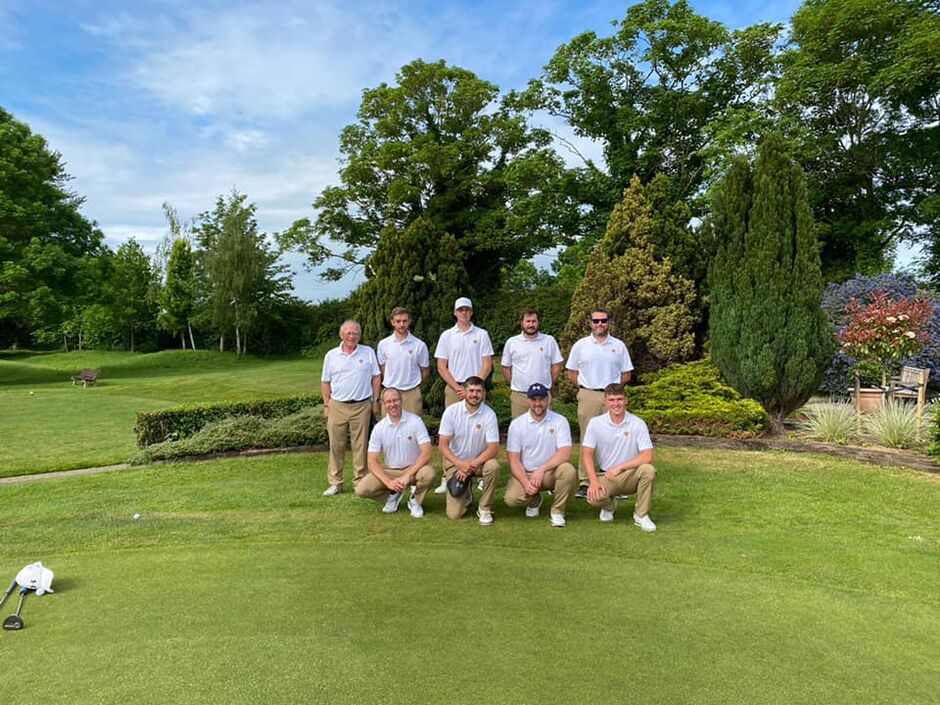 The County 1st Team headed to Ely City GC to take on Cambridgeshire. Ely is a tree lined, very tight Course which favours local knowledge but with a keen, committed team we had plenty of confidence.
Morning Foursomes saw Fraser Carnihan and Lee Hitchcock lead us off against their County Champion who was also an Ely member. We took the lead at the 4th.
Match 2 saw Liam McNeela and Jamie Milligan off to a slow start and go 3 down after 4 holes, being hit with a birdie barrage.
Match 3 was Mark Bazeley and Mark Stockdale who made a good start. Both pairs were on the par 5 4th hole in 2 and both 3 putted for a half to leave the game all square.
Final match saw Jack Brown and Miles Mudge halve the first but missing the green on the par 3 second, they went one down. By the 4th they were 3 down and fighting to stay in the match.
At the 9th, match 1 saw Cambs birdie to get back to all square.
Match 2 , we had pulled back to just 2 down at the turn and by the 12th we were all square after a great chip by Liam with Jamie holing the putt.
In Match 3 the 2 Marks fought back to 1 down by the 12th and could have been level but 3 putted for a half, to stay one down.
Jack and Miles held 3 down at the turn and were still 3 down after 12.
Despite fighting all the way, Fraser and Lee saw a birdie on 17 finish the match with Cambs winning 2 and 1.
Liam and Jamie had turned their match around and were one up playing 17. We went long on 17 with a long downhill putt. Cambs got up and down from just off front of the green while we 3 putted to go back to all square. A half on 18 saw us gain a half point with a really good comeback, showing the spirit of the team.
The 2 Marks were level by the 17th but their drive on 18 ended behind a tree. They played a superb shot to run through the green but were unable to get up and down and lost 1 down after having fought back so well.
Match 4 saw Jack and Miles not have their best day, going down 6 and 5 against a string pairing. Morning score 3 1/2- 1/2, leaving a lot to do in the singles.
Cambs again made a fast start in the singles with their County Champion hitting Lee with 3 birdies in the first 4 holes. Lee was fighting and was only one down. By 17 Lee was still one down and looked like winning 17 until his opponent holed from off the green for a half. On to 18 and somehow Lee managed a four but it looked as if it would not be enough as his opponent had 2 putts for a half on 18. Somehow he 3 putted to leave Lee with a half in what had been a superb contest.
Fraser's fortunes were summed up on 9. He was nicely on the 9th to 20 foot past the pin with his opposite number well short of the green in 2. A win looked possible until the Cambs player chipped in for a birdie and with Fraser's putt coming up a few inches short he went 3 down instead of 1 down. Eventually match ended 3 and 2 yo Cambs.
Liam had looked good all weekend, must have been the mullet. He went one up at the 9th against an in form Alex Kephart. Close match continued and Liam held on for a 1 up win.
Mark S was hit hard early on with an opponent who holed every putt. Despite holding the match on the back 9 he went down 6 and 5.
Jamie was 4 down at the turn against a young player who was inspired and never missed a shot or putt. Match finished 6 and 5.
Jack was 4 down at the turn and despite again holding on found himself the wrong end of a 4 and 3 result.
Mark B was all square after 9, but was hit by birdies to be 3 down playing 16. He won 16 but his opponent holed from 20 foot on 17 to beat Mark 3 and 1.
Miles went one up by the 9th, and started to play some very good golf. He carried on to finish with a 3 and 2 win.

Overall a 9-3 defeat is very disappointing but the team spirit and commitment to all turn up for a Saturday practice and support one another from start to finish was very encouraging. Next match at home at Whittlebury against Leicestershire and Rutland on 4th July.


| | | | | | | |
| --- | --- | --- | --- | --- | --- | --- |
| Matches | Cambridgeshire | Result | Points | Northamptonshire | Result | Points |
| Foursomes | | | | | | |
| 1 | Danny Loveday & Luke Ryan | 2&1 | 1 | Fraser Carnihan & Lee Hitchcock | | 0 |
| 2 | Paul Hodkin & Josh Austin Tierney | AS | 0.5 | Liam McNeela & Jamie Milligan | AS | 0.5 |
| 3 | Joe York & Jake Plumb | 1up | 1 | Mark Bazeley & Mark Stockdale | | 0 |
| 4 | Alex Kephart & Luke Bowers | 6&5 | 1 | Jack Brown & Miles Mudge | | 0 |
| Morning | | | 3.5 | | | 0.5 |
| Singles | | | | | | |
| 1 | Luke Ryan | AS | 0.5 | Lee Hitchcock | AS | 0.5 |
| 2 | Paul Hodkin | 3&2 | 1 | Fraser Carnihan | | 0 |
| 3 | Alex Kephart | | 0 | Liam McNeela | 1up | 1 |
| 4 | Joe York | 6&5 | | Mark Stockdale | | 0 |
| 5 | Jake Plumb | 6&5 | 1 | Jamie Milligan | | 0 |
| 6 | Danny Loveday | 4&3 | 1 | Jack Brown | | 0 |
| 7 | Josh Austin Tierney | 3&1 | 1 | Mark Bazeley | | 0 |
| 8 | Luke Bowers | | | Miles Mudge | 3&2 | 1 |
| Afternoon | | | 5.5 | | | 2.5 |
| Result | | | 9 | | | 3 |