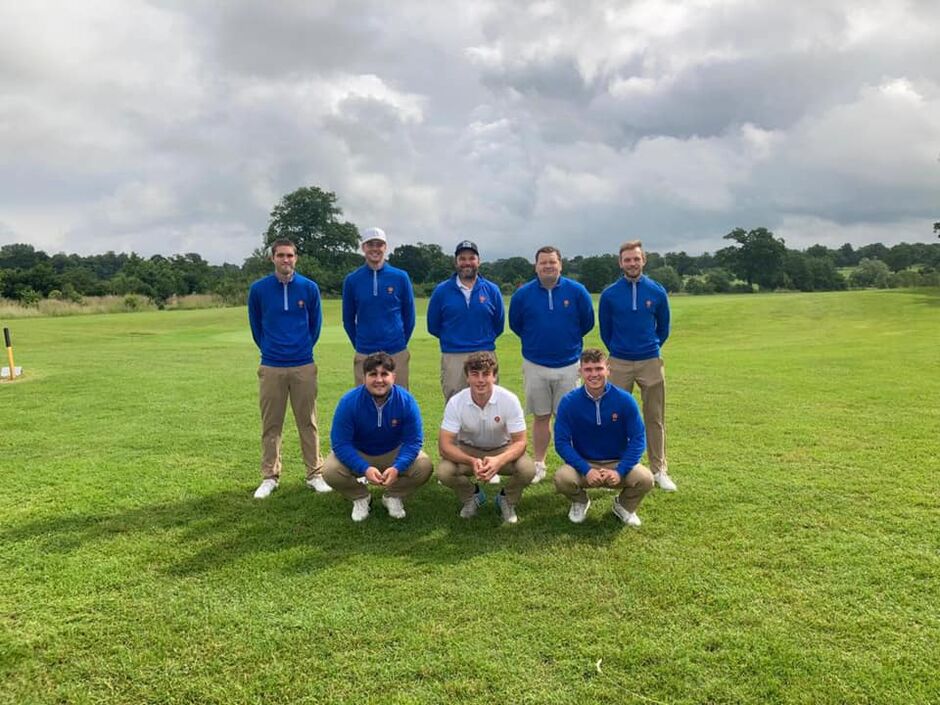 We had high hopes for a good result with a strong team being selected.
Charlie Salter lead us out with Max Hayward and got off to a great start by eagling the second to be one up after three holes.
Taylor Sargeant and Mark Stockdale made a steady start with Taylor holing a long putt on 3 for a half . Match a/s after 3.
Fraser Carnihan and Jensen Parfitt were hit with birdies on 1 and 2 to be 2 down after 3.
Miles Mudge and Liam McNeela lost the first to a par but bounced back winning 2 and 3 with Miles holing out from distance for a win on 3.
Match one was still one down after 7 holes having missed a chance on 7 to level the match.
Match 2 was still a/s after 7 with Taylor hitting the green from the left rough after they looked to be in trouble.
In Match 3 we were being bombarded with birdies, on 7 we looked in control but Leics chipped in from off the green for birdie and went 3 up.
In Match 4 Liam hit a monster drive to centre fairway and Miles put the ball to 3 1/2 feet with Leics 25 foot away. Leics holed and Liam followed for a half in birdie and we stayed one up after 7.
On the par 3 11th in Match 1, both tee shots were to 18 feet and both made pars and match was a/s.
In Match 2, we halved in par after Leics lipped out their birdie attempt. Although we were 2 under par we were one down with some great golf being played.
Match 3 saw us in trouble and well down against a pairing that were on fire.
Match 4 saw us 3 up after 11 after we three putted to lose 11.
After 13 holes the first two games were both 1 down in close games. Match 3 was lost on 13 but in the final game both pairs birdied 12 and 13 and we stayed 3 up.
We lost the first game 3 and 2 after a surge from Leics.
The second game saw us birdie 14 and halve 15 to go a/s but we then lost 16 to par to be one down. Despite a great effort Taylor lipped out on 18 and despite halving the hole we lost one down.
Final match was brilliant. From 4 up we were hit with birdies on 16 and 17 and went to the 18th only one up. We played for position while Leics went for the green and left the ball 30 yards short and left. Liam played in to 12 feet and Leics chipped over the hole to 9 foot past. We putted to 4 foot past the hole and Leics lipped and left the ball on the edge of the hole. Liam holed the four footer for half and we won this game one up.
Morning Foursomes ended 3-1 down.
Afternoon singles started better but soon changed. Charlie lead off and found himself 4 down through 7.
Max made a fast start and hit a marvellous drive on 7 only to see his opponent make birdie from the rough to reduce Max's lead to one.
Taylor was in another ding dong match and he won 7 to go a/s.
Mark went 2 up after 7 when his opponent hit a tree and made bogey.
Fraser was having a struggle against a player who holed everything.
Jensen lost 7 to a birdie to go 2 down.
A birdie from Liam on 7 saw him go one up.
Miles was having an epic tussle against James, Leics Captain, and they went through 7 a/s.
After 13 Charlie was still down but fighting, Max held on to his 2 up lead. Taylor birdied 13 to be only one down. Mark stayed one up, Fraser was fighting to limit the damage. Jensen fought back and was a/s after 13 having hit his second into water, dropping and getting up and down for par to halve that hole.
Liam was a/s after 13 in another close game.
Miles was 2 up after 13 in a real battle.
Lots of matches that were close then swung in Leics favour and our points came from wins by Max, Liam and a half from Jensen.
Final score in singles was 2 1/2 - 5 1/2.
Overall score 3 1/2 - 8 1/2.
A disappointing defeat but all the players tried to the end and quality golf was played.
| | | | | | | |
| --- | --- | --- | --- | --- | --- | --- |
| Matches | Northamptonshire | Result | Points | Leicestershire | Result | Points |
| Foursomes | | | | | | |
| 1 | Charlie Salter & Max Hayward | | 0 | Chris Brook & Luke Burrows | 3&2 | 1 |
| 2 | Taylor Sargeant & Mark Stockdale | | 0 | Coby Cartwright & Oliver Lewis | 1up | 1 |
| 3 | Jensen Parfitt & Fraser Carnihan | | 0 | Steve Sansome & Jake Croshaw | 7&5 | 1 |
| 4 | Miles Mudge & Liam McNeela | 1up | 1 | James Billingham & Martin Anderson | | 0 |
| Morning | | | 1 | | | 3 |
| Singles | | | | | | |
| 1 | Charlie Salter | | 0 | Chris Brook | 4&3 | 1 |
| 2 | Max Hayward | 3&2 | 1 | Coby Cartwright | | 0 |
| 3 | Taylor Sargeant | | 0 | Luke Burrows | 2up | 1 |
| 4 | Mark Stockdale | | 0 | Oliver Lewis | 2&1 | 1 |
| 5 | Fraser Carnihan | | 0 | Jake Croshaw | 4&3 | 1 |
| 6 | Jensen Parfitt | Half | 0.5 | Steve Sansome | Half | 0.5 |
| 7 | Liam McNeela | 1up | 1 | Martin Anderson | | 0 |
| 8 | Miles Mudge | | 0 | James Billingham | 2up | 1 |
| Afternoon | | | 2.5 | | | 5.5 |
| Result | | | 3.5 | | | 8.5 |