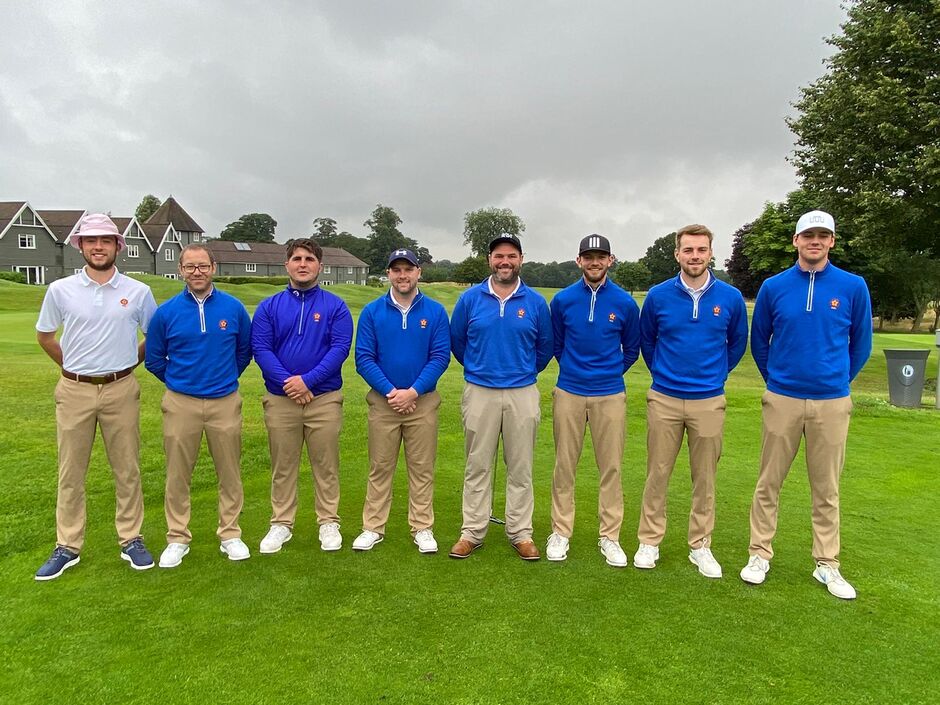 Northamptonshire's Men's First Team took on Norfolk yesterday at Overstone Park Golf Club.
The golf course was in excellent condition with the Norfolk officials and players asking us to thank the green staff for presenting the course in the way they did.
The greens were excellent.
The team was:
Charlie Salter
Harry Oddy
Mark Stockdale
Fergus Robinson
Jamie Milligan
Mark Bazeley
Miles Mudge
Fraser Carnihan


The final score was 4.5 - 7.5 to Norfolk.
There were lots of birdies and eagles on the day just Norfolk made a few more.
We are very close to turning things around.
I would also like to thank John Gilding, Liam McNeela, Tom Wykes, Harry Woan and NGL President Kathryn Stronach for supporting us on the day, it really means a lot to see friendly faces!
Special mention to Fergus Robinson and Mark Stockdale on delivering 2 wins on the day.
Great golf guys!


| | | | | | | |
| --- | --- | --- | --- | --- | --- | --- |
| Matches | Northamptonshire | Result | Points | Norfolk | Result | Points |
| Foursomes | | | | | | |
| 1 | Charlie Salter & Harry Oddy | | 0 | Warren Bates & Simon Clark | 5&4 | 1 |
| 2 | Mark Stockdale & Fergus Robinson | 4&2 | 1 | Kale Heath & Ben Terry | | 0 |
| 3 | Jamie Milligan & Mark Bazeley | | 0 | Mason Bernstein & Ian Yule | 4&3 | 1 |
| 4 | Miles Mudge & Fraser Carnihan | Half | 0.5 | Liam Cossy & Jack Collington | Half | 0.5 |
| Morning | | | 1.5 | | | 2.5 |
| Singles | | | | | | |
| 1 | Charlie Salter | | 0 | Kale Heath | 2&1 | 1 |
| 2 | Harry Oddy | | 0 | Warren Bates | 3&2 | 1 |
| 3 | Fergus Robinson | 5&4 | 1 | Liam Cossy | | 0 |
| 4 | Mark Stockdale | 2&1 | 1 | Ian Yule | | 0 |
| 5 | Jamie Milligan | Half | 0.5 | Mason Bernstein | Half | 0.5 |
| 6 | Mark Bazeley | | 0 | Simon Clark | 2&1 | 1 |
| 7 | Miles Mudge | | 0 | Jack Collington | 2&1 | 1 |
| 8 | Fraser Carnihan | Half | 0.5 | Ben Terry | Half | 0.5 |
| Afternoon | | | 3 | | | 5 |
| Result | | | 4.5 | | | 7.5 |