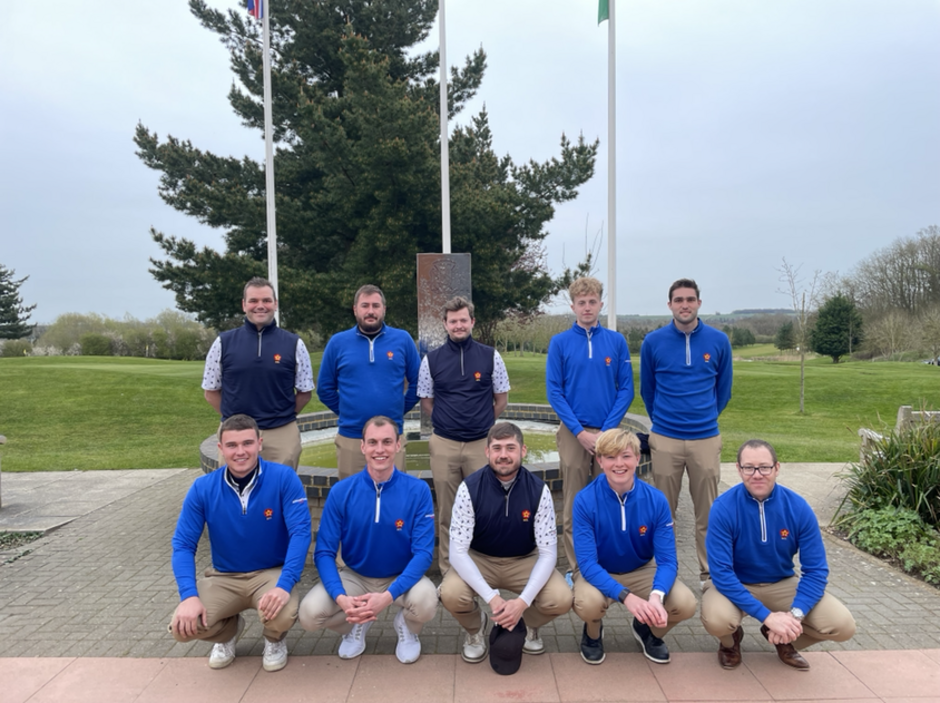 BACK L-R: Fraser Carnihan (Overstone), Lee Hitchcock – C (Overstone), Jack Binch (Overstone), Joe Hyde (Kettering), Jensen Parfitt (Collingtree)

FRONT L-R: Liam McNeela (Kingsthorpe), Ryan Genner (Overstone), Jack Brown (Brampton Heath), Elliot Strickland (Northampton), Mark Bazeley (Northampton)
First Outing of the year for Northamptonshire 1st Team saw us come against our annual fixture against Bedforshire.
After two years of not being able to play against them, both counties made sure that a date was secured for us to be able to play. Big thank you to Bedfordshire and Pavenham GC for hosting us.
A new look for the teams first match with a few new faces making their 1st team debut. Joe Hyde made the step up after impressing last year in the 2nd team and Elliot Strickland made his first ever mens team match after impressing the captains and team managers at the meet up.
With some of our usual first team players away competing in national events, it gave the captain some oppurtunity to give younger players the chance to impress with Anglian League fixtures just over the horizon. The match was nip and tuck at the beginning with the first 6 matches going either way, and bedforshire find themselves with a 3.5 – 2.5 lead. But a strong back end to our team showed exactly why they were picked with Mark Bazeley, Joe Hyde and Elliot Strickland all picking up decent wins and Jack Binch winning on the last hole. This gave Northants 1st Team a 3.5 -6.5 win. This is the first win for the 1st Team in over a year so a much needed lift goling into the next friendly. Lets hope for much of the same on the 24th April.
| | | | | | | |
| --- | --- | --- | --- | --- | --- | --- |
| Matches | Bedfordshire | Result | Points | Northamptonshire | Result | Points |
| Singles | | | | | | |
| 1 | Paul Hume | 2&1 | 1 | Lee Hitchcock | | |
| 2 | Chris Spooner | | | Ryan Genner | 2&1 | 1 |
| 3 | Morgan Darnell | 3&2 | 1 | Jack Brown | | |
| 4 | Scott Armitage | 5&4 | 1 | Jensen Parfitt | | |
| 5 | Owen Peter-Thompson | | | Fraser Carnihan | 2&1 | 1 |
| 6 | Craig Brooks | Half | 0.5 | Liam McNeela | Half | 0.5 |
| 7 | Charlie Coleman | | | Mark Bazeley | 3&1 | 1 |
| 8 | Fraser Jamieson | | | Jack Binch | 1up | 1 |
| 9 | Jordan White | | | Joe Hyde | 3&2 | 1 |
| 10 | Bradley White | | | Elliot Strickland | 3&2 | 1 |
| Result | | | 3.5 | | | 6.5 |