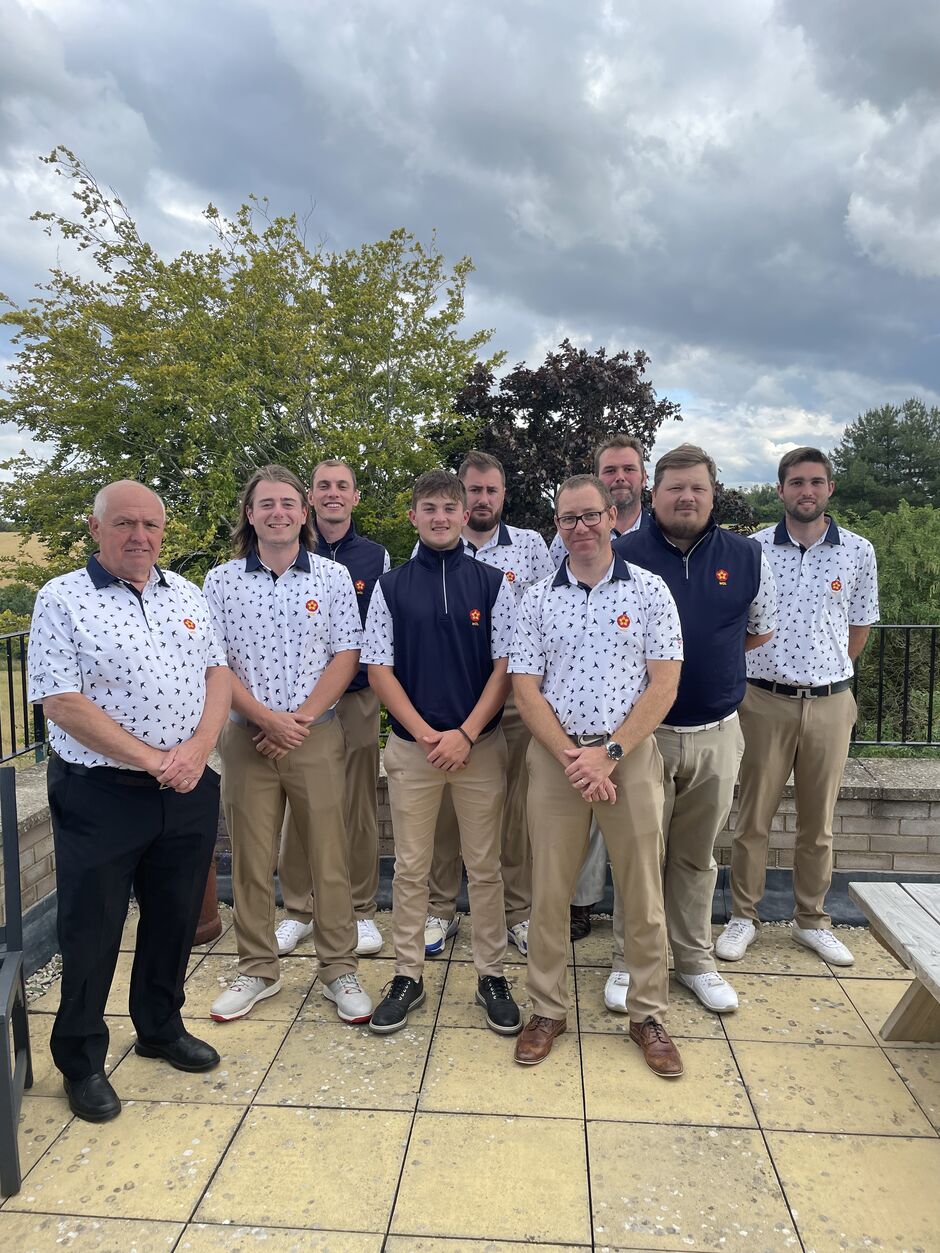 BACK L-R: Jack Marr - President (Priors Hall), Ryan Genner (Overstone), Lee Hitchcock (Overstone), Fraser Carnihan (Overstone), Jensen Parfitt (Collingtree)
FRONT L-R: George Castle (Northants County), Torin Little (Whittlebury), Mark Bazeley (Kingsthorpe), Taylor Sargeant (Overstone)
Oundle Golf Club, hosted the County Men's First Team against Cambridgeshire First Team on 3rd of July.
Firstly the course was presented beautifully, so a big shout out to the green staff and we received a warm welcome from all the catering staff.
The morning foursomes didn't go the way we wanted.
Northamptonshire ended up trailing 3-1.
There was some excellent golf played by both teams.
The highlight for Northamptonshire being Torin Little and debutant George Castle holding their nerve to par the tricky 18th allowing them to claim a vital 1 up win.
Giving Northamptonshire a chance in the afternoon singles.
Requiring 5.5 points from the 8 singles points on offer, Northamptonshire went to work.
Unfortunately, we came up just short winning the session 4.5-3.5.
Leaving the result 6.5-5.5 in Cambridgeshire's favour.
It would have been easy for the guys to roll over but they didn't, every member of the team gave their all and sometimes you don't play as well as you'd like too, or your opponent does something outstanding.
Unfortunately Torin Little found this out the hard way.
Standing on the drivable 17th tee all square Torin hit a simply fabulous tee shot to no more than a foot away, being conceded for an eagle 2!
Needing to win his match to secure a half in the overall match it looked odds on he would be walking to the 18th with the lead.
However Sam Marshall from Cambridgeshire had other ideas.
Hitting his tee shot 20 yards right of the right of the green, he assessed his tricky downhill pitch.
A few practice swings later he was ready to play the shot and what a shot he played.
I can only imagine it came off perfectly as he'd pictured it and a few bounces a bit of check and the ball found it's way into the bottom of the cup at the perfect pace.
Sadly not the 1 up lead Torin wanted.
The two players went on to par the last and the game was Cambridgeshire's.
Another mention to George Castle who went on to win his singles match giving him 2 points on the day cementing a great debut.
The effort the team gave was second to none and sometimes it's just not your day.
Matches
Northamptonshire
Result
Points
Cambridgeshire
Result
Points
Foursomes












1

Ryan Genner

Taylor Sargeant






David Marris

James McLaughlin

6&5
1
2

Jensen Parfitt

Fraser Carnihan






Joe York

Luke Ryan

3&2
1
3

Torin Little

George Castle

1up
1

Danny Loveday

Sam Marshall





4

Lee Hitchcock

Mark Bazeley






Josh Austin-Tierney

Jake Plumb

4&3
1
Total




1




3
Singles












1
Taylor Sargeant




Jake Plumb
7&5
1
2
Jensen Parfitt
3&2
1
David Marris




3
Ryan Genner




Joe York
2&1
1
4
Fraser Carnihan
6&5
1
James McLaughlin




5
George Castle
3&1
1
Luke Ryan




6
Torin Little
Half
0.5
Sam Marshall
Half
0.5
7
Mark Bazeley




Danny Loveday
4&2
1
8
Lee Hitchcock
2&1
1
Josh Austin-Tierney




Total




4.5




3.5
Result




5.5




6.5