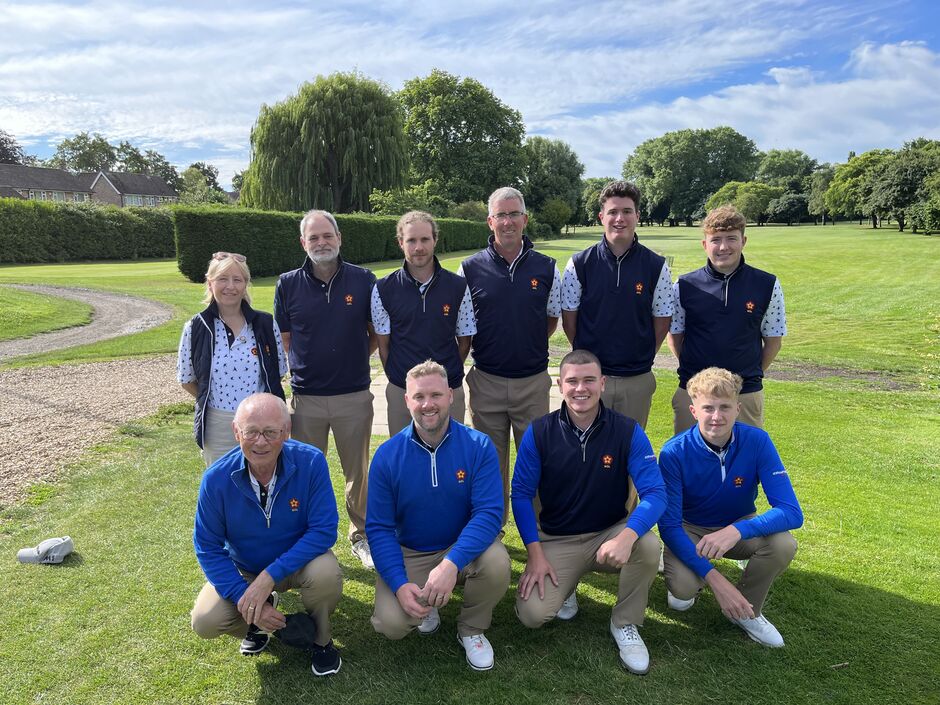 Despite two late changes to our line up, the squad was in a positive frame of mind about this away match.
James Barker teed off first in the Foursomes. Playing with Brandon Sanders. James hit a lovely tee shot off the dogleg first and Brandon played up close to the green. James promptly chipped in for eagle and one up after one. Unfortunately they lost 2 and 3 and halved 4 to be 1 down after 4 holes.
Match 2 saw Joe Hyde paired with Richard Dalton. Joe's 3 wood at 1 drew too early and clipped a tree. Hole lost but they were back to level after 4 holes.
In the 3rd Match Sam Bird hit driver well but a slight fade found the trees, Cambs. drove well right. Hole halved but we lost the 2nd to be 1 down through 4 holes.
Match 4 saw Liam McNeela paired with Jamie Milligan. Liam boomed a high drive over the trees on the left and found fairway. A good 2nd from Jamie and a birdie saw the 1 up. Bogeys on 2 saw them stay 1 up They were 2 up by the 5th where they missed a par putt for Cambs. to win a hole back. A thinned chip was lost in bushes and we were back to A/S.
In game 3 Cambs. holed from off the green for a birdie to stay ahead of Sam and Ben.
Match 2 was A/S after 8.
Match 3 was hit by a birdie, birdie blast from Cambs. and went 3 down after 8. However two birdies of our own saw us just 1 down after 11 following a superb tee shot from Sam on the par 3. Another birdie on the 12th saw the match A/S, Cambs. immediately replied with 2 birdies of their own to restore a 2 Up lead in this high class encounter. We couldn't pull theis back and lost 2 and 1.
In Match 1 we were playing very solid golf only to be 2 down to some magic from Cambs. Despite exchanging a few holes on the way in we eventually lost 3 and 1.
In Match 4 we birdied 10 to go 1 up again.
In Match 2 we were 1 down after 12, then won 13 with birdie, halved 14, won 15, halved 16 and won the par 3 17th for a 2 and 1 win for Richard and Joe.
Match 4 saw us go 3 up after winning 15. Nerves were jangling for the spectators as we lost 16 and 17 to be 1 up facing the daunting dogleg par 4 18th. Cambs. Hit a safe ,conservative tee shot but Jamie took on the green over the trees and the ball landed on the green. Two putts for birdie saw us win 2 up.
After morning Foursomes, Match was 2 – 2 with all to play for in the afternoon.
Liam played 1 and was 2 up after 8 against the Cambs. Captain , who was a member at Ramsey GC. By the 11th he was 4 up but Cambs. Pulled one back to be 3 down.
Ben found himself 1 down playing 8 where he lipped the hole to go 2 down.
Brandon at number 3 found himself down after 5 to 2 birdies.
James at 4, chipped stone dead and won the hole to be A/S after 5.
James was 1 down but a good win on the 8th saw him back to level.
In Match 5, Jamie made a slow start and was 3 down after 4. He then turned it round and by 8 had gone 1 up, incredible,
Match 6 saw Richard in a real ding dong match and he made a great up and down for par to stay level.
Jamie remained in control and was 2 up after 10.
Richard capitalised on a Cambs. Weak chip and went 2 up after 9, only to find the bunker at 11, lost the hole and back to 1 up.
Joe was fighting hard and a chip to 14' then saw him hole a 'Joe' putt to go 1 up. Cambs then put their tee shot to 3' on 11 to take the match back A/S.
Sam playing at 8 was playing well and won 9 to go 2 up and promptly won 10 to go 3 up.
Joe found trees off the tee to lose the 12th and go 1 down
Jamie had gone 4 up after 14 , having been 3 down after 4. However as in the morning 15 was lost to see him 3 up after 15. Surely the morning's drama couldn't be repeated. Well, 16 was lost and the match was 2 up. However, nerves were settled and Jamie won the 17th to win 3 and 1. 2 wins on the day for Jamie.
Richard was A/S playing 18 and Cambs. Looked favourite for a win or at least a half. However, Richard's experience and fighting spirit came to the fore and a great bunker shot and putt saw him par the 18th while his opponent was too aggressive with his first putt and missed the return for Richard to win the game 1 up and score 2 points on the day.
Could we get a draw? Well Liam had been 4 up after 11 and remained 3 up with 3 to play. The Cambs Captain then went into overdrive with birdies at 16 and 18 with a par at 17 to win the last 3 holes to halve his game with Liam in an epic tussle.
Match result Northants 5 ½ - Cambs. 6 ½. Hard to take after we fought so hard but we dust ourselves down and go again at Cold Ashby in August. Well played Northants. A really strong performance.


Matches
Cambridgeshire
Result
Points
Northamptonshire
Result
Points
Foursomes












1

Paul Hodgkin

Jack Roe

3&1
1

James Barker

Brandon Sanders





2

Harry McDonnell

Joe Austin









Richard Dalton

Joe Hyde

2&1
1
3

Jamie Price

George Whitehall

2&1
1

Sam Bird

Ben Lavender





4

Rob Hughes

Louis Martin






Liam McNeela

Jamie Milligan

2up
1
Total




2




2
Singles












1
Paul Hodgkin
Half
0.5
Liam McNeela
Half
0.5
2
Jack Roe
3&2
1
Ben Lavender




3
Harry McDonnell
2&1
1
Brandon Sanders




4
Joe Austin
3&2
1
James Barker




5
George Whitehall




Jamie Milligan
3&1
1
6
Jamie Price




Richard Dalton
1up
1
7
Rob Hughes
2&1
1
Joe Hyde




8
Louis Martin




Sam Bird
6&5
1
Total




4.5




3.5
Result




6.5




5.5