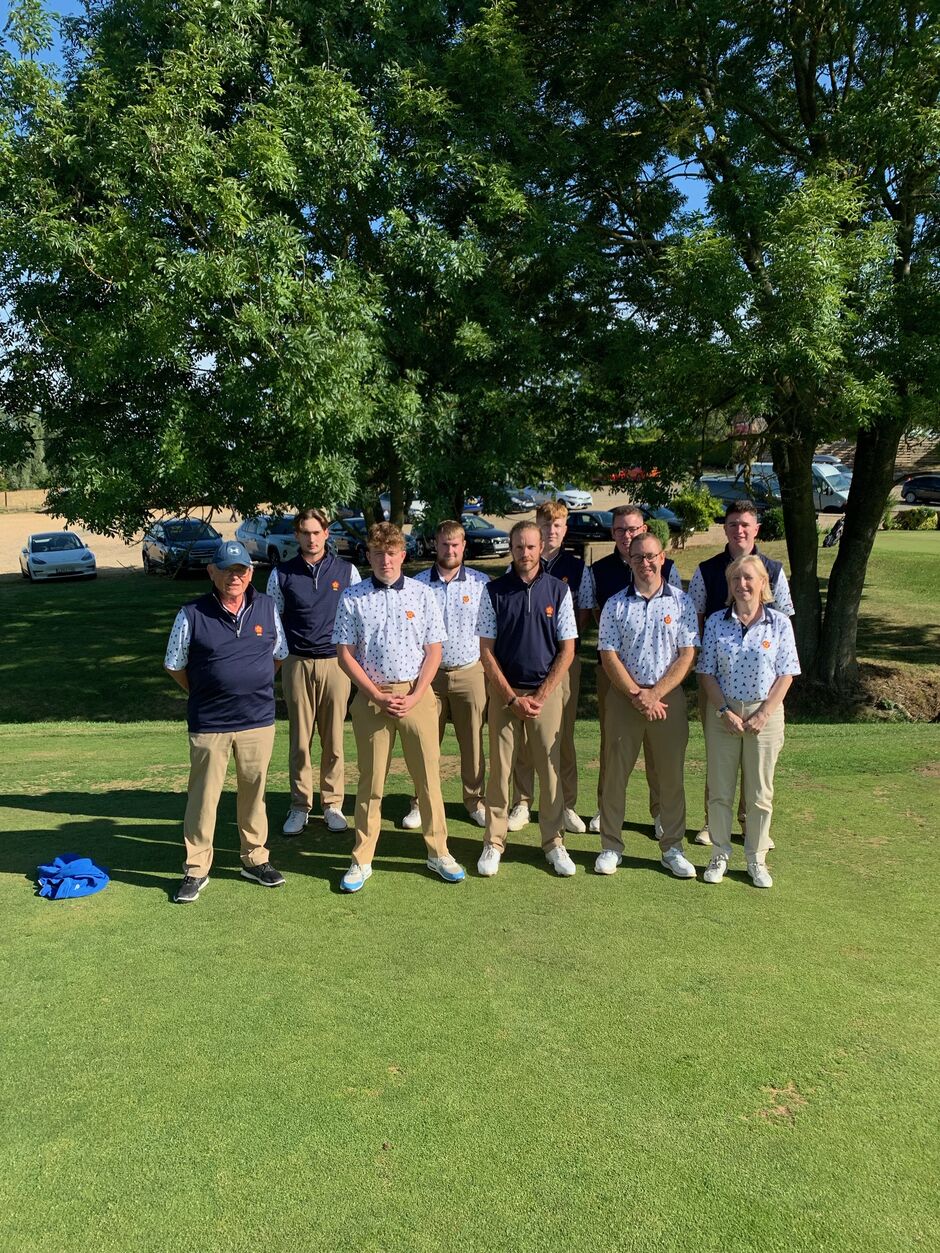 It was decided to turn to youth and 3 youngsters were given their County full Team debuts. Charlie Pearce and Jacob Williams from Peterborough Milton GC and Jody Parfitt from Collingtree Park GC. All 3 acquitted themselves very well and played some excellent golf.
Team spirit was high for this match, although Leicestershire always put out a very strong County side.
Charlie and Jacob made a fine par on hole 1 only for Leics. to post a birdie leaving us 1 down.
Jordan and Jody halved the first with Jody holing a Dennis Wise.
Sam and Ben were playing some good golf early on but found themselves 1 down after three holes.
Jacob and Charlie then won the third, a tough par 3, to go a/S and stayed that way with a half on 4.
Mark and Brandon found Leics. on form and they were 4 down through 5 holes, however a good birdie on 7 saw the lead back to 3.
Jody and Jordan then won the 5th to go ahead by 1 in their match.
Ben and Sam continued to play well but a lost ball on the dogleg 5th saw them go 2 down and halves on 6 and 7 saw them stay 2 down.
Charlie and Jacob looked in charge of their match but the Leics. player holed 10 and 12 foot putts on the early holes for halves. Leics. then won 5 and 6 and suddenly we were 2 down. A half on 7 saw them stay 2 down.
Jordan and Jody won the 7th with par after a good Jordan putt to go 3 up, however trouble off the tee at 8 saw them concede the hole and a bogey at 9 saw their lead down to 1 at the turn.
Charlie and Jacob won 2 holes to go back to A/S at the turn.
Sam and Ben were back to just 1 down at the turn . Brandon and Mark were 4 down at halfway.
Match 1 was lost 7 and 5 against a very strong pairing.
Jody and Jordan then lost the 10th with Leics. driving the green at the par4. Suddenly we had gone from 3 up to A/S.
Charlie and Jacob won 9 with a birdie to go A/S and then halved 10.
However, trouble off the tee at 11 saw them go 1 down. A tee shot OB on 12 saw them suddenly go 2 down in a topsy turvey match. Leics. then dominated and ran out 4 and 3 winners in what had been a very tight match.
Despite going OB on 13, Ben and Sam halved the hole in 6! At this stage they had fought back to 1 up. This changed and when Leics. birdied the 17th we were then 1 down with the 18th to play. Ben hit a great tee shot down 18 and Leics. lost their ball and Sam and Ben were rewarded with a good 1/2 point.
Jordan and Jody were involved in a titanic struggle. Both teams missed the green on the par 3 17th but a good Jordan chip and a nerveless 4 foot putt from Jody saw us 1 up. A half on 17 saw us 1 up playing the last but a wayward tee shot saw us lose the last hole and gain a ½ point.
So, at lunch we were 3 -1 down, with Leics. turning the screw at the right time.

In the singles, Brandon was first off against Tom Roberts. They had a magnificent match with the lead never more than 1, with each having the lead during the round. An eagle 3 on the par 5 18th saw Tom sneak a win 1 up. Unlucky Brandon, some great golf played in this match.
Jordan was 2 down after 6 after an OB and a Leics. birdie.Mark made a great start to go 2 up after 6 and he kept the lead and was still 1 up after 11 and the won 12 to go back to 2 up.
Charlie was on a mission against a very good Leics. player and was 3 up after 6 holes.
Ben was 2 up after 6, Jacob was 1 up after 6 and Jody was A/S after 6.
At this stage it was looking very promising that we could maybe achieve a draw.
Charlie stayed 4 up after 12, he carried on and won his match 5 and 4, a superb achievement for this 17 year old.
Ben then was 4 up after 12 holes. He carried on playing his best golf for some time and also won 5 and 4. 1 ½ points on the day.
Jacob had put up a really good fight and was 1 down after 12 but inexperience saw him lose 3 holes in a row, 15,16 and 17 to lose 3 and 1. A great learning experience for the 18 year old.
Jody fought all the way but went down 3 and 2.
Mark held his nerve to gain a half point against one of Leics. most experienced players.
Sam was having another tight match but eventually lost 17 to go down 3 and 1.
Jordan, having been 3 down, continued to fight and play some excellent golf. Eventually making birdie at 17 to go 1 down, he then held his nerve to win 18 with another birdie, holing a 6 foot putt to win the hole and gain a half in his match,
The Match result of 4 points to 8 was a real disappointment and not a true reflection of how well the team had played. The overall Team Spirit and general atmosphere around the Team was first class and we have high hopes for a result in our final match at home at Collingtree Park at the beginning of September.
Special thanks to Stuart, Sandra and the Greens Staff at Cold Ashby for looking after us so well and presenting the Course in such good condition.
Matches
Northamptonshire
Result
Points
Leicestershire
Result
Points
Foursomes












1

Mark Bazeley

Brandon Sanders






Tom Roberts

Liam Plant

7&5
1
2

Sam Bird

Ben Lavender

Half
0.5

Oliver Lewis

Jake Croshaw

Half
0.5
3

Jacob Williams

Charlie Pearce






Arshad Tarmahomed

Bobby Large

4&3
1
4

Jordan Darnell

Jody Parfitt

Half
0.5

Jake Dandy

Jamie Watson

Half
0.5
Total




1




3
Singles












1
Brandon Sanders




Tom Roberts
1up
1
2
Mark Bazeley
Half
0.5
Liam Plant
Half
0.5
3
Sam Bird




Arshad Tarmahomed
3&1
1
4
Charlie Pearce
5&4
1
Oliver Lewis




5
Ben Lavender
5&4
1
Bobby Large




6
Jacob Williams




Jake Croshaw
3&1
1
7
Jordan Darnell
Half
0.5
Jamie Watson
Half
0.5
8
Jody Parfitt




Jake Dandy
3&2
1
Total




3




3
Result




4




8