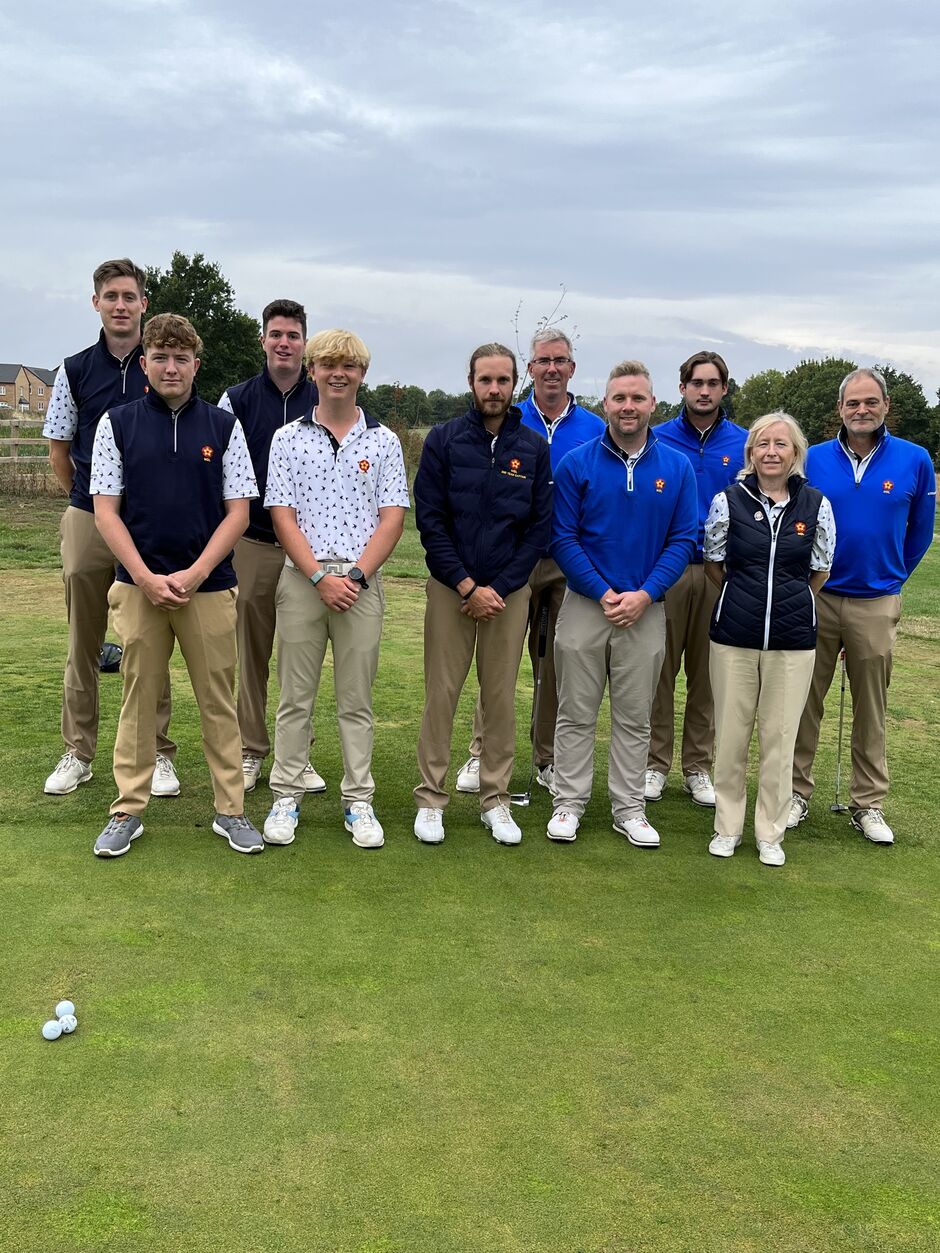 A bottom of the table clash between Northamptonshire and Norfolk.
A team packed with experience, with a blend of some younger players, came together with a determination to end the season on a high.
In match 2 Brandon and Ben H. halved the first, coming out of the rough on the right, before winning the second to go 1 up. On the 4th, both made good pars and Nthants remained 1 up.
Match 1 saw Jamie and Ben L. win the first two holes. However, on three, Norfolk holed a good birdie putt to pull one back. And on the 4th hole both pairs played this difficult par 3 well and halved in par. We remained 1 up.
We made a slow start in match 3 and a few poor shots on the 4th saw Nthants go 3 down.
In the fourth match both pairs made bogey on the 4th to halve the hole and Norfolk, who had made a fast start in this game, remained 2 up.
In the first match, the 7th was halved in par. On the par 5 eighth hole, both teams found trouble on the right. Norfolk played to the fairway from behind a tree but Nthants ball was probably in the water but couldn't be identified, so the provisional was played. Jamie put Ben's drive on the green pin high right. Both pairs now on the green in 4. Nthants made a mess of the first putt and the hole was lost to a bogey. Norfolk 1 up.
Our 2nd pair lost the 8th to go 2 down, our 3rd pair won the 8th to go 2 down. Our 4thpair halved 8 to remain 2 down.
At this stage it was looking bleak, but this team didn't know when it was beaten.
In Match 3 Elliot played a superb 6 iron onto the green from well back. Norfolk, from much closer, missed the gren right and then made a poor chip. Elliot holed a 4' putt for par and match now 1 down.
We were back to a/s in match 2 after the 11th but a tee shot under the lip of the fairway bunker saw Nthants go 1 down again to a par.
Match 1 had been turned round and Nthants were 1 up after 12 holes.
Match 3 went back to level after 11 and the 12th was halved in bogey.
A topsy turvey match in game 1, From 1 up, we lost 13 and 14 to go 1 down.
The 2nd match was level playing the 15th and remained a/s after 15.
The fourth game saw us 1 down after 14 but a good putt for par from Richard saw us back a/s. A loss on 16 and again 1 down. However, a classy tee shot from the experienced Dalton saw us back to level after Norfolk 3 putted from the front of the green. On 18 both pairs were just short of the fairway bunker on the right, Norfolk hit the bank and went in the water with Jody clearing the water and leaving Nthants just off the green. A win on this hole gave us the game 1 up, after winning 17 and 18.
Match 1 finished strongly but a few late errors saw us lose 1 down.
In the 2nd game a strong finish from Collingtree member Brandon and his partner Ben H. saw them win the match 2 and 1.
James and Elliot had pulled back a 3 hole deficit to be a/s late on , only for Norfolk to dominate the final holes for a 3 and 1 win.
A really close encounter saw the lunchtime score 2 – 2 and all to play for in the afternoon.
In the singles it is difficult to watch all 8 games, moving at a fast pace. Especially with Brandon leading off and finishing about 3 holes ahead of the 2nd match.
Brandon was 1 down after 9 holes and a/s after 14. His local knowledge saw him run out a 2 and 1 winner.
Jamie was 1 up after 8, 2 up after 12 and 3 up after 13. Always in control, Jamie ran out a 4 and 2 winner.
Jody had a titanic struggle in match 3 against an experienced opponent but he held his nerve and again local knowledge helped him to hold on for a 1 up win.
Young Elliot was 3 up after 5 in his match and his opponent was complaining of feeling unwell. He was able to get back in to the clubhouse early as Elliot ran out a 7 and 6 winner.
The 5th match saw experienced James take on a 14 year old Norfolk debutant. The game seesawed with young Matthew holing everything late on to win 2 and 1.
Ben L. had fought really well to hold a 2 up lead standing on the 17th tee. An adrenalin fuelled tee shot saw Ben lose 17. Two good irons down 18, saw both parties near the fairway bunker. Both hit the green with Ben's ball leaving a tough putt. He got down in 3 with Norfolk parring the hole to gain a spirited half.
I watch Richard play the 13th in a close match. He hit a superb long tee shot down the left of this par 5. A driver off the fairway found the front greenside bunker. A superb long bunker shot to 3 feet saw him birdie the hole and start to take command. He then found his putting boots and holed everything to win 6 and 5.
In the final game Ben H. found his opponent Scott in great form and taking a 5 up lead around the turn. Ben fought back to 3 down but couldn't get any closer and lost 4 and 3.

A very close match played in good spirit and at last Northants got the breaks their good play all year had deserved but not delivered.
Match score was a 7 ½ - 4 ½ win for Nthants and we finished the season in last place in our league just ½ a game point behind Norfolk. Both Counties having won 1 of their 5 matches.
Team Captain Sam had engendered a great team spirit within his squad and a big thank you to Catherine Tildesley, NGL Vice President, who attended every match, home and away, and all of the Saturday practice rounds.
All in all a very enjoyable year despite the narrow losses but what a great way to finish our season.
Matches
Northamptonshire
Result
Points
Norfolk
Result
Points
Foursomes












1

Jamie Milligan

Ben Lavender






Casey Patterson

Michael Skipper

1down
1
2

Brandon Sanders

Ben Hawkins

2&1
1

Tom Nudd

Harry Thomas

Half
0.5
3

James Barker

Elliot Strickland






Darren Abbs

Brandon Hodley

4&3
1
4

Richard Dalton

Jody Parfitt

1up
1

Pete Murphy

Scott Wright

Half
0.5
Total




2




2
Singles












1
Brandon Sanders
2&1
1
Casey Patterson




2
Jamie Milligan
4&2
1
Michael Skipper




3
Jody Parfitt
1up
1
Tom Nudd




4
Elliot Strickland
7&6
1
Pete Murphy




5
James Barker




Harry Thomas
2&1
1
6
Ben Lavender
Half
0.5
Darren Abbs
Half
0.5
7
Richard Dalton
6&5
1
Brandon Hodley




8
Ben Hawkins




Scott Wright
4&3
1
Total




5.5




2.5
Result




7.5




4.5