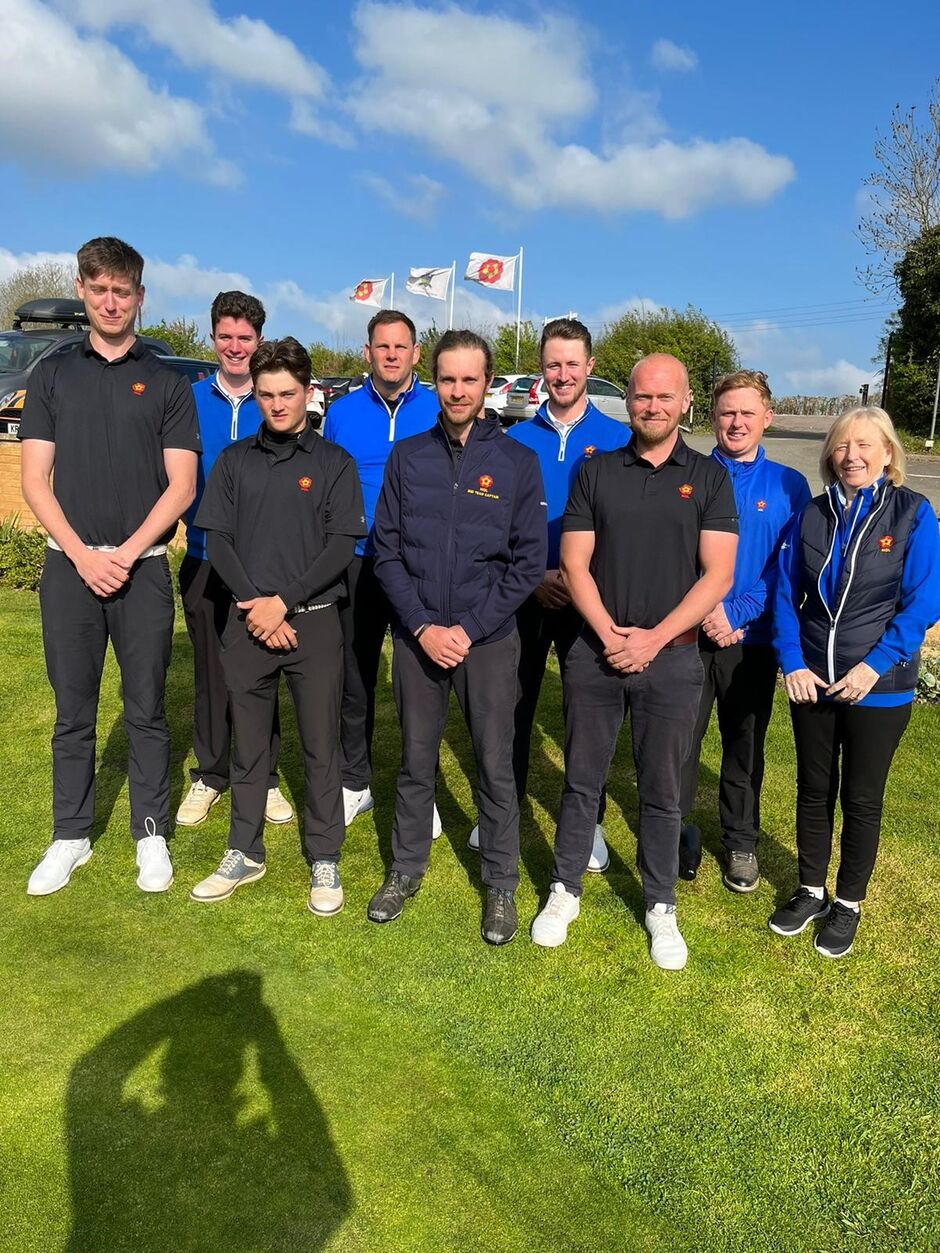 BACK L-R: Ben Lavender (Northampton), Ian Kennedy (Overstone), Sam Gilkes (Northampton), David Sanders (Silverstone), Catherine Tildesley (Northants County)
FRONT L-R: Ben Hawkins (Northampton), Torin Little (Whittlebury), Sam Bird - C (Farthingstone), Matt Landers (Cold Ashby)
We entertained Warwickshire in a pre season friendly at a very tidy Rushden G.C.
A strong team was picked although a few players had been 'loaned' to the 1st Team.
Our pairings were untried so some pairings were experimental.
Sam Bird and Torin Little lost the first , halved the 2nd and were unlucky to see their drive on 3 nestle behind a tree. Warks made birdie and we went 2 down. Ben Lavender and David Sanders were 1 up after 3 and in with a chance of winning the 4th, Ben holed for birdie 2 to go 2 up.
Sam Gilkes and Ben Hawkins lost the 1st, halved the 2nd and won the 3rd and halved the 4th in par. A/S
Sam Gilkes and Ben Hawkins were A.S after 6 and on 7 both pairs were behind trees. Northants came out but Warks hit the trees and we went 1 up, quickly followed by a win at the 8th to go 2 up.
Sam and Torin were 3 down after 8, playing well but being hit with birdies.
On the 10th Ben and David went 5 up. A new pairing that we tried in the Seniors friendly and they seem to be gelling nicely.
Sam and Ben were 3 up after 12 and playing strongly and they also won 12 to go 4 up. They closed their match out to win 5 and 3,
Sam and Torin lost their match 7 and 5 after 13 holes. Baptism of fire for Torin against an awesome pairing.
Matt Landers and Ian Kennedy were 3 down but won 3 holes to be A/S after 13. A wayward tee shot OB on 16 saw us go 1 down with 2 holes to play. Lost 17 to lose match 2 and 1 after a close struggle.
In the final match Ben and David won 5 and 3.
This gave us 2 – 2 after the Foursomes and all to play for in the singles.
Afternoon singles.
After 4 holes Torin was 1 down and Sam all square.
Ben Hawkins was A/S after 4 holes with Sam 2 down.

Ben Lavender was 1 up through 4 with David A/S.
Matt Landers was 2 up after 4 with Ian A/S through 4.
After 7 holes, Sam A/S and Torin still down. Sam loses 8 to go 1 down and Torin also 1 down.
After 8 holes Ben H was 2 down and Sam 4 down.
Ben L still 1 up after 8 and David now 1 down after 8.
Matt 2 up after 8 and Ian 2 down after 8.
Sam 3 down and Torin 2 down after 13 holes.
Ian hit the ball superbly off 13th tee but lost his touch around the green to lose his match 6 and 5. Matt holed a good putt on 13 to close out his match 6 and 5.
Torin lost his match on 17, 3 and 1 fighting till the end. Sam lost 7 and 5, Ben H lost 6 and 4, Sam lost 4 and 3.
Dave Sanders was hit late on with a flurry of birdies to lose 3 and 2 although Ben L. continued his impressive early season form to win 3 and 2.
After an excellent morning the singles proved disappointing losing 6 – 2.
Overall score was a win for Warwickshire 2nds by 8 – 4.
Matches
Northamptonshire
Result
Points
Warwickshire
Result
Points
Foursomes












1




Sam Gilkes

Ben Hawkins

5&3
1

Paul Walker

Rhys Wallace





2

Sam Bird

Torin Little






Rob Tovey

Niall Collins

7&5
1
3

Matt Landers

Ian Kennedy






Steve Keay

Lee Podmore

2&1
1
4

Ben Lavender

David Sanders

5&3
1

Richard Bush

Charlie Lamb





Total




2




2
Singles












1
Torin Little




Paul Walker
3&1
1
2
Sam Bird




Rhys Wallace
5&3
1
3
Ben Hawkins




Rob Tovey
6&4
1
4
Sam Gilkes




Niall Collins
4&3
1
5
Rhys Lawrence




Steve Keay
3&2
1
6
Ben Lavender
3&2
1
Lee Podmore




7
Ian Kennedy




Richard Bush
6&5
1
8
Matt Landers
6&5
1
Charlie Lamb




Total




2




6
Result




4




8