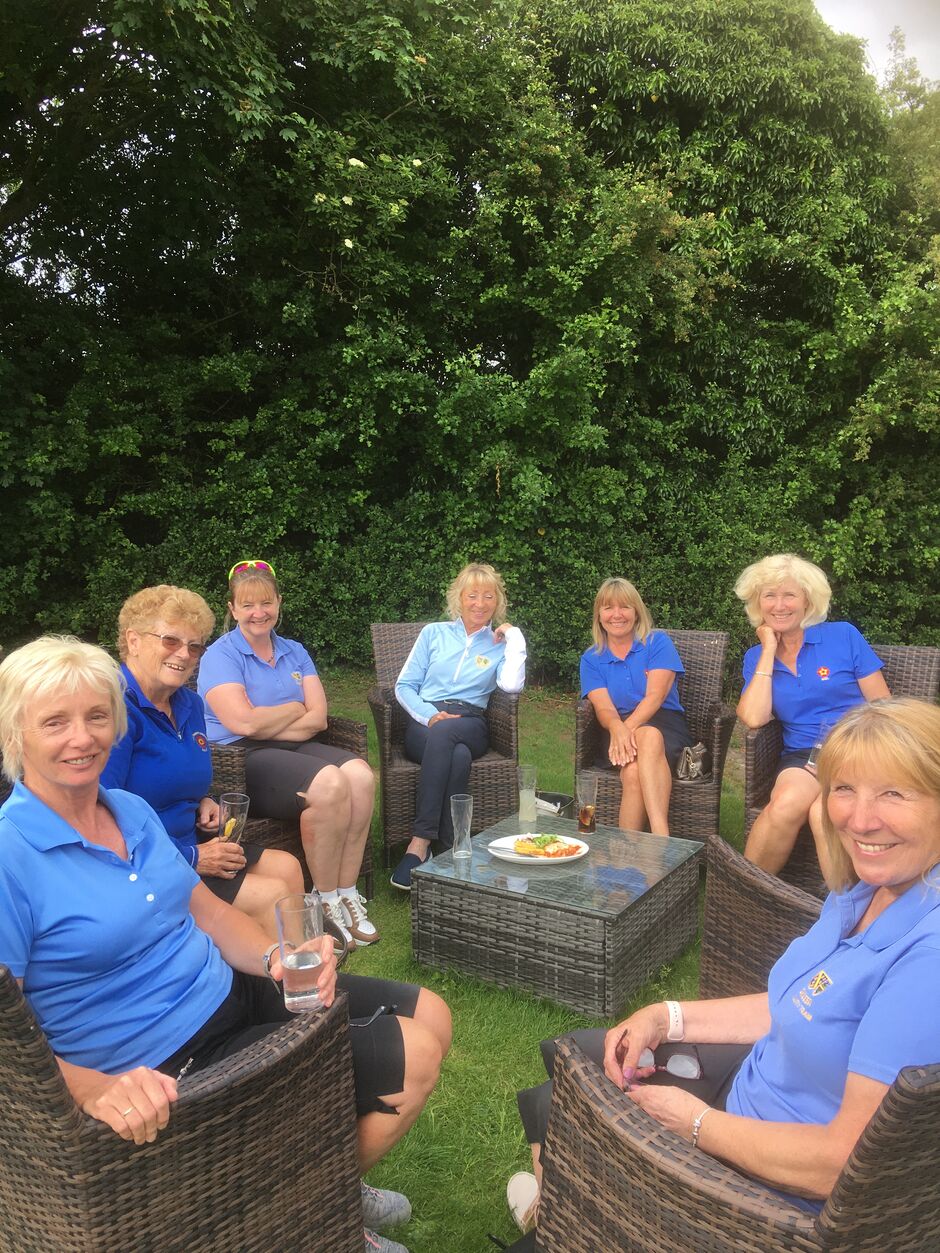 Both teams arrived in good time to enjoy a coffee and chat before the match. The Ladies from Cambs and Hunts were pleased with the choice of venue as it meant that few of them had little more than an hour's drive to Rushden.
Prior to the match the Cambs and Hunts captain apologized that she had had to play 6 of her 'A' team ladies due to last minute changes in circumstances. One of the Northants ladies also pulled out on the day and so I filled in. With the teams finalized it was time to play.
Jumpers came off as the match progressed as it was such a mild day- perfect for golf. The course was immaculate and the greens fast. Win, lose or draw everyone said how much they had enjoyed playing.
Teams met on the terrace overlooking the par 3 ninth hole to watch others come in. The lasagne, chips and salad was declared a hit and cheesecake or Eton mess for dessert topped it off nicely. The 'quiet Monday' proved to be very different for the Rushden staff who couldn't have done more for us.
Northants ladies will want to forget the 6/2 defeat but I'm sure will remember the lovely day held at Rushden GC.
Lizzie Crow
Matches
Northamptonshire
Result
Points
Cambs & Hunts
Result
Points
1

Nita Pryer

Claire McIiroy






Roz Bartlett

Elizabeth Beilby

2up
1
2

Carole Kane

Liz Waine






Mo Poole

Karen Large

1up
1
3

Ionie Robinson

Ann Lester

Half
0.5

Debbie Harding

Shirley Osborne

Half
0.5
4

Lizzie Crow

Helen Marriott




Helen Verrechia

Debbie Wastling

3&1
1
5

Melanie Steel

Sandy Pattendon

Half
0.5

Susan Hill

Caroline Richardson

Half
0.5
6

Julie Beavan


Nadia Anderson




Helen Gillet

Sue Cross

3&2
1
7

Chris Coles

Gina Evans

3&2
1

Trina Miller

Susan Hide



8

Carol Collins

Jan Roberts






Martha How

May Burn

5&4
1
Result




2




6