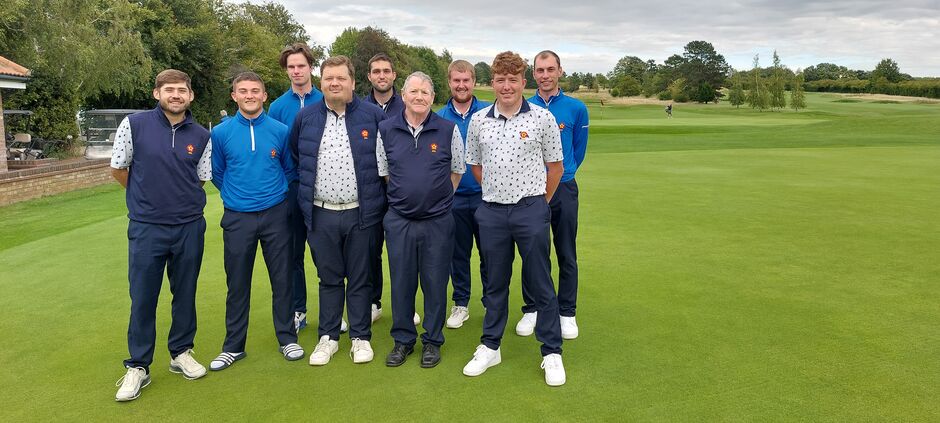 1st Team played away at Gog Magog on a much better day than practice day match played on the Wendlebury course
Leading off in the foursomes were Torin &Brandon, all the matches were very tight all morning with never more than 1 hole in it. But Brandon & Torin fell 2down with 2 to play but staged a fight back to get a half.
Jordan & Taylor won 2&1, Ryan & Jensen lost to a birdie Fownhope the last, Jack & Jack who were 1 down with 2 to play won both 17 & 18 to give Northamptonshire a lead at lunch 2.5 to 1.5.

Torin lead us off in the singles and pulled off a 2 & 1 win, Taylor & Brandon both loosing. Jordan had a big win leveling the singles Jack Peters came up against a ex Northants player who was on fire making 6 birdies & Eagle in 14 holes welcome to men's golf Jack.
Jack Brown Jensen & Ryan all winning giving Northants a 7.5 to 4.5.
It was nice that all players contributed to the point tally.


Matches
Cambridgeshire
Result
Points
Northamptonshire
Result
Points
Foursomes












1

Danny Loveday

Ed Dimambro

Half
0.5

Brandon Sanders

Torin Little

Half
0.5
2

Jack Roe

Tom Burgh




Taylor Sargeant

Jordan Darnell

2&1
1
3

Harry McDonnell

Joe Austin



1

Ryan Genner

Jensen Parfitt



4

Luke Ryan

Joe York




Jack Brown

Jack Peters

1up
1
Total




1.5




2.5
Singles












1
Ed Dimambro


Torin Little
2&1
1
2
Joe York
4&3
1
Taylor Sargeant


3
Danny Loveday
5&3
1
Brandon Sanders





4
Luke Ryan


Jordan Darnell
5&3
1
5
Tom Burgh
6&4
1
Jack Peters




6
Harry McDonnell


Jack Brown
3&1
1
7
Joe Austin




Jenson Parfitt
4&3
1
8
Jack Roe


Ryan Genner
5&4
1
Total




3




5
Result




4.5




7.5