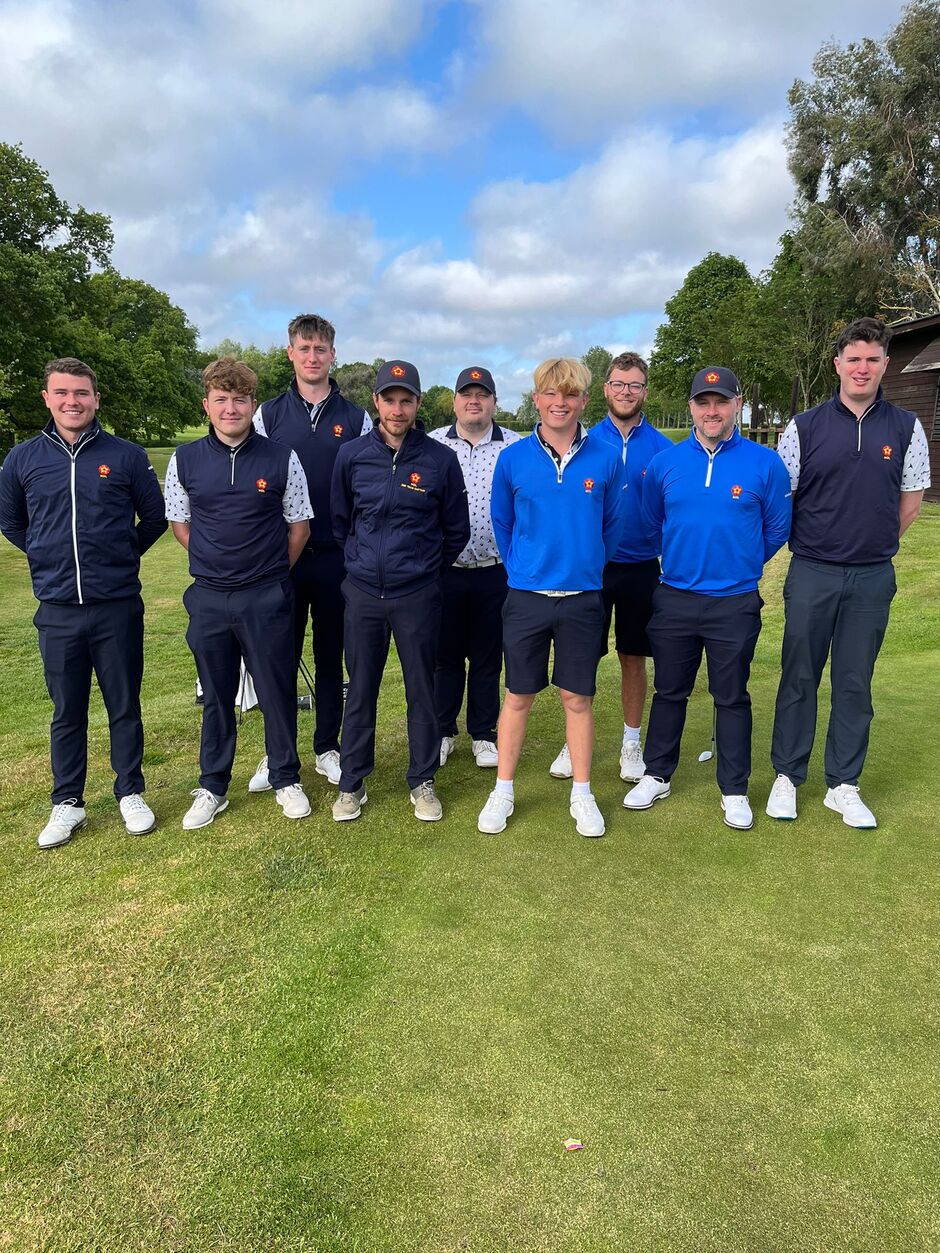 The second Anglian League match took place on Sunday 4th June and was played at Rushden Golf Club. All the staff and members were very welcoming and the food was excellent. The Course was in a very tidy condition with all the normal rough at a sensible level.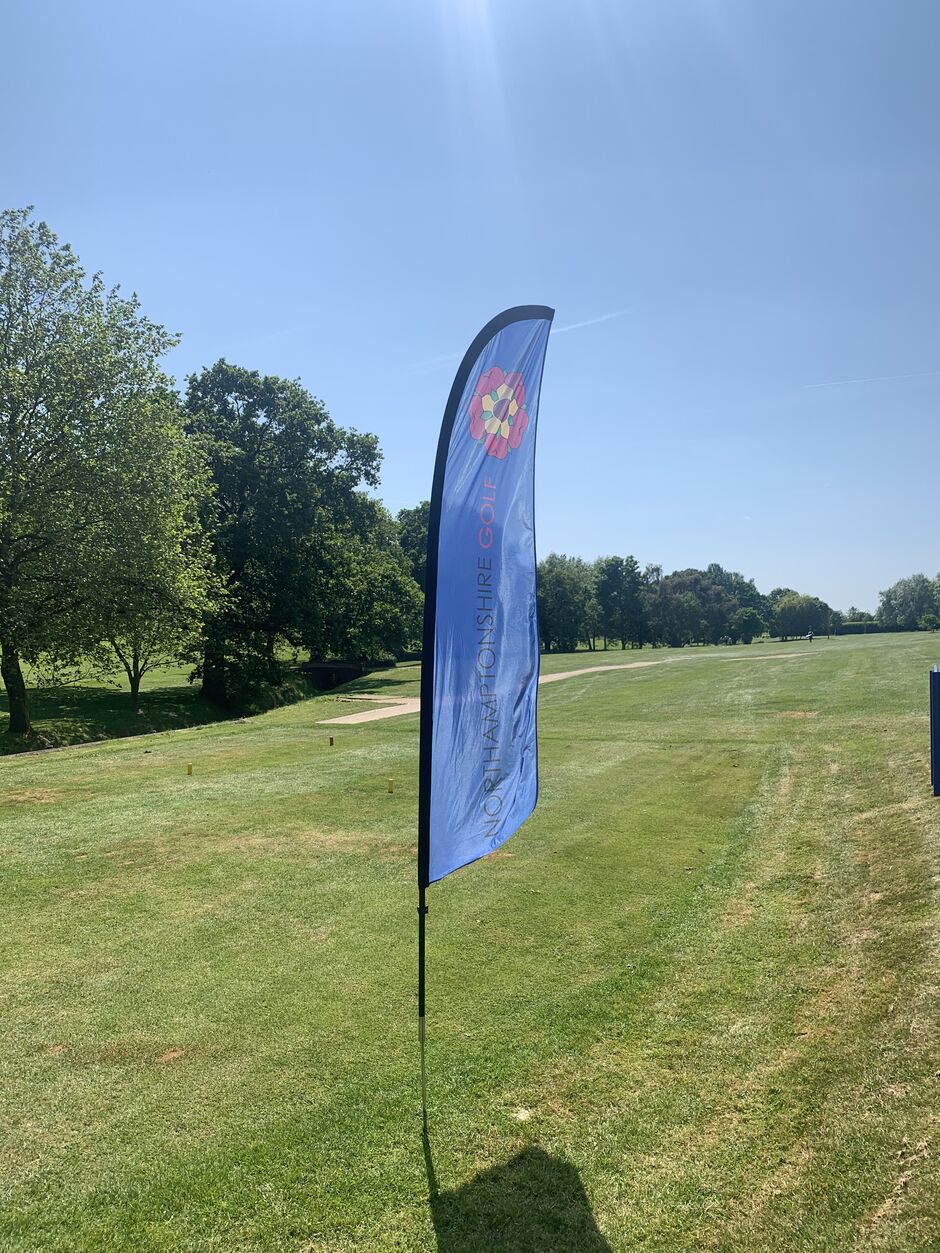 In the morning Foursomes our pairing of Ben Hawkins and Brandon Sanders played well but lost 2 and 1 to 2 very experienced Lincs players.
Match 2 saw Taylor Sargeant and Theo Brown (back from college in New York for a few weeks) take on the Payne brothers, Harry and Josh. Early driving problems saw Lincs take a commanding lead and they were 5 up after 7 holes. Too much to pull back and we lost 5 and 4.
It was looking like a whitewash at this stage but a superb finish from our pairing of Liam McNeela and Elliot Strickland gave us some hope with a 2 and 1 win.
Final pairing of Ben Lavender and Jamie Milligan, probably our strongest pairing, got beaten 4 and 3 by Lincs Captain Sam Moyses and Rob Adkin.
Morning saw us 3-1 down and a tough afternoon threatened. However a team talk from our Captain concentrated the minds of the players.
In the afternoon singles Brandon Sanders was first out and having won the first hole, he lost it as it was found that he had an extra club in his bag. An unfortunate oversight which put him under pressure. Game lost 4 and 2 after some late very good golf from the Lincs lead off player.
In Game 2 Taylor Sargeant showed his class and experience to win 6 and 4. Was this a turning point as we were 3 games down before his win.
Reliable Ben Lavender showed bottle to hold a 1 up lead over the last 3 holes to gain another win.
Liam McNeela had a cracking game against Jake Kirkby and Liam was put under pressure by an in form Jake. Liam holed a good putt on 18 for a half which could prove crucial.
Next up in match 5 saw Elliot Strickland against Harry Payne who had had a win with his brother in the Foursomes. Elliot played well to hold his opponent and played an amazing flop shop over a bunker to keep the game close. Then around the turn and start of the back 9 he went on fire with 3 birdies in 4 holes to run out a 5 and 3 winner.
Match 6 saw Ben Hawkins on fire and he was 5 up with 5 to play. Rob Adkin had nothing to lose and won 14,15 and 16 to make the game tense. Ben held his nerve and holed a tricky 3 foot putt on 17 to get his win 2 and 1.
This win gave us the lead in the match 5 1/2- 4 1/2, an unlikely turnaround.
Game 7 saw Jamie Milligan, who was level at the turn, show determination to gain a 3 and 2 win against Craig Toyne.
Final game saw Theo Brown playing well in the afternoon and he was level with 4 holes left to play. Then Lincs Captain Sam Moyses produced some stunning play to win 3 holes in a row to win 3 and 1.
Final result was a superb fighting 6.5 - 5.5 win for Northamptonshire 2nds. This was our second win of the Anglian League Season and puts us level top of our League , level with Leicestershire 2nds. Our next match is away against Suffolk 2 nds at Diss Golf Club on the 2nd of July.
Diss is in Norfolk but the Golf Course is in Suffolk.


Matches
Northamptonshire
Result
Points
Lincolnshire
Result
Points
Foursomes












1

Brandon Sanders

Ben Hawkins






Harry Glen

Dan McEvoy

2&1
1
2

Taylor Sargeant

Theo Brown






Harry Payne

Josh Payne

5&4
1
3

Liam McNeela

Elliot Strickland

2&1
1

Craig Toyne

Jack Kirkby





4

Ben Lavender

Jamie Milligan






Sam Moyses

Robert Adkin

4&3
1
Total




1




3
Singles












1
Brandon Sanders




Harry Glen
4&2
1
2
Taylor Sargeant
6&4
1
Josh Payne




3
Ben Lavender
1up
1
Dan McEvoy




4
Liam McNeela
Half
0.5
Jack Kirkby
Half
0.5
5
Elliot Strickland
5&3
1
Harry Payne




6
Ben Hawkins
2&1
1
Robert Adkin




7
Jamie Milligan
3&2
1
Craig Toyne




8
Theo Brown




Sam Moyses (c)
3&1
1
Total




5.5




2.5
Result




6.5




5.5