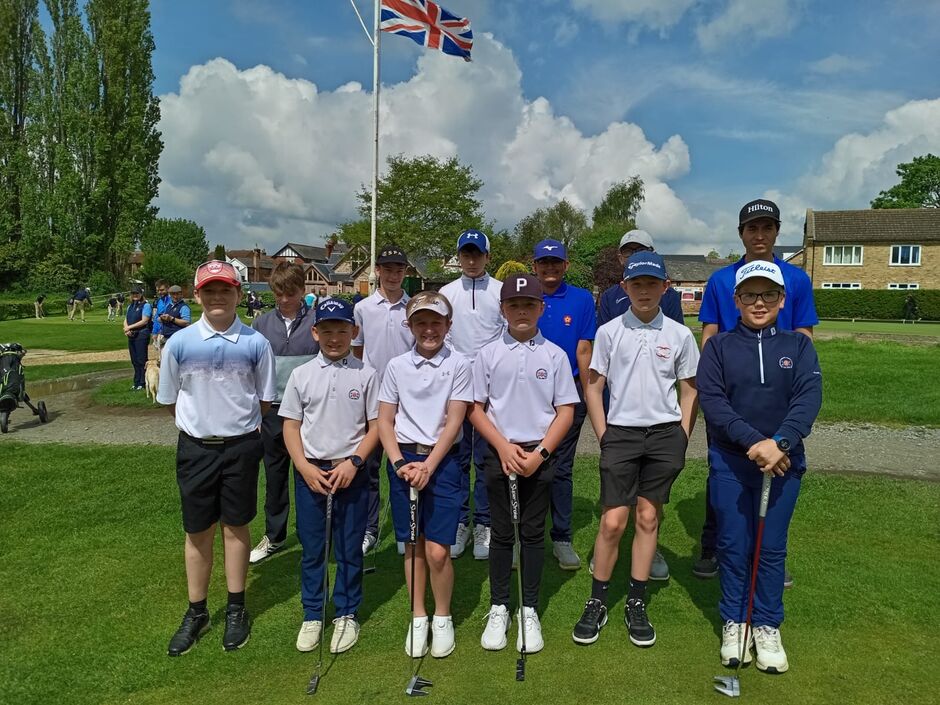 (left to right back) James Lord, Oscar Robbins, Giuseppe Memoli, Krishan Panesar, Kai Peggs (hiding !) and Cameron Black.
(left to right front) Jack Meakin, Harry Odell, Isaac Richardson, Josh Bland, Daniel Rees, Ollie Golby.
NORTHANTS U-14 / U-12 BOYS grab a great victory at Ramsey Golf Club

Our annual Friendly match vs Cambridgeshire produced a tense finish with the Northants Boys County teams gaining an outstanding overall victory 10-8. The teams played off scratch with the format involving six 9 holes Pairs Greensomes matches followed by twelve individual singles games. Having lost at Wellingborough last year 11-7, our teams this year included many new and up and coming Juniors who made the difference in this year's match.
Cameron Black (Northampton) and Jack Meakin (Northants County) in the lead match had a brilliant day, winning their Greensomes to set Northants off to a great start. Both proceeded to win their singles matches on the back nine. Cameron had a convincing 3 & 2 win, but Jack had to come from 1 down to take the last two holes with some brilliant golf to win 1 up.
James Lord and Giuseppe Memoli (both Overstone)played some excellent shots and battled hard against their opponents but were unable to score points in either the greensomes nor the singles, with James only beaten with the last putt at the last hole.
It was left to rookies Oscar Robbins (Northants County) and Kai Peggs (Peterborough Milton) to give the County Boys a boost winning their greensomes match and although Oscar lost his singles Kai managed a good half leaving the U-14s even with Cambs.
Meanwhile our U-12s, clearly benefitting from the coaching set up with Adam Print and Adam Myers, were giving also a good account of themselves. Josh Bland (Northants County) and Daniel Rees (Northampton) beat a strong Cambs pairing in the greensomes with some great golf. Josh lost on the back 9 but it took birdies from opponent Oliver Smith to win their match while Daniel made a couple of great putts to keep his match all square.
In the next match Ollie Golby and Krishan Panesar (both Northants County) were far too strong in both greensomes winning 5 &3 and the singles gaining convincing wins well before the last hole on the back 9.
This gave the Northants team an overall lead but we still needed Harry Odell to clinch an important singles win after he and Isaac Richardson had earlier lost their Greensomes and Isaac had also lost his singles. Both boys played well but it was Harry's great win which made certain of an overall victory 10-8.
The team did extremely well considering some players were unavailable and several boys were making their County debuts on an unfamiliar course ! Cameron Black also made a good speech to thank the Cambridge team and the organisers for the match.
Many of these lads are playing in the County Championships at Wellingborough on May 14th. Good luck everyone !
Matches
Cambridgeshire
Greensomes
Singles
Northamptonshire

U14s



9 Holes
9 Holes


1

Aryan Alwala

Matthew Russell

Won

W 3&2

W 1up

Cameron Black

Jack Meakin

2

Hamish Carnegie

Oliver Housden

Lost

L 1down

Lost

James Lord

Guiseppe Memoli

3

Jack Sherriff

Jack Ives

Won

Lost

Halved

Oscar Robbins

Kai Peggs

Result U14s


4.5
4.5


U12s








1

Oliver Smith

Harry Burgess

Won

Lost

Halved

Josh Bland

Daniel Rees

2

Rory Davey

Ronak Alwala

W 5&3

Won

Won

Oliver Golby

Krishan Panesar

3

Alexander Williams

Albert Watts

Lost

Won

Lost

Harry O'Dell

Isaac Richardson

Result U12s


3.5
5.5


Overall match result


8
10