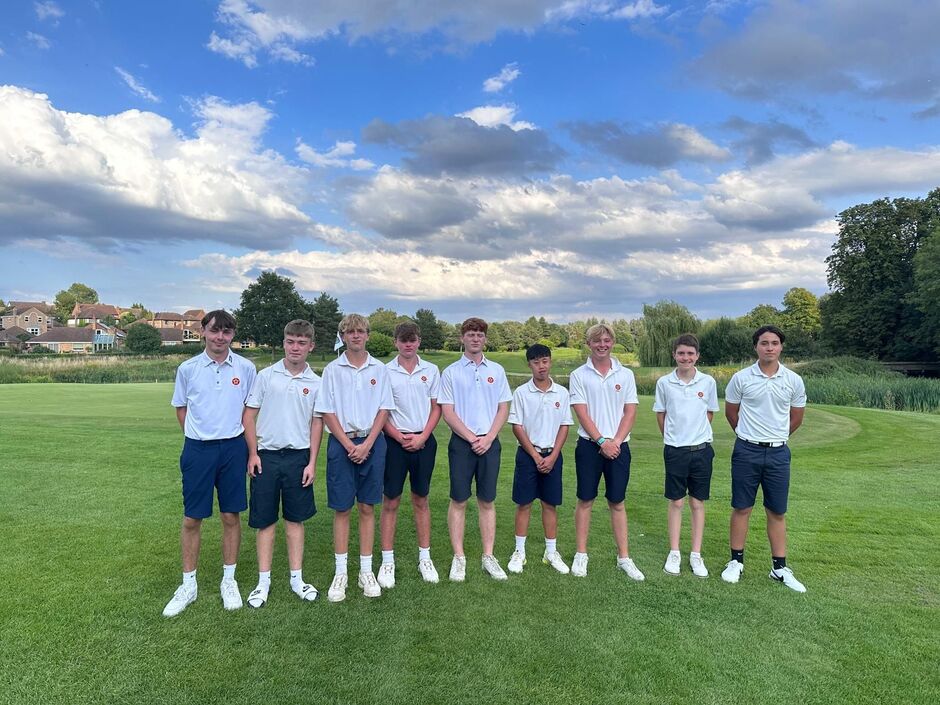 NGL U18 Boys played their final Midland League Match at Collingtree against Leicestershire U18s.
In the morning Foursomes Elliot and Jadon were 1st out against Leics top pair. After a tight game we lost 2&1. Kai and Ollie levelled the Match with a comfortable 4&3 win against their Leics opponents. Harrison and Joe and Cameron and James played well but lost comfortably to give Leics a 3-1 lunchtime lead.
Adam and Elliot put all our experienced players out first in the singles in an attempt to turnaround the morning deficit. Elliot went out at one against Thomas from Leics. We were 3 down at one stage but Elliot was determined to go out of Junior golf with a bang. He fought back and finished one up. Jadon played some of his best golf for a 6&5 win, followed by Kai who was always in control. Ollie looked in charge of his game but his opponent fought back and took Ollie all the way down 18, a one up win for Ollie. Harrison played some really good golf for a comfortable 3/2 win at 5. James Attwood looked in control of his match but his opponent pulled him back and James held his nerve for a 1 up win.
Our last two players were both only 14 years old and were selected for their future potential to enable them to gain experience at this level. They both played some excellent golf and Cameron took his game to the 17th green before a narrow defeat. Joe was 4 down but found his firm to pull back to a/s after winning 17. Two superb shots saw him with a small wedge to the 18th green after his opponent visited water with his second, only to find the green after his drop. Joe then came up short with his gap wedge and lost the 18th to lose 1 down. We were very proud of the two youngsters as well as the whole team for their fight back after a disappointing morning. Final result 7-5 win to finish 2nd joint in the league behind Nottinghamshire.
Matches
Northamptonshire
Points
Result
Points
Leicestershire

Foursomes











1

Elliot Strickland

Jadom Pham




2&1

1

Thomas Dziuba

Cameron Harris

2

Kai Raymond

Ollie Penberthy

1

4&3




Miller Durham

Jack Farley

3

Harrison Panter

Joe Jaggard




5&4

1

Harry Finch

Finn Dobson

4

Cameron Black

James Attwood



4&2
1

Sam Leake

Toby Osborne

Score


1
v
3


Singles










1

Elliot Strickland

1

1up




Thomas Dziuba
2

Jadom Pham

1

6&5




Miller Durham
3

Kai Raymond

1

4&3




Cameron Harris
4
Ollie Penberthy
1
1up


Jack Farley
5
Harrison Panter
1
3&2


Finn Dobson
6
James Attwood
1
1up


Harry Finch
7
Cameron Black


3&1
1
Toby Osborne
8
Joe Jaggard


1up
1
Sam Leake
Score


6
v
2


Match result


7
v
5