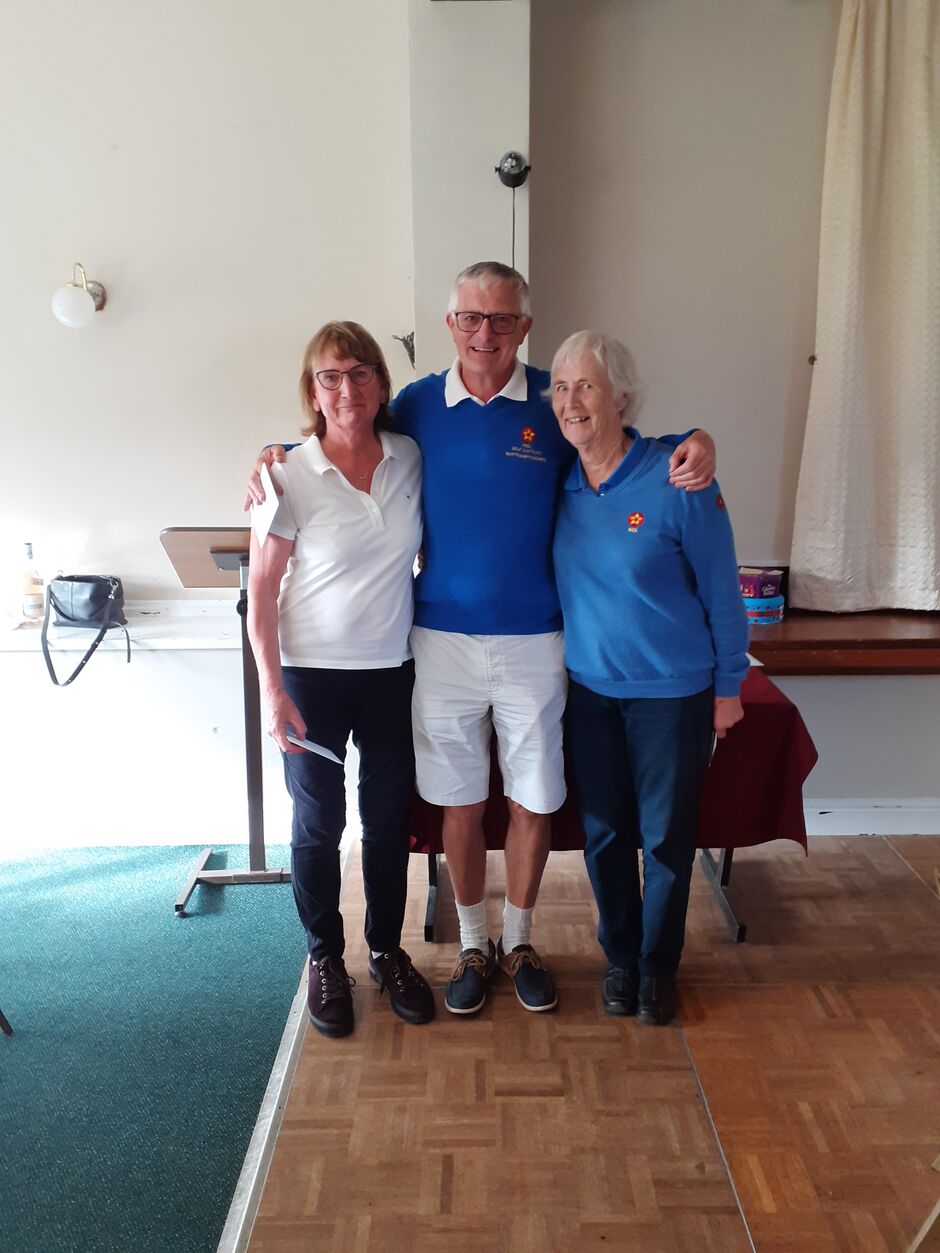 Unfortunately the men could only field 8 players but this made for an interesting game with the decision being made that any 2 scores would be counted rather than 1 man 1 lady.
The weather was kind after the previous days thunderstorms and Cold Ashby was in good condition considering how wet it was in places although the greens were a little tricky. This did not deter the winning team of David Hill, Pauline Hurley and Gina Evans scoring 77 points, runner up team Carol Gibbs, Lizzie Crow and Colin White scoring 73 points.
Nearest the pin for the gentlemen was David Hill and for the ladies Pauline Hùrley. We were treated to one of Sandra's buffets and delicious desserts which rounded off an enjoyable day with the raffle making £80 for the juniors coaching.

Gina Evans President

Result
Players
Club
Scores
1st

Pauline Hurley


Gina Evans

David Hill

Elton Furze


Overstone

Kingsthorpe

77
2nd

Carol Gibbs


Lizzie Crow

Colin White

Wellingborough


Delapre

Overstone

73
3rd

Carol Dunn


Sue Tickle

Derek Mankelow

Peterborough Milton


Overstone

Peterborough Milton

60
4th

Elaine Mankelow


Sandy Burgess

Peter Coles

Peterborough Milton


Overstone

Whittlebury

56 (cb 30/26)
5th

Vera White


Lyn Cater

Hisham Abdul-Hadi

Northampton


Oundle

Overstone

56 (CB 29/27)
6th

Suzanne Silvester


Cheryl Lock

Ivan Roy

Overstone


Market Harborough

Overstone

55
7th

Gill Snelson


Glynis Wingell

Richard Cole

Wellingborough


Overstone

Oundle

54
8th

Marlene Roy


Bobbie Austin

Rod Gibbs

Overstone


Northants County

Wellingborough

50