Seniors v. Lincolnshire
Tuesday September 16th 2014
Northampton Golf Club
What a day.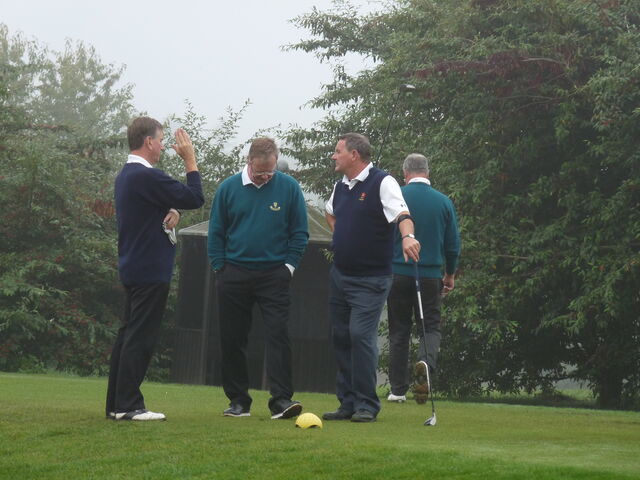 The stage was set. Lincolnshire had sent six players a day early to play a practise round. The Northamptonshire team had been briefed as to what we needed to achieve from the day, a win and nothing else.
The morning foursomes saw Lincolnshiretake a lead three points to two.
For the county seniors, Andrew MacDonald and Gary Hardy (see Photo) performed a miracle, coming from three down with three to play to halve their match. How vital that proved to be.
The afternoon saw the county seniors win convincingly four of the first five matches, and then two matches were lost, then a win, followed by a loss.
All was down to the last match on the course. Alan Linney, of Northants County against the Lincolnshire Captain Ray Pauley. All square leaving the difficult 16th hole, Alan birdied the 17th and went onto win the 18th hole, when Ray's drive went astray.
As Captain, I am so proud of all of the senior's players who have played this season and the season long commitment and effort shown.
We had to wait for the Suffolk v Cambridge result on the following day. Despite Suffolk's victory, Northamptonshire were champions of the Anglian league, for the second time in three seasons, on games won. We are also joint winners of the Midland league east, with Nottinghamshire, with 3 wins out of four.
Mike Abbotts
County seniors captain 2014/15
| | | | | |
| --- | --- | --- | --- | --- |
| Northamptonshire | | | | Lincolnshire |
| Foursomes | | | | |
| Ted Dunn & David Dare | | v | 3&1 | Steve Kellett & Tim Seaton |
| Andrew MacDonald & Gary Hardy | halved | v | halved | Dave Keen & Steve Cullington |
| Richard Cole & Peter Collins | 2&1 | v | | Wayne Wallace & Malcolm Wray |
| Mark Johnson & Mick Abbotts | | v | 3&1 | Robin Horseman & Ray Pauley |
| Brian O'Connell & Alan Linney | halved | v | halved | Dave Quincey & Rod Bell |
| Foursomes Total | 2 | | 3 | |
| | | | | |
| Singles | | | | |
| Richard Cole | 2&1 | v | | Wayne Wallace |
| Peter Collins | 3&2 | v | | Steve Kellett |
| Gary Hardy | 4&3 | v | | Tim Seaton |
| Andrew MacDonald | 3&2 | v | | Robin Horseman |
| Brian O'Connell | | v | 4&3 | Dave Keen |
| Ted Dunn | | v | 2&1 | Dave Quincy |
| Alan Linney | 2up | v | | Ray Pauley |
| Mark Johnson | 5&3 | v | | Malcolm Wray |
| David Dare | | v | 1up | Rod Bell |
| Mick Abbotts | | v | 5&4 | Steve Cullington |
| Singles Total | 6 | | 4 | |
| | | Result | | |
| Northamptonshire | 8 | | 7 | Lincolnshire |