EGU County Junior Championships
Midland Qualifying
Played at NEWARK GC
on Wednesday 1st June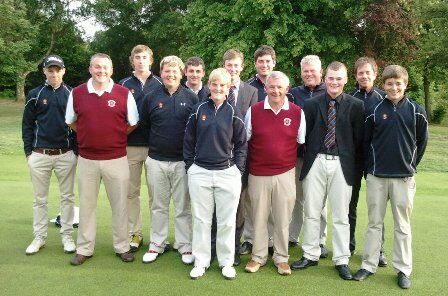 The NGU Junior Team with Jim Campbell, Gordon Rising and Shane Rose
MATCH REPORT
A great team spirt and we couldn't have asked any more from the lads. Dan Ashcroft won the Best AM score with a 1 under par 70, in the afternoon Mike Campbell equaled the course record with a 4 under par 67. A fantastic performance from all the lads who took part. We fell 14 shots short of Lincolnshire but we couldn't have had a better spirit and committment from the lads.
A big thanks should go to a number of people involved. Adam Myers, who took control of the lads for the whole 2 days. He has done a fantastic job in motivating the players. Thanks to the County First Team Captain Jim Campbell for giving up 2 days to be with the lads and support them.
Thanks also to Brad Green and Gavin Cope, Brad was the 1st resereve for the team, but along with Gav, travelled with the team and caddied for the 36 holes of the tournament. Gav and Brad both played an important part in helping not just the players they caddied for but helping add to the spirt of the team.
I would also like to thank Gordon Rising for giving up his day to come and support the lads. I think the Juniors made Gordon poud to be from Northants yesterday.
I also have to thank me very close colleague Nick Soto, I feel that with his knowledge and expertize that lads are starting to develope a winning attitude and mentallity. I'm sure that Northamptonshire will become succesfull in the future with what myself and Nick are trying to install into the players.
Lets hope on the back of this result that the Team can get some good results in the Anglian League. I think with the continued support from our county that our lads could go 3 places better next year
Many thanks
Shane Rose
NGU Junior Delegate/Coach
FULL RESULTS
FINAL RESULTS BY COUNTY
COUNTY
AM
PM
Total Best 5 of 6

LINCOLNSHIRE

362

358

720

STAFFORDSHIRE
362
362
724
NORTHAMPTONSHIRE
369
365
734
WORCESTERSHIRE
373
363
736
DERBYSHIRE
371
372
743
LEICESTERSHIRE & RUTLAND
382
364
746
SHROPSHIRE & HEREFORDHIRE
368
380
748
CAMBRIDGESHIRE
376
379
755
WARWICKSHIRE
382
381
763
NOTTINGHAMSHIRE
381
384
765
NORTHAMPTONSHIRE

LINCOLNSHIRE

H/C

AM

PM

H/C

AM

PM

Michael CAMPBELL

2

80

67

Nathan KIMSEY

-2

73

76

Taylor SARGEANT

2

77

78

Ashton TURNER

0

72

74

Dan ASHCROFT

4

70

83

Patrick KELLY

-2

73

71

Harry WOAN

0

73

74

Chris PEARSON

1

78

71

Jack WALDING

2

76

71

Robert McKAY

0

75

70

Josh MORRIS

0

73

75

Jordon WRISDALE

0

69

72

Best 5 Scores to Count

369

365

Best 5 Scores to Count

362

358

Total

734

Total

720

CAMBRIDGESHIRE

NOTTINGHAMSHIRE

H/C

AM

PM

H/C

AM

PM

George HOWARD

1

78

73

Ben SMITH

0

74

76

Luke BOWERS

0

73

75

Lloyd BEST

0

82

89

James REESON

2

71

75

Mark SMITH

2

78

76

Callum WILKINSON

3

86

82

Joseph HAGUE

2

78

80

Cameron BROWN

3

71

78

Tom CUMBERLAND

2

76

79

Mark BLOXHAM

3

83

78

Lee SHEPHERD

2

75

73

Best 5 Scores to Count

376

379

Best 5 Scores to Count

381

384

Total

Total

755

Total

765

SHROPSHIRE & HEREFORDHIRE

WORCESTERSHIRE

H/C

AM

PM

H/C

AM

PM

Alex ALLEN

2

71

74

George PALMER

-1

76

74

Josh GRESTY

5

84

75

Ben YEOMANS

3

74

76

Tom YOUNG

3

78

75

Henry JAMES

2

71

70

Phil WESTON

4

74

81

Matt VIGURS

2

74

70

Sam LITCHFIELD

2

74

77

Oliver FARRELL

2

78

73

Edward TRANTER

1

71

79

James ROBINSON

3

82

80

Best 5 Scores to Count

368

380

Best 5 Scores to Count

373

363

Total

748

Total

736

DERBYSHIRE

LEICESTERSHIRE & RUTLAND

H/C

AM

PM

H/C

AM

PM

Nick NEWBOLD

-1

72

72

Aidan STAUNTON

1

83

77

Cameron SHAW

0

79

78

Luke ATKINS

2

76

72

Bradley MOORE

1

75

74

William SLATER

3

76

70

Mark PORTER

1

72

76

Jack MERRY

3

77

74

Tom HAMSON

1

77

81

Jervann PARMAR

2

73

71

Joshua THORLEY

0

75

72

Niall QUIN-JARVIS

4

80

79

Best 5 Scores to Count

371

372

Best 5 Scores to Count

382

364

Total

743

Total

746

STAFFORDSHIRE

WARWICKSHIRE

H/C

AM

PM

H/C

AM

PM

Louis BIRCHALL

0

70

74

George ALLEN

1

81

74

Robert BURLISON

0

67

67

Robet OWENS

3

80

77

Cameron LONG

1

77

74

Maxwell MARTIN

2

75

76

Henry SHERIDAN-MILLS

1

76

68

Daanyal SPALDING

0

75

76

Luke ASTON

3

79

79

Michael PELL

1

74

85

Ryan CORNFIELD

2

72

DQ

Louie PETT

3

78

78

Best 5 Scores to Count

362

362

Best 5 Scores to Count

382

381

Total

724

Total

763