Another great performance by the County U-14 Boys Team v Bedfordshire on Wednesday April 10th resulted in a 4.5- 2.5 win at Aspley Guise Golf Club over Bedfordshire. The match was played off white tees and the course provided many tricky and interesting holes that the Northants boys handled very well indeed

It was a close contest with several games in doubt up to the final hole. Elliot Strickland and Jack Peters clinched their win on the par 5 18th after great approach play, and while Oscar Bell and Kai Raymond had gained an early point winning 5 & 3 a couple of lost matches had now put the final result in the balance.

It looked as though Beds would take a lead as Harry Smith and Isaac Redding (making his debut) were 2 down with 2 to play but they won 17 and Isaac's excellent par on 18 saved the half and set up what was to follow.

The teams were now tied at 2.5 each with two matches remaining. At the same moment new boys Aiden Jaggard and Jack Meakin clinched their match on 16 by 3 & 2, Ben Atherton and Jadon Pham kept their nerve, and finished their game on 18 with Ben's brilliant par proving crucial to give the team an overall win by 2 clear points.

Northants win maintains the U-14 unbeaten record in Friendlies home and away since 2017. Team photo attached. Other photos to follow.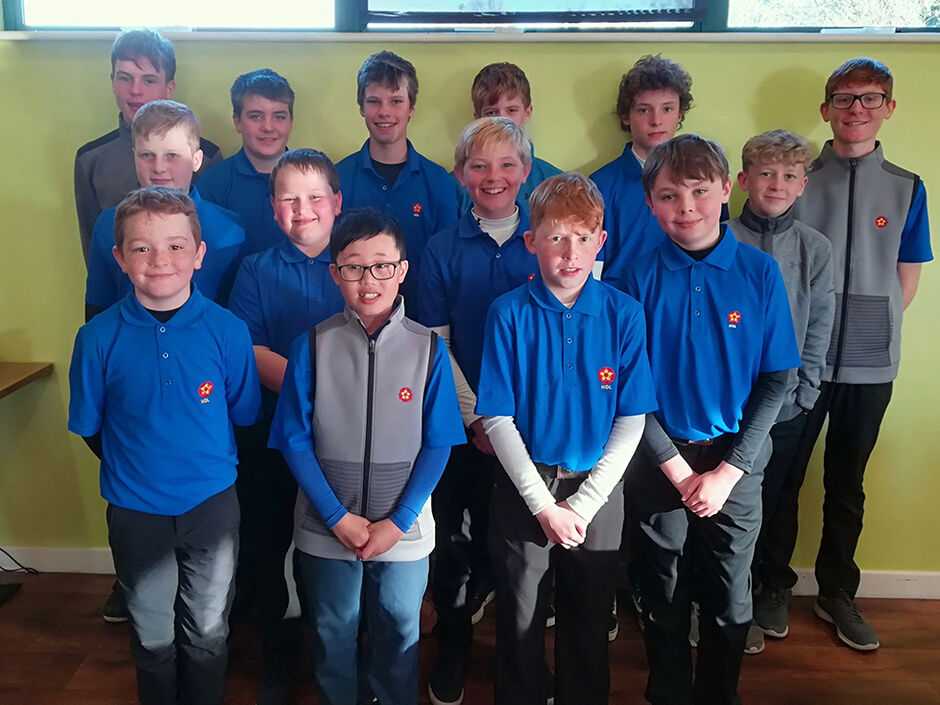 | | | | | | |
| --- | --- | --- | --- | --- | --- |
| Match | Beds | | Northants | Score | Points |
| 1 | Harry Lake & Connor Talentine | 0 | Elliot Strickland & Jack Peters | 1 up won | 1 |
| 2 | Shaun Thomas & Harley Allan | 0 | Oscar Bell & Kai Raymond | 5/3 won | 1 |
| 3 | Dillion Basi & Robbie Thompson | 1/2 | Isaac Redding & Harry Smith | Halved | 1/2 |
| 4 | Olwyn Pepper-Thompson & Kai Williams | 1 | Harrison Taylor & Sonny Lennon | Lost 5/4 | 0 |
| 5 | Henry Wooster & Nathan Chirch | 0 | Jadon Pham & Ben Atherton | Won 2up | 1 |
| 6 | Jagjeet Kumar & Vikram Singh | 1 | Will Clark & Matthew Reeve | Lost 5/4 | 0 |
| 7 | Ed Tubridy & George Wooster | 0 | Aidan Jaggard & Jack Meakin | Won 3/2 | 1 |
| | Total | 2.5 | | | 4.5 |